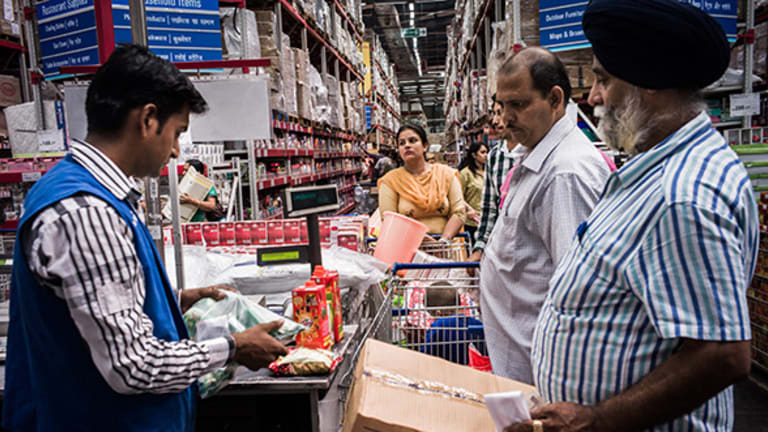 Closed-End Funds Stage Modest Comeback
Emerging market funds lead November gains in specialty fund sector.
Closed-end funds edged back into positive territory in November after a gloomy fall that saw funds take a beating amid the roller coaster ride on Wall Street.
A favorite of investors seeking a market edge in its complexity and quirkiness, the $300 billion sector saw its best returns posted by emerging market funds, which were up 3.36%, according to Lipper's FundMarket Insight Report.
Overall, equity funds generated returns of 0.67% on the net asset value of their holdings, while fixed-income funds edged up 0.11%, Lipper reports.
Closed-end funds saw slightly better returns on a market basis, with shares rising 1.3% on the equity side and 1% on the fixed-income side.
While nothing to write home about, the positive returns by the closed-end sector were a welcome break from two months of declines. CEFs fell 5.84% in October on a net asset value basis, with closed-end fund share prices tumbling 9.22%, according to Lipper.
CEFs focused on emerging markets proved to be the month's biggest winners, while their counterparts in the energy sector saw the steepest declines.
"We saw some really positive trends," says Tom Roseen, Lipper's head of research services. "We are still in negative returns year to date, but it's not as deep."
Emerging market funds led the way in November's closed-end fund rally.
Aberdeen Asset Management's Indian Fund IFN came in No. 1 for the month. After a 7.6% hit in October, the $714 million India Fund posted a nearly 12% return in November, Lipper reports.
The RENN Global Entrepreneurs Fund RCG came in second, with a return for November of 9.8%. The $8.9 million fund invests in "privately-placed convertible and equity securities of emerging growth companies," that are traded on U.S. exchanges.
Morgan Stanley's India Investment Fund IIF won the bronze, with the $362 million fund seeing a 9.2% jump in net asset value.
The China Fund CHN came in at No. 4 as the $314 million fund reported an 8.2% gain in net asset value, according to Lipper.
Indian Prime Narendra Modi's business-friendly reforms and a 7.3% growth rate, outstripping China's pace, have helped buoy emerging markets funds.
The potential for a trade deal that would resolve the U.S./China tariff war also provided a boost to emerging market funds.
"The emerging markets are up," Roseen says. "China was in there and the India funds did the best."
Amid a turbulent market, investors also played a bit of defense as well, buying up shares of closed-end funds in relatively safer sectors such as utilities, health care and consumer staples, Roseen notes.
Closed-end utility funds rose on average nearly 3%, just below emerging markets.
And three healthcare funds made it into the list of the top ten performers.
Tekla Healthcare Opportunities Fund THQ weighed in at No. 6. The $855 million fund reported an increase of 6.6% net asset value, Lipper reports.
BlackRock Health Sciences Trust BME grabbed the No. 9 spot, with the $380 million fund notching a 5% gain in net asset value, while Gabelli Healthcare & WellnessRx Trust GRX, came in at No. 10, with a 4.9% increase.
Pacific region funds (excluding Japan) returned 2.7%, followed by growth, core and value funds, which saw increases in net asset value of 1.9%, 1.8% and nearly 1.7%, respectively, according to Lipper.
Energy MLP funds took the hardest hits in November, with a decline in net asset value of 2.7%, followed by natural resources, high yield and loan participation funds, which declined by 2%, 1.4% and 1.3%, respectively.
The drop in oil prices was a major factor dinging the performance of closed-end funds in the energy sector. Crude oil prices plunged 22% in November, making it the worst month in a decade.
Nuveen All Cap Energy MLP Opportunities Fund JMLP posted the worst returns, with the $93.5 million fund taking an 8.1% hit. Aberdeen Income Credit Strategies Fund ACP was next up, with the $168 million fund posting a 7.7% decline, followed by Firsthand Technology Value Fund SVVC, at 7.1%, Lipper reports.
Overall, a majority of CEFs, 62%, were in the black in November in terms of net asset value, with 67% of equity funds posting gains as opposed to 57% of fixed-income funds, according to Lipper.
Still, fixed-income funds put in a respectable showing in November, with New Jersey municipal debt funds leading the way at 1.4%, followed by other states at 1.3% and California at 1.2%.
December is already shaping up to be a volatile month, though Lipper's Roseen argues chances of a Santa Claus rally are better than not. But there are a lot of moving parts to consider, not the least of which are trade negotiations with China.
"We are going to keep an eye on what Trump is tweeting on a daily basis, particularly with China," Roseen says.