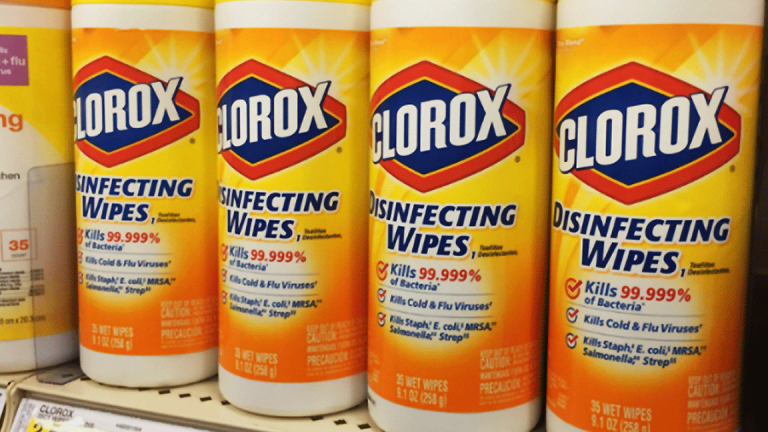 Clorox Sues Lysol Maker for False Advertising
Clorox claims Reckitt Benckiser used false and misleading advertising to push its Lysol brand ahead of the competition.
Clorox  (CLX) - Get Clorox Company Report filed a lawsuit against Lysol maker Reckitt Benckiser (RBGLY) claiming the company is executing a wide-ranging false and deceptive advertising campaign using misleading information about Clorox products.
Clorox claimed Reckitt Benckiser's Lysol ads on television, internet and social media are based on many false comparisons to Clorox, such a stating Lysol products have performance advantages they do not actually possess.
The lawsuit claimed the ads are misleading consumers into believing falsehoods about Clorox and that Reckitt Benckiser is seeking to erode Clorox's reputation as a manufacturer of effective, user-friendly products, Clorox said in a press release.
"Consumers deserve truthful information and advertising that can help them make the product choices that are best for their households," Eric Reynolds, executive vice president of cleaning and Burt's Bees said in a statement. "We're not opposed to competitive advertising, but we are opposed to advertising designed to mislead. Not only do RB's ads falsely claim that Lysol products are superior, they disparage the well-established effectiveness and value of Clorox products."
The lawsuit seeks a court order to force Reckitt Benckiser to pull the deceptive ads and requests corrective advertising, and for Reckitt Benckiser to create and disseminate new ads that correct the record about Clorox. 
Clorox also is requesting that Reckitt Benckiser surrender profits earned as a result of the advertising, unspecified damages and attorneys' fees.
"Lysol Spray is the No.1 disinfectant brand in the U.S. with over 50% of households using Lysol products. Moms have trusted the brand to help keep their homes healthy for over 100 years. Hospitals across the U.S.also trust the brand to satisfy their cleaning and disinfecting needs," Reckitt Benckiser said in a statement emailed to TheStreet.
"We stand behind the claims we make in our advertising and take any accusations of this nature extremely seriously. We cannot comment on the Clorox statement or any other details related to ongoing litigation, but we can state that we would never mislead consumers, as a matter of principle," the company added.