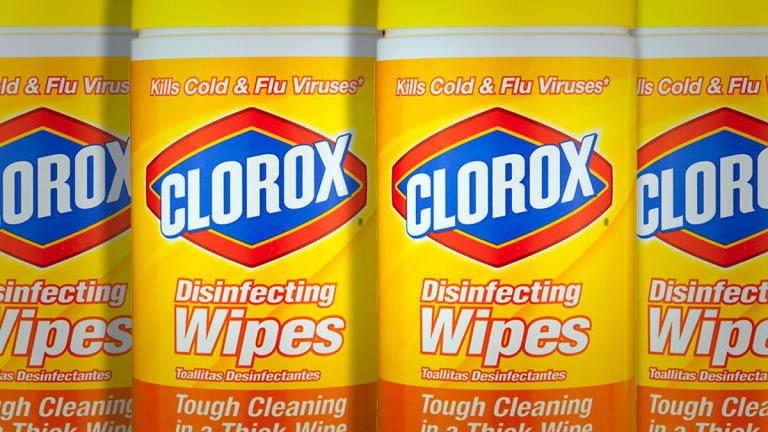 Clorox Misses Profit Expectations and Narrows Fiscal-Year Sales Forecast
Clorox's fiscal third-quarter earnings miss estimates by 1 cent and the bleach maker narrows its fiscal-year forecast for sales growth.
Clorox (CLX) - Get Clorox Company (The) Report earned $1.44 a share in its fiscal third quarter, 1 cent below analysts' estimates, and the bleach maker narrowed its fiscal-year forecast for sales growth.
Clorox said in a statement Wednesday that it expects sales growth for the year of 2% to 3%, "primarily from a milder cold and flu season vs. the year-ago period and heightened competitive promotional activity in the Wipes category." Clorox previously had pegged sales growth at 2% to 4% for the fiscal year.
The company said it expects fiscal-year earnings of $6.25 to $6.35 a share vs. its previous forecast of $6.20 to $6.40.
For the third quarter, Clorox posted earnings of $187 million compared with year-earlier profit of $181 million, as sales rose 2% to $1.55 billion. Analysts expected sales of $1.57 billion.
"Our strategic initiatives are by and large going according to plan. I'm particularly pleased with the progress we're making to improve our gross margin, which is enabling us to increase investments in our brands," said Chief Financial Officer Kevin Jacobsen. "I'm confident about the plans we have in place to address the short-term challenges we're facing while maintaining our focus on driving long-term shareholder value."
The company's third-quarter gross margin increased by 60 basis points to 43.4% from 42.8% a year earlier.
Shares fell 4.2% in trading Wednesday to $153.07.