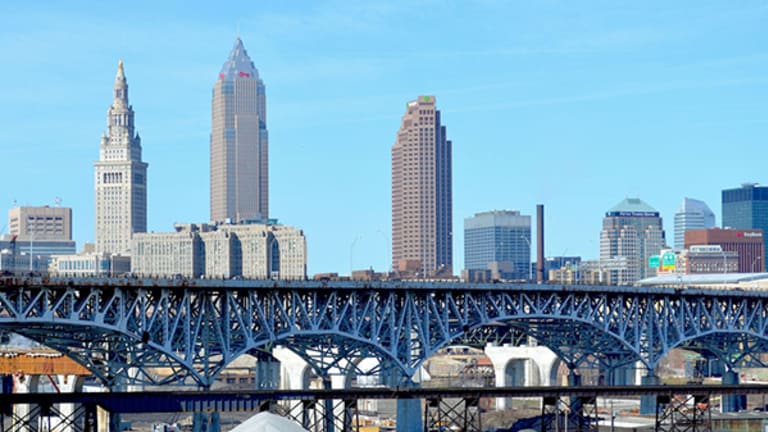 Cleveland Working to Be Champs in Real Estate, Too
Cleveland is trying to upend San Francisco in real estate the way it did in basketball.
The Cleveland Cavaliers beat the Golden State Warriors in the National Basketball Association  Championship. Now it looks like the city by Lake Erie is working hard to beat the San Francisco bay area in the real estate game, too.

"When you look at the fundamentals in Cleveland versus the Bay area, they are actually stronger in Cleveland in the sense that the absorption of units has been stronger relative to the new supply," said Jean-Michel Wasterlain, co-CEO of Capfundr.

Wasterlain added that Bay Area real estate is not poised for a fall, it's just that they have "maxed out their growth." 

Wasterlain was once the CEO of ORIX Capital Markets, the U.S. real estate and structured finance business of a large Japanese finance company, and chief investment officer of NorthStar Realty Finance  (NRF) , a real estate investment trust with a $20 billion portfolio of diversified real estate investments.

Capfundr offers investors exposure to real estate funds, thereby eliminating the need to go through brokers or pay their fees. Capfundr selects private real estate funds with strong management teams and proven track records and opens them up to the public online. It also manages some of its own funds, in areas where it has expertise.

Wasterlain said cities such as Pittsburgh, Providence, Nashville and even Detroit are seeing a surge in property investment, primarily because they had not seen a windfall of investment previously -- unlike larger coastal cities.

He said publicly traded REITs are highly correlated to the stock market, so investors seeking true diversification into real estate are better off in a private fund. That said, Wasterlain did acknowledge that private real estate funds do not have the same liquidity as listed REITs.

"Our funds are really meant for investors with a medium-term to long-term view of five to seven years and are willing to lock up their money for that period of time," said Wasterlain, adding that he is projecting the yield on his latest multi-family fund to be 7%.