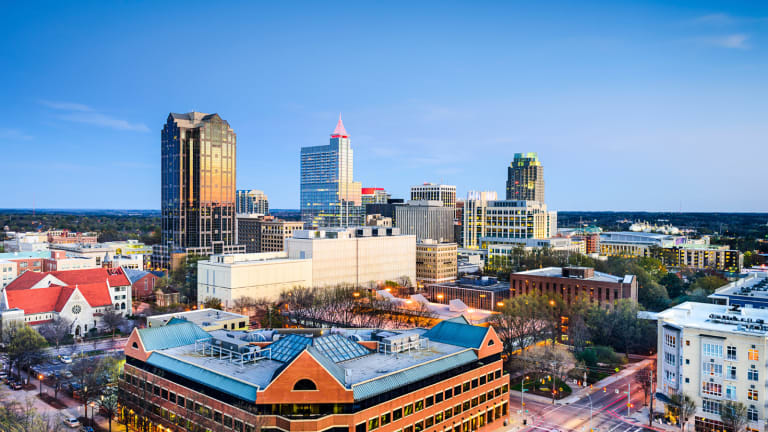 Citrix, Red Hat Boost Startup Culture in Raleigh, N.C.
New initiatives aim to attract even more technology jobs and startups to Raleigh, North Carolina, which already saw a 23% gain in IT jobs through June.
NEW YORK (TheStreet) -- New initiatives are underway to attract even more technology jobs to Raleigh, North Carolina, where tech companies including IBM (IBM) - Get Free Report, Citrix (CTXS) - Get Free Report and Red Hat (RHT) - Get Free Report already have operations. 
According to local economic development officials, Raleigh has seen a 23% increase in IT jobs in the first half of this year. Raleigh Mayor Nancy McFarlane said selling points for her city are the so-called Research Triangle and the concentration of universities nearby.
"We have an incredible amount of talent, and that's key to bringing companies to the area," McFarlane said. "We understand that it's about creating a place that people want to live. It's a very different economy now. People will go where they want to live and build their own company."
Raleigh is currently home to more than 400 startups and is now partnering with Citrix and Red Hat to promote an accelerator program designed to bring more startup companies to the region. The program allows employees from Citrix to take several months off to work on an idea, while partnering up with startup firms that receive a $25,00 grant to work on their projects. The accelerator program is accepting applications until Aug. 12.
"It's a three-month program, and then the idea is at the end, the companies have gotten to the point where they can launch and potentially get funding or continue to bootstrap," said Jesse Lipson, VP and general manager of workflow and workspace clouds for Citrix. Lipson's goal is the creation of 20 new businesses with at least $1 million in revenue in the next 10 to 30 years. 
Another accelerator program, known as ThinkHouse NC, is a nine-month program that provides mentorship and startup training to recent college graduates launching their own entrepreneurial ventures.