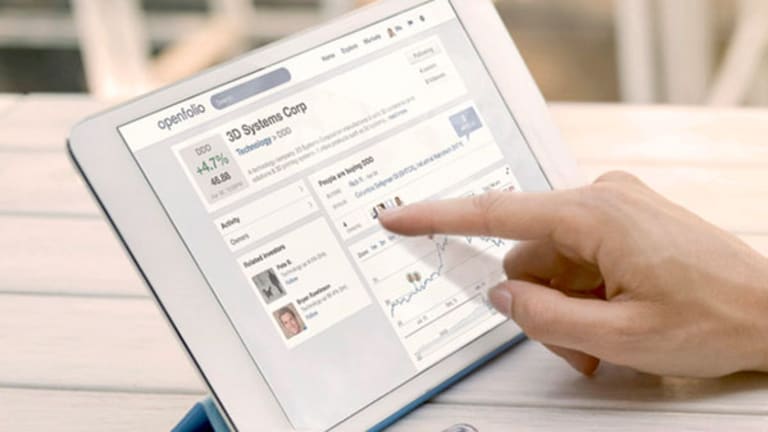 Citi's Apple Watch App Shows Mobile Banking's Allure -- and its Limits
Mobile apps attract banks' attention and their money, but functionality limitations underscore traditional online banking's importance.
NEW YORK (TheStreet) -- From fingerprint identification technology to GPS-guided directions for nearby ATMs, banks are packing more and more features into mobile-device apps, both to attract younger users and cut costs.
Citigroup's (C)  product for the Apple (AAPL)  Watch is just one example.
There's a paradox inherent in the trend, however. The focus on glitzy mobile services is overshadowing the traditional online banking that remains more popular with customers because of its greater functionality and ease, according to analysts who follow the industry's digital initiatives. Websites still allow customers to handle a wider variety of tasks, from paying bills to reviewing old credit card statements, which means they'll probably continue to dominate the market in the near future.
"There have been far and away more changes on mobile apps than on websites" in the past year, while innovation on websites has been slow, said Alex Filiaci, a senior analyst at New York-based consulting firm Corporate Insight. The firm tracks websites for 17 major banks such as Bank of America (BAC) and Capital One (COF) .
"You can do pretty much everything you want to do already on the web, whereas mobile, there's still room to add more functionality to the apps," he said.
Besides attracting younger users and offering cheaper alternatives to traditional brick-and-mortar branches, mobile platforms appeal to banks because it offers them a chance to start anew on the digital front, Filiaci said.
"The banks are bogged down by the fact that they have these legacy [online] systems that they'd rather update piecemeal than wholesale replace," he said in a telephone interview. "Mobile was a fresh start for them, so they could come in with a new design concept."
For apps to reach their full potential, banks will have to add some basic features, said Mary Monahan, executive vice president and research director at Pleasanton, Calif.-based Javelin Strategy & Research, which released a report in May examining the use of mobile platforms for banking.
Half of apps offered by the 30 financial institutions with the largest deposit amounts don't allow users to create a new payee for a bill, Monahan said. Even features that allow users to sign up for their bank's mobile services are lacking: About 17% of apps allow users to open new accounts, while only 7% actually allow users to enroll in mobile banking.
As a result, mobile users are often driven to the bank's website, ultimately limiting customers who want to do their banking on devices.
"Mobile users are often very familiar with online use, and tend to go back and forth digitally," she said in an e-mailed statement. "The easier and more complete we can make mobile banking, the more that consumers will turn to their smartphones and tablets."
Javelin's study concurred that websites still lead mobile apps as the platform of choice for a plurality of banking customers. The study found that 39% of consumers primarily use desktop and laptop computers to manage their checking accounts, compared to 23% who used mobile for the same purpose. It said mobile-first users are "more likely to be younger, female, and have children in the household than online-first or branch-first customers."
That national statistic mirrors the divide at the largest banks in the U.S., which are also seeing users of mobile apps increase at a faster rate than users of online banking platforms.
At Wells Fargo (WFC) , for example, the number of customers using the bank's mobile app rose 19% to 14.9 million in the 12 months through February. That was more than double the 8% increase in online banking customers over the same period, according to data from the company.
Websites run by JPMorgan Chase (JPM) and Bank of America see similar edges for traffic on their websites, though use of online banking at JPMorgan Chase grew by 35% between 2014 and 2015, faster than the 33% rate for mobile. 
Figures comparing the two rates for Bank of America were not available, and no numbers were available for Citigroup.
Some of the banks say they are developing both platforms. Wells Fargo, for instance, wants to build "a strong omni-channel experience for our customers," a spokesman said.
But providing options across multiple channels doesn't distract from the focus on mobile. In April, for example, Citibank released an app for the Apple Watch that includes detailed information for recent transactions and a color-coded alert telling credit card customers how close they are to their credit limit. 
Citi created the app after a spike in the portion of customers using only mobile devices to access their accounts, Melissa Stevens, the global head of internet and mobile banking, said in a telephone interview.
Previous development of smartphone apps made it easier to create the watch app, but Stevens said the watch is an "intimate" platform that forces banks to prioritize the features they put on a smaller screen.
"You don't want a bunch of offers thrown at you on the watch you're wearing," she said.
One institution that bucked the trend of stagnant online development is Bank of the West, a San Francisco-based company owned by BNP Paribas.
While the bank views its mobile and online options as "complimentary," Jamie Armistead, the bank's senior vice president and head of multi-channel banking, said one of the main revisions was revamping the website so that it's easier to navigate on smaller, touch-based screens.
Bank of the West is deciding which features best fit each platform based on their capabilities and customer feedback. For mobile devices, that has meant introducing features that allow users to pay a bill by taking a picture of it or check their account balance without opening the app, he said in a telephone interview.
Others are likely to remain on traditional platforms: "Are we pressing hard to get check reordering on the mobile device?" he said. "It's not an urgency by any stretch."
Corporate Insight's Filiaci agreed that designating some functions for specific devices will be a part of digital banking's future, but said many banks are still interested in creating "parity in terms of experience" on mobile and online platforms.
"There is a long way to go to making the mobile app experience a full banking experience, for sure," he said.