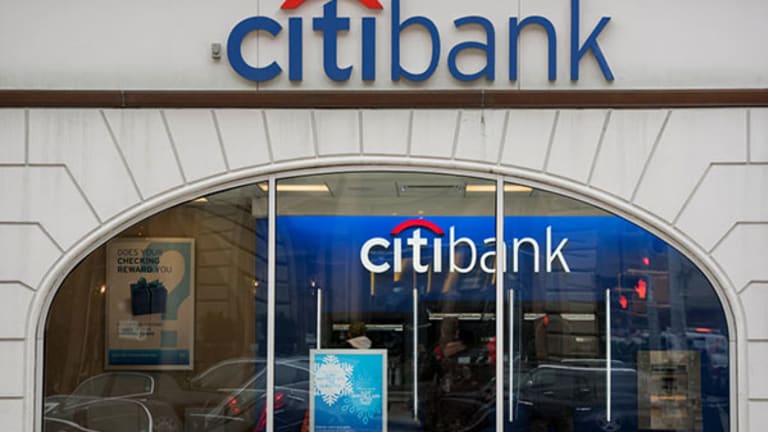 Citigroup Takes Forex Title; Jamie Dimon Calls Some Investors Lazy: Finance Winners & Losers
Citigroup crowned queen of forex trading, General Electric hired Morgan Stanley as an advisor for the sale of its Japanese unit, and JPMorgan Chase CEO Jamie Dimon entertains crowd.
NEW YORK (TheStreet) -- The S&P 500 Financials Index shook off some of Tuesday's losses, closing up 0.9%, as Citigroup (C) - Get Report proved itself a leader in foreign-exchange trading and J.P. Morgan Chase's (JPM) - Get Report CEO offered some candid comments about investors, competitors and shady employees. Just about everyone, really.
According to data published by Euromoney Institutional Investor, Citigroup is the largest bank by volume in foreign-exchange trading. The bank has a 16.11% share of the $5.3 trillion a day forex market.
Citigroup may not want to rush to the podium to accept its award: Last week the bank was fined $1.26 billion by the Justice Department and the Federal Reserve after pleading guilty to a felony antitrust charge involving manipulation of the euro-dollar exchange rate. Of the four banks penalized for the same charges, Citigroup was fined the most. Being No. 1 has its downside. 
Citigroup rose 63 cents to $54.87. 
Morgan Stanley (MS) - Get Report was hired by General Electric (GE) - Get Report as an adviser for the manufacturing conglomerate's sale of its $4 billion Japanese leasing business. GE's move is part of CEO Jeff Immelt's plan to pare down the lucrative GE Capital finance business and return the company to its industrial roots.
Morgan Stanley gained 83 cents to $38.62. Shares of General Electric were flat on Wednesday, at $27.52.
In a lively conversation at Bernstein's 31st Annual Strategic Decisions Conference, J.P. Morgan CEO Jamie Dimon said investors who cast votes based solely on the advice of proxy advisers are "lazy."
"God knows how any of you can place your vote based on ISS or Glass Lewis," Dimon said. "If you do that, you are just irresponsible. I'm sorry. And you probably aren't a very good investor, either."
It's worth noting that ISS and Glass Lewis have been critical of Dimon's compensation as well as his dual roles of chairman and CEO. Dimon wasn't a total curmudgeon during his talk: He spoke favorably about the U.S. economy as well as opportunities in financial technology. 
J.P. Morgan closed up 74 cents to $66.47.
Apparently not everyone shares Dimon's assessment that the U.S. economy is basically OK.
The Federal Reserve'sReport on the Economic Well-Being of U.S. Households in 2014 showed that 34% of full-time workers would be willing to work more hours for their current employer without an increase in wages. That might suggest that workers are still apprehensive about their prospects, since most grow more demanding about salary when the economy is improving.