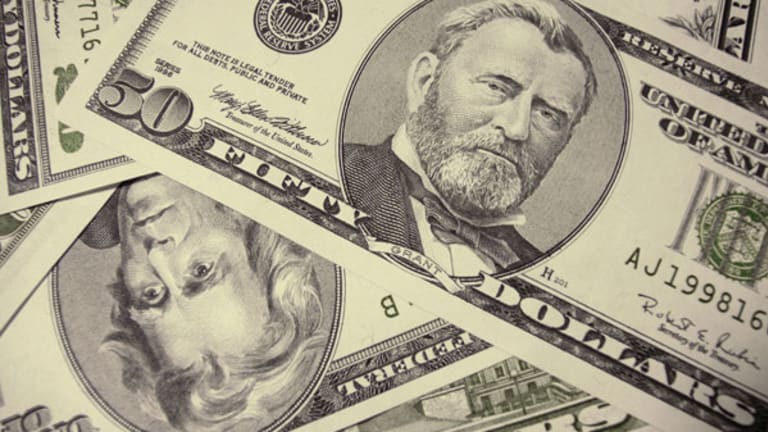 Publish date:
Citigroup: Financial Winners and Losers (Update2)
Citigroup shares claw back some of their losses from the previous session as banking stocks rebound in general.
Citigroup shares claw back some of their losses from the previous session as banking stocks rebound in general.
(Updated for stock-price movements throughout.)
NEW YORK (
) --
Citigroup
(C) - Get Report
shares led financial equities higher Wednesday, clawing back their losses from the previous session, as investors and traders awaited the afternoon statement from the
Federal Reserve
's policy chieftains, who, as widely expected, left rates unchanged.
The key Fed Funds rate will remain at its historic near-zero level, Fed Chairman Ben Bernanke and his colleagues said in a statement following their August 11-12 meeting in Washington.
The Fed governors also made remarks that seemed to bolster the idea that a nascent economic recovery has taken hold, or is about to. Data released since the Fed's last meeting, the statement read, "suggests that economic activity is leveling out."
Stocks in general rose sharply Wednesday -- gaining momentum after the Fed released its encouraging words -- with the
Dow Jones Industrial Average
up more than 170 points as the session entered its last hour of trading.
Citigroup's highly volatile stock was up 27 cents, or 7.6% -- regaining its loss from yesterday and then some -- to $3.96. Volume was heavy, with 755 million shares changing hands; daily turnover averages about 410 million shares.
On Tuesday, Citigroup released its second-quarter progress report (part of its duties under the Troubled Asset Relief Program), saying that it approved $6 billion in loans.
The bank also said that it plans to re-enter the warehouse lending business, which it had largely given up at the outset of the credit crisis. Citi said it will pump some $2 billion into the independent mortgage industry in a bid to breathe life into that moribund business (and, of course, to seek profits).
Banking stocks, hurt during Tuesday's session by data suggesting that mortgage rates fell the previous week, bounced back Wednesday, as further housing-related figures came to light -- these ones to be filed in the optimistic "green-shoots" bin: the National Association of Realtors, a trade group, said home prices in the U.S. rose 4% in the second quarter compared with the first, thought that's still 16% below year-ago levels.
JPMorgan
(JPM) - Get Report
was trading at $42.32, up $1.08, or 2.6%;
Wells Fargo
(WFC) - Get Report
was moving at $27.17, up 28 cents, or 1.04%; and
Bank of America
(BAC) - Get Report
was changing hands at $15.97, up 12 cents, or 0.8%, after trading in negative territory early on in the session.
Elsewhere, the Swiss banking giant
UBS
(UBS) - Get Report
settled a lawsuit filed against it by the U.S.
Justice Department
. The U.S. wanted UBS to turn over the names of suspected tax-evasion artists. Under the agreement, UBS will name thousands of customers and their accounts.
UBS's American Depositary Receipts were trading at $15.44, up 74 cents, or 5%.
Shares of the deeply troubled Texas bank
Guaranty Financial
(GFG)
surged more than 70% Wednesday after several parties, including private-equity behemoth
Blackstone
(BX) - Get Report
and
US Bancorp
(USB) - Get Report
reportedly emerged as potential bidders for Guaranty's assets.
In July, Guaranty indicated that its failure was imminent, which would make it the largest bank to collapse since last September's seizure of
Washington Mutual
.
The
Dallas Morning News
, meanwhile, reported that federal regulators could make an announcement on the fate of Guaranty next week.
Guaranty shares were trading at about 37 cents, up 15 cents, or 68%, on volume of 25 million shares. Average daily turnover is 4.4 million.
US Bancorp stock inched lower by 3 cents to $22.07, while Blackstone gained 5 cents to $14.51.
-- Written by Scott Eden in New York
Copyright 2009 TheStreet.com Inc. All rights reserved. This material may not be published, broadcast, rewritten, or redistributed.