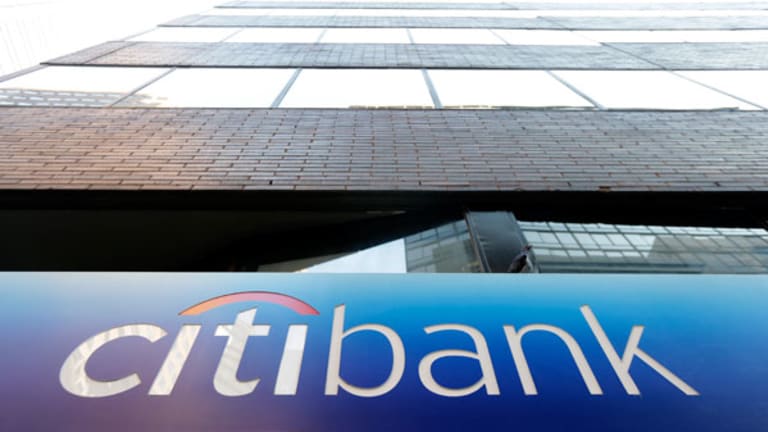 Citigroup: Cyprus Deal Loser
U.S. bank stocks were weak on Monday, although the reaction to the Cyprus bailout deal could only be considered mild.
NEW YORK (
) --
Citigroup
(C) - Get Free Report
was the loser among major U.S. financial names on Monday, with shares declining by 2% to close at $44.49.
The broad indices all saw 1% declines, after Cyprus secured 10 billion euros in bailout assistance for its beleaguered banking sector in a deal that allows Cyprus Popular Bank -- the island nation's second largest bank -- to fail, with its performing assets to be folded into the Bank of Cyprus. Depositors in both of the nation's largest banks will take losses initially estimated at roughly 30% on balances above 100,000 euro, while smaller deposit accounts will be unaffected.
The Eurogroup -- made up of the finance ministers of nations that have adopted the Euro common currency -- said in a statement that the bailout deal for Cyprus "will be an appropriate downsizing of the financial sector, with the domestic banking sector reaching the EU average by 2018." The Eurogroup also said the 10 billion euro bailout and the decisions taken by the Cypriot government will allow the nation's "debt to remain on a sustainable path."
So the Europeans have made it clear that they will not bail out the outsized banking sector of a member country that has touted itself as a tax haven, while providing some comfort to savers who keep their deposit account balances under the insured limit of 100,000 euros.
Back home, investors seemed to be concerned that other members of the common European currency, including Spain, Italy, Portugal and Greece, could see some very difficult resolutions of their banking crises.
The
KBW Bank Index
undefined
was down slightly to close at 56.44, with 14 of the 24 index components showing declines.
It's Different in Bailout Land
At the height of the credit crisis in the U.S., Congress and President George W. Bush famously enacted the $700 billion Troubled Assets Relief Program, or TARP, in order to take an aggressive approach in propping up the banking system. TARP begin on Oct. 28, 2008, with the
U.S. Treasury
taking preferred equity stakes in nine of the largest U.S. banks whether they wanted the money or not.
Another major factor in shoring up large and small U.S. banks was the Federal Deposit Insurance Corp.'s Temporary Liquidity Guarantee Program, which removed the limit on deposit insurance for non-interest bearing transaction deposit accounts -- business checking accounts -- until the end of 2012, when all deposit accounts became subject to the regular $250,000 insurance limit. The Temporary Liquidity Guarantee Program also provided government backing for some some unsecured debt, issued by U.S. banks through June 2012.
KBW analyst Frederick Cannon in a report on Sunday pointed out how irrational depositors' behavior can be, saying "during the financial crisis the number of depositors demanding their money back from IndyMac Bank increased
after
the FDIC took over the institution, including many insured depositors."
While there continues to be plenty of outcry in Washington against banks that are "too big to fail," the U.S. government's decision to cover nearly all deposits of the hundreds of failed banks through the credit crisis has resonated with depositors. According to KBW, the nation's largest banks had a significantly higher percentage of deposit accounts with total balances exceeding the deposit insurance of $250,000 at the end of 2012, than there were with total balances exceeding the old limit of $100,000 at the end of 2007:
According to KBW's data, 64% of deposits at Bank of America (BAC) - Get Free Report were in accounts with total balances exceeding insurance limits at the end of 2012, increasing from 44% at the end of 2012.
For JPMorgan Chase (JPM) - Get Free Report, 53% of deposits were in accounts with total balances exceeding insurance limits at the end of 2012, increasing from 51% at the end of 2007.
Wells Fargo (WFC) - Get Free Report had 44% deposits in accounts with total balances exceeding insurance limits at the end of 2012, increasing from 41% at the end of 2007.
Citigroup had the 31% of total deposits in accounts with total balances exceeding insurance limits at the end of 2012, increasing from 21% at the end of 2007.
Rafferty Capital Markets analyst Richard Bove on Monday said in a report, "in Spain, the government has apparently made the decision to recapitalize the nationally owned banks. The shareholders in any partially publically traded institutions will be wiped out and it is estimated that bondholders in these companies will lose 30% of their investments."
The resolution of Spain's banking crisis and the resolution in Cyprus "will be truly terrible," Bove wrote, adding that "depressions will ensue for many years causing incredible misery.
"Observers will learn why it is bad policy not to bail out banks; why main street wins when banks are bailed out," he wrote.
U.S. banks certainly don't need the additional deposits they are likely to gain if there is a big outflow from European banks, since overall loan demand is weak and the interest rate environment remains hostile. But "American banks are very strong relative to any historical gauge," according to Bove.
Citigroup's Shares are Cheap
Shares have Citigroup have returned 12% this year, following a 51% return during 2012.
The shares trade for 0.9 times their reported Dec. 31 tangible book value of $51.19, and for 8.5 times the consensus 2014 earnings estimate of $5.23 a share, among analysts polled by
Thomson Reuters
. The consensus 2013 EPS estimate is $4.62.
Citi disappointed some investors when it announced on March 7 that it hadn't requested regulatory permission to increase its nominal quarterly dividend of a penny a share, but had requested
approval for up to $1.2 billion in common share repurchases through the first quarter of 2013. The Fed approved the company's 2013 capital plan on March 14.
But Citigroup seems to have played its regulatory hand quite well. By making such a modest capital deployment request to the Federal Reserve, the bank avoided any possibility of negative headlines over a rejection of its capital plan, or of a conditional approval. Both JPMorgan Chase will have to submit revised 2013 capital plans to the Fed by the end of the third quarter.
Atlantic Equities analyst Richard Staite in a report on March 15 said Citigroup and Bank of America both came out as winners from the Federal Reserve's 2013 round of stress tests and "both banks are now well placed to ramp up capital returns in 2014."
Please See
TheStreet's
Capital Deployment Winners and Losers
for more on stress test results and banks' announced capital returns.
-- Written by Philip van Doorn in Jupiter, Fla.
>Contact by
.
RELATED STORIES:
Manhattan Bidding Wars to Persist as Housing Supply Stays Tight
Freddie Mac Servicers Slow To Address Serious Borrower Complaints:Watchdog
First Niagara Is a Long-Term Bargain After M&A Mess
Philip W. van Doorn is a member of TheStreet's banking and finance team, commenting on industry and regulatory trends. He previously served as the senior analyst for TheStreet.com Ratings, responsible for assigning financial strength ratings to banks and savings and loan institutions. Mr. van Doorn previously served as a loan operations officer at Riverside National Bank in Fort Pierce, Fla., and as a credit analyst at the Federal Home Loan Bank of New York, where he monitored banks in New York, New Jersey and Puerto Rico. Mr. van Doorn has additional experience in the mutual fund and computer software industries. He holds a bachelor of science in business administration from Long Island University.