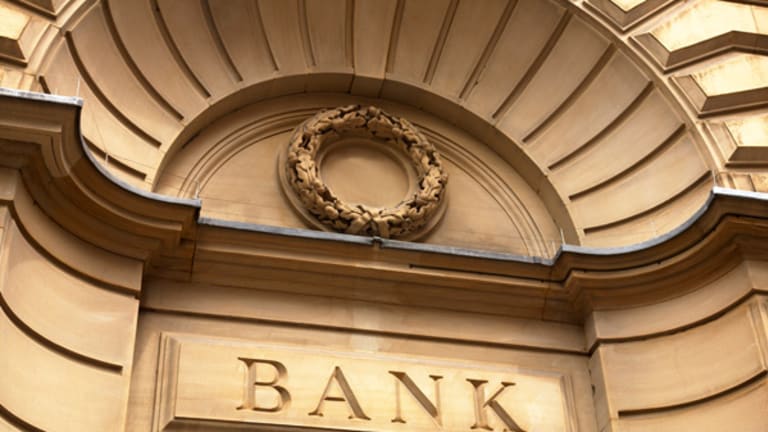 Citi, BofA: Financial Winners and Losers
Financial stocks end Wednesday mixed, despite data suggesting that the housing market has continued to stabilize.
Financial stocks end Wednesday mixed, despite data suggesting that the housing market has continued to stabilize.
Updated with thrift bank information and new stock prices
NEW YORK (
) -- Financial stocks ended mixed Wednesday, shrugging off data suggesting that the root cause of the economic crisis -- the housing market -- has continued to stabilize.
Weekly mortgage applications rose 7.5% (though most of that increase came from refinancings), and new-home sales in July jumped 9.6% (though median home prices were still 11.5% lower than a year ago).
The news did little to lift shares in the financial sector, or equities in general, as investors looked beyond the surface numbers, growing wary of stock values after the huge spring and summer rally. The
Dow Jones Industrial Average
ended Wednesday at 9,543, up a little more than 4 points on the session, after losing ground for much of the day.
Among the megabanks,
Citigroup
(C) - Get Report
shares slipped 12 cents, or 2.5%, to $4.63, while
JPMorgan
(JPM) - Get Report
lost 28 cents, or 0.6%, to $43.30.
But shares of
Wells Fargo
(WFC) - Get Report
and
Bank of America
(BAC) - Get Report
endd trading in the green, if slightly, advancing 29 cents to $27.62 and 4 cents to $17.79, respectively.
On Tuesday, the drama over last year's
Merrill Lynch
bonuses continued. A federal judge ordered U.S. regulators to explain why they hadn't been more rigorous in their investigation of Bank of America's role in those bonus payouts, and whether Bank of America had misled its shareholders after it agreed to buy Merrill Lynch in last September's shotgun deal.
The
SEC
said that the evidence didn't merit further investigation. The federal judge replied that the SEC's arguments appeared "at war with common sense." The judge also wants Bank of America to tell its side of the story.
Elsewhere Wednesday, another report emerged that
Morgan Stanley
(MS) - Get Report
was
its Van Kampen mutual- fund unit. According to a
Bloomberg
item, the bank has made inquiries with at least three asset-management firms about a sale or link-up. Still, Morgan Stanley shares gave up 66 cents, or 2.2%, to end Wednesday's trading at $29.53.
In a widely anticipated ruling by the FDIC, the regulator softened its stance on the auctioning of troubled banks, making it a bit easier for private-equity firms to acquire those banks. The rules rollback comes as many observers predict a series of failures among small regional banks that, lacking federal bailout money, are still struggling with toxic assets on their balance sheets.
The publicly traded vehicle of private-equity giant
Blackstone
(BX) - Get Report
gained 23 cents, or 1.8%, to $13.10. Rival Kohlberg Kravis & Roberts's
KKR Financial Holdings
(KFN)
rose 5 cents, or about 2%, to $2.74.
Also Wednesday, the Office of Thrift Supervision said
thrift banks barely made a profit
in the second quarter, squeaking out total earnings of just $4 million. As small as that number may seem, it marked the first quarter of profit for the industry since the third period of 2007.
But the number of "problem thrifts," a designation applied to institutions with dangerously low capital reserves, rose to 40 from 31 in the first quarter. Just 17 banks were on the list a year ago. The regulator doesn't disclose the names of those banks, for obvious reasons.
Scott Eden has covered business -- both large and small -- for more than a decade. Prior to joining TheStreet.com, he worked as a features reporter for Dealmaker and Trader Monthly magazines. Before that, he wrote for the Chicago Reader, that city's weekly paper. Early in his career, he was a staff reporter at the Dow Jones News Service. His reporting has appeared in The Wall Street Journal, Men's Journal, the St. Petersburg (Fla.) Times, and the Believer magazine, among other publications. He's also the author of Touchdown Jesus (Simon & Schuster, 2005), a nonfiction book about Notre Dame football fans and the business and politics of big-time college sports. He has degrees from Notre Dame and Washington University in St. Louis.