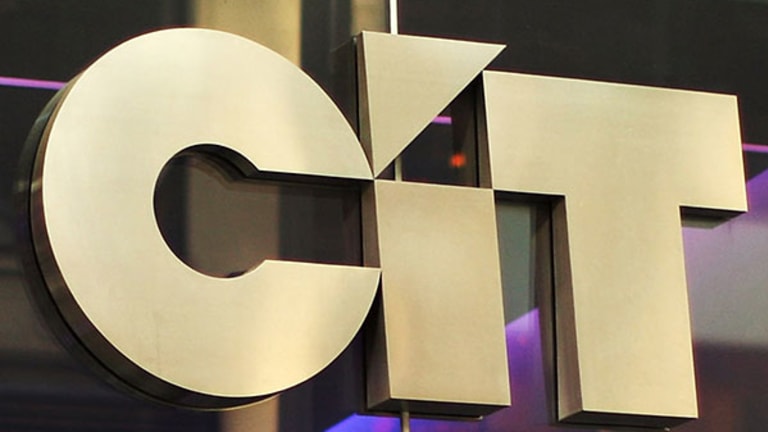 CIT Reveals Fed's Objection to Capital Distribution Plan
The financial institution revealed that the central bank had concerns with its first stress test and that it took a $163 million charge related to a unit acquired from OneWest.
CIT Group Inc.'s (CIT) - Get Report shares traded up slightly early Thursday on news it beat analyst estimates slightly even though it also revealed that the Federal Reserve had privately given its capital distribution plan a "qualitative objection" over concerns around risk management. 
In addition, CIT Group also disclosed that it received a negative charge from a reverse mortgage servicing unit it obtained as part of its blockbuster 2015 merger with OneWest.
Nevertheless, CIT Group's adjusted earnings in the second quarter per share beat analyst expectations. It had adjusted earnings of $0.80 a share when taking into account an after-tax charge of $163 million related to problems with the reverse mortgage servicing business, Financial Freedom. It acquired the unit as part of its $3.5 billion merger with OneWest in 2015. This beat an aggregate mean earnings-per-share estimate for CIT Group collected by FactSet for the quarter of $0.78 a share.
"The qualitative objections to CIT's first [stress test] submission, with only modest buybacks allowed, is likely to weigh on the shares today," noted Keefe Bruyette & Woods analysts in a report Thursday. "Noisy quarter with a large loss related to the legacy OneWest Financial Freedom reverse mortgage business, which was moved to discontinued operations.."
In a call with analysts Thursday, CIT Group CEO Ellen Alemany said the company is "fully cooperating" with a previously disclosed investigation being led by the U.S. Housing and Urban Development agency's Office of Inspector General into reverse mortgages, which began shortly after the close of the OneWest acquisition last year.
"We are disappointed that the additional charges arising from the legacy Financial Freedom business, which was part of the OneWest Bank acquisition, offset the improved earnings from continuing operations," Alemany said. "We have a new management team in place and making good progress in implementing practices to strengthen the controls and procedures of this legacy business."
Still, it's possible that a capital distribution hike could be coming soon. Alemany told analysts that CIT is continuing to progress with what she again called its number one priority to sell or spin off its commercial air business. The financial institution has been moving on a dual track with the unit, with plans to either spin it off or sell it if buyers offer a sufficient premium.
Alemany told analysts that CIT Group has progressed to a "second round of the bidding process" in connection with a potential sale of the business. In addition, she said that CIT Group has made a required securities filing in connection with a possible spinoff, the alternative route that would be completed by year-end.
China's HNA Group and a company managed by Hong Kong billionaire Le Ka-shing are reportedly top potential bidders for the unit, which has a $3 billion to $4 billion valuation. However, Ping An Insurance and Century Tokyo Leasing, which has a joint venture with CIT, also have reportedly advanced to the second round of bidding. 
Alemany had said in March that her intention was to use any proceeds from a potential sale of commercial air to buy back stock.
On Thursday, CIT Group disclosed that last month it received a qualitative objection from the Federal Reserve as part of the institution's stress test to determine whether it had enough capital to withstand a financial crisis similar to the one that shook the global economy in 2008. Federal Reserve qualitative objections typically relate to concerns by the central bank that a particular financial institution doesn't meet its standards for risk management. CIT Group's stress test was its first, considered a "trial run," and as a result it was conducted privately and not disclosed in June along with the other results.
Nevertheless, CIT Group was approved only to maintain its dividend and conduct a "modest amount of share repurchases" over the next few quarters consistent with its 2015 dividend and $140 million annual buyback program..
A senior CIT Group official said that CIT Group has "work to do to meet" the stress test standard. This person noted that the original test application to the Fed did not include the separation or sale of the commercial air division but that its amended plan did consider it.
An analyst familiar with the situation suggested that the Fed may be more likely to approve a higher capital distribution if CIT Group uses the proceeds from a sale of its commercial airline division for it, as the company has suggested.
In addition, CIT Group is a member of a group of roughly 40 large banks and other financial institutions that have been designated by regulators as Systemically Important Financial Institutions, or SIFIs, because they have $50 billion or more in assets. In addition to tough capital and liquidity rules, SIFI regulation subjects them to costly stress tests. CIT Group is on the smaller end of the group of SIFI banks and faces a disproportionately higher cost of compliance.
Activist investors have been pushing for sales to bring CIT Group's size to below the $50 billion in asset threshold to eliminate its costly SIFI status.
A sale of its rail leasing business, which is not being publicly contemplated, combined with the sale or spinoff of its commercial air business, would drop it to below the threshold.
In March, Alemany noted that after CIT Group separates its commercial air business, its asset size would be in the "mid-50s." However, on Thursday, Alemany, the CEO, said that CIT Group is not managing the company to meet a specific asset level, adding that the earliest the company could ever consider seeking to gain regulatory approval to remove its SIFI designation is 2018, based on a regulatory review of assets over a four quarter period.
She noted, however, that Fed Governor Daniel Tarullo has suggested that the central bank may ease qualitative review standards for institutions like CIT Group, which have less than $250 billion in assets.