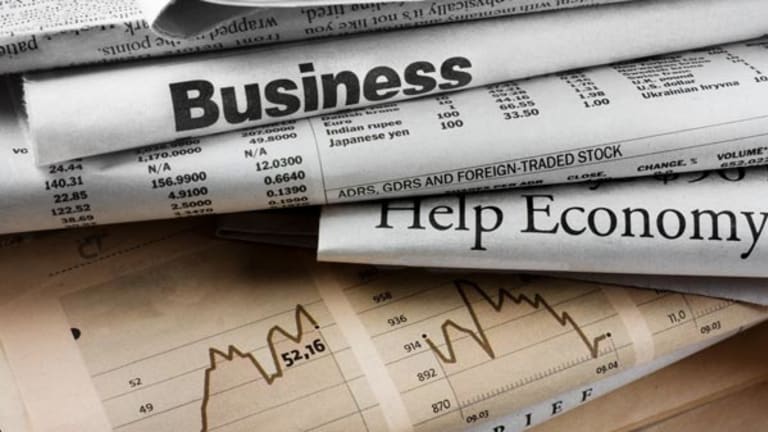 Cisco: the Case for Buying the Stock Now
Cisco is out of favor. Its stock has rarely been more attractive.
BOSTON (TheStreet) -- Cisco (CSCO) - Get Cisco Systems, Inc. Report, the largest network-equipment maker in the U.S., is among the worst-performing and most loathed U.S. equities. Its stock has fallen -- by as much as 16% -- in response to the past four quarterly earnings releases.
Yet, there are reasons to be bullish on Cisco: compelling value, overwrought pessimism, $25 billion of net cash on hand, leading market share in networking gear and a newly-introduced dividend.
Cisco, based in San Jose, Calif., makes IP-based communications and technology equipment, including switches, routers, access equipment and networking software that allows data integration across networks. It's also recently entered the video-conferencing and data-center server markets. Its bread-and-butter are Ethernet switches, which distribute data through computer networks. Cisco holds a 70% switch market share, providing it with what
Morningstar
deems a "wide economic moat", or sustainable competitive advantage. Cisco's competitor in networking is
Hewlett Packard
and in routers,
Juniper
(JNPR) - Get Juniper Networks, Inc. Report
and China-based
Huawei Technologies
.
Cisco's adjusted quarterly earnings decreased 15% to 37 cents, exceeding analysts' consensus target by 5.4%, and sales grew 6%, past $10 billion, beating consensus by 1.7%. Yet, a gross margin decline, from 68% to 65%, year-over-year, catalyzed yet another sell-off in Cisco's stock. Management clarified the spread compression, attributing 100 basis points to a drop-off in its consumer segment and 50 basis points to investment in a lower-margin subsidiary. For two consecutive quarters, public-sector and set-top-box sales dropped precipitously. With budget constraints rampant in the U.S. and Europe, public-sector sales are likely to remain pressured. Management cut guidance, coincident with earnings.
Further exacerbating the sell-off, Cisco's ever-important switch revenue fell 7%. However, Morningstar continues to believe that market share is intact. And a growing backlog and projected rebound demonstrate that unit's cash-flow stability. As investors tend to be "ready, fire, aim" in reaction to earnings, Cisco has been dumped quarter after quarter, even though its core business is strengthening overseas. Morningstar views the recent foray into server manufacturing as a strategic misstep because margins are slim and the possibility of irritating entrenched players, who are critical partners for other divisions, is an unnecessary risk.
Still, Cisco is a compelling value stock. The recent negativity is overblown and five years from now, investors may view 2011 as a missed entry point into the leading networking-equipment stock. Cisco's shares currently sell for a trailing earnings multiple of 13, a forward earnings multiple of 9.8, a book value multiple of 2.1, a sales multiple of 2.2 and a cash flow multiple of 9.1, which are 54%, 55%, 36%, 37% and 48% discounts to communications-equipment industry averages. Its PEG ratio, calculated by dividing the trailing P/E by analysts' terminal earnings growth forecast, of 0.7 indicates a 30% discount to estimated fair value. The stock has been a perennial laggard, however, having fallen 14% already during 2011.
Shares are down 13%, annualized, since 2008 and 33% over 12 months, underperforming technology benchmarks and ranking as the worst-performing
Dow
component. The recent quarterly dividend initiation, at 6 cents, converts to an annual yield of 1.4%, with a projected payout ratio of less than 20%, a sustainable and safe percentage. The dividend, an obvious ploy to goose investor optimism, hasn't altered researchers' view, which has long incorporated the distribution. Of those covering the stock, 27, or 56%, advocate purchasing it, 19 advise holding and two suggest selling. Cisco places as the seventh worst-rated Dow stock.
Interestingly, it also has the most analysts in coverage, at 38, of the Dow equities, despite Cisco's middle-of-the-pack market value of $97 billion. Cisco bulls include
Gleacher & Co.
,
RBC Capital Markets
and
Credit Suisse
, which offer respective targets of $25, $24 and $24, suggesting more than 37% of upside in the next 12 months. Among the bears is
JPMorgan
, which downgraded Cisco to "neutral" in response to the latest quarterly disappointment, titling its note: "If it's not one thing, it's another." The consensus sentiment for Cisco these days: escalating frustration. JPMorgan cut its 12-month price target from $24.50 to $19, still implying nearly 9% upside.
Its more-cautious view hinges on slower revenue growth in the next few quarters. Also, routing revenue, down 4% in the latest quarter, missed the bank's estimate, which was partially compensated for by higher-than-anticipated services revenue, which also enjoyed a 67% gross margin. CEO John Chambers is stressing that new product adoption is the primary driver behind gross margin erosion, a reasonable explanation, and that, historically, margins expand to former levels within four quarters. This is accurate. Still, JPMorgan doesn't see any positive catalysts on the horizon for Cisco and is therefore curtailing optimism.
In large part, it seems that known negatives have already been priced by investors, and management's reduced guidance provides a set-up for a beat-and-raise environment. But, given the recent negative news flow on Cisco and the broader market sell-off, analysts are remaining cautious. Morningstar, which isn't beholden to a 12-month timeframe as sell-side analysts are, has Cisco on its five-star stock list, which includes just 31 stocks that the researcher believes trade at significant discounts to intrinsic fair value. Morningstar values Cisco at $30, assuming 8.5% annualized organic growth through 2015. That price target suggests that Cisco shares will appreciate 71%.
Risks are plenty. But, Morningstar has incorporated numerous likely negatives into its financial modeling, including the dilutive aspects of non-core initiatives, such as the consumer and set-top box businesses, gradual margin declines and even modest share erosion. Still, Cisco offers investors the opportunity to purchase a near-monopolistic tech at an historical discount. Consider that Cisco sells for a trailing P/E of just 13, a 35% discount to its five-year average earnings multiple. Those able to buy and hold should consider the stock. And those dismissing the dividend, off hand, are failing to account for its psychological benefits.
Whereas many long-term bargain hunters were avoiding Cisco due to fear of further guidance reductions, margin pressure or analyst downgrades, they will be more likely to initiate positions now that consistent dividend payments can be factored into its valuation. Although the yield is modest relative to those of other Dow stocks, any further selloffs in Cisco will provide yet another opportunity to buy a blue-chip company at a cheap price and a higher distribution yield. With $9 billion of estimated annual free-cash-flow and an ample balance sheet, the dividend has room for growth. Purchasing Cisco is increasingly looking like a "fat pitch" for long-term owners.
The major downside for Cisco and other cheap, but beleaguered, blue-chips is the macro-economic outlook and risks stemming from Japan as well as the Middle East. It's possible that near-term GDP and profit forecasts will be cut as a result of supply-chain disruptions and commodity inflation. If so, correlations for all risk assets will move toward 1 as investors indiscriminately sell in a "risk-off trade" that's becoming frequent as of late. Cisco is a stock to watch closely and perhaps accumulate, but in a cautious manner.
-- Written by Jake Lynch in Boston.
RELATED STORIES:
Goldman's 8 New 'Conviction' Stock Buys
Become a fan of TheStreet on Facebook.
Disclosure: TheStreet's editorial policy prohibits staff editors, reporters and analysts from holding positions in any individual stocks.