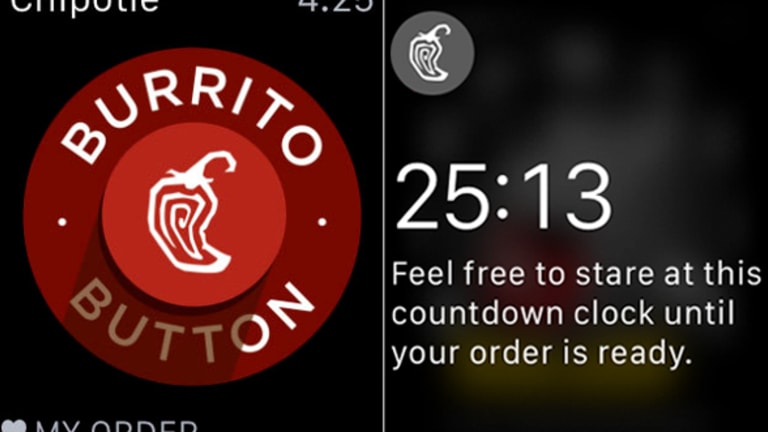 Chipotle Just Made It a Lot Easier to Order Your Favorite Burrito
Chipotle has launched an Apple Watch app, quickly moving to take advantage of the device's cool factor. The smartwatch app marks a change of pace for the burrito giant.
Chipotle has launched an Apple Watch app, quickly moving to take advantage of the device's cool factor. The smartwatch app marks a change of pace for the burrito giant.
NEW YORK (TheStreet) -- Chipotle (CMG) - Get Report wants to make it easier for its legions of faithful burrito lovers to place an order, so the popular fast food chain is seeking to score a little space on their wrists.
That is, if a person hankering for a burrito or salad bowl has the flashy, hard-to-get new Apple (AAPL) - Get Report Watch.
On Friday, coinciding with Apple's official launch of its Apple Watch, Chipotle announced that it will be among the first restaurant companies to release an app to support the new wearable device. "Convenience is important to our customers and mobile ordering apps allow for easy access on the go," said Chris Arnold, Chipotle's communications director, in a statement. "With the app's availability now on the Apple Watch, existing app users have an even more efficient mobile ordering experience available to them."
To build its Apple Watch app, Chipotle said it has updated and optimized its existing iPhone app, meaning there are no substantially new features, save for a "countdown clock" that ticks off the seconds to when your order is ready (the iPhone app does tell you what time your order will be ready, however). Customers using the Apple Watch app will be able to locate the closest Chipotle, save their favorite orders, and pay for the items using a stored credit card before picking up the food, similar to what they can do on an iPhone.
Chipotle joins restaurant tech pioneerStarbucks (SBUX) - Get Report in having an app ready on day one of the Apple Watch launch. Starbucks' Apple Watch app offers most of the same features available on its smartphone app, including locating the closest location, viewing their loyalty rewards and mobile payment. 
Domino's Pizza (DPZ) - Get Reportearlier this year released an app that supports mobile ordering on Google (GOOG) - Get Report Android and Pebble smartwatches, and will likely have an Apple Watch app of its own soon, too. A host of other fast food competitors are likely to follow suit in coming months, as they seek to capitalize on the smartwatch's ability to speed up lines via mobile ordering and offer more personalized marketing and food options.
For Chipotle, its early release of an Apple Watch app marks a change of pace in terms of how quickly it has embraced new technology.
Chipotle has sought to be in the mix in offering mobile features, such as mobile ordering, which is now an option, and mobile payment, which isn't, but executives have said in the past that the company doesn't need to be on the "bleeding edge" of technology. There are several reasons for that stance. First, Chipotle prefers that consumers interact with its often friendly, well-trained employees inside of the restaurant. By doing so, the thinking goes that customers become more loyal to the brand. 
Another reason is Chipotle's relentless focus on improving ingredient sourcing for the items on its menu -- for example, finding new outlets for "responsibly raised" beef and pork and removing genetically modified organisms (GMOs) from its ingredient list . Hence, taking advantage of technology, while important, isn't a top priority.
But the company's stance may be changing, albeit slowly, as Chipotle seeks more ways to keep its sales humming. On Wednesday, its shares fell more than 7% as the burrito giant reported that its same-store quarterly sales grew 10.4% in the first quarter, down from 16.1% growth in the previous quarter.
In addition to the Apple Watch app, Arnold shared in a Mar. 19 interview with TheStreet, Chipotle will have an update "out soon" for its mobile app. Yet, it still won't offer mobile payment -- the device will continue to be linked to old fashioned credit cards instead of a newer payment method such as Apple Pay or Google Wallet.
Chipotle founder and co-CEO Steve Ells has commented previously on the fact that implementing mobile payment isn't that easy. "There are considerable technological constraints implementing it, just based on the way payments are processed with our system," he said on Chipotle's Oct. 20 earnings call.
Chipotle's Chief Creative and Development Officer Mark Crumpacker reinforced this view on an April 21 earnings call.  "The restaurants currently are not set up to accept mobile pay, although with Apple Pay, in particular, the investment on the hardware side is relatively minimal, so that's not a significant barrier -- the main challenge there is making the point of sale (POS) software compliant with Apple Pay -- so we're working on that," Crumpacker said. 
For Chipotle, embracing tech innovation to a larger degree should make its notoriously long lines during lunch and dinner move more quickly and prevent customers from leaving before ordering. Chipotle is already credited with some of the fastest "throughput" times, an industry term for how quickly a customer moves through the line. In the first quarter, Chipotle increased its average transactions by 21 per day as executives implemented new reporting tools that better measure employee performance.
"So we're getting faster and faster, and we think that we're not sort of close to being at the point where we can't get faster -- that is to say, there is sort of a lot of runway on our ability to get faster," admitted Chipotle CFO Jeff Hartung on the earnings call.
Unleashing the power of the Apple Watch should aid in Chipotle's drive towards extra speedy lunch and dinner lines, hopefully leading to continued sales growth.
This article is commentary by an independent contributor. At the time of publication, the author held no positions in the stocks mentioned.