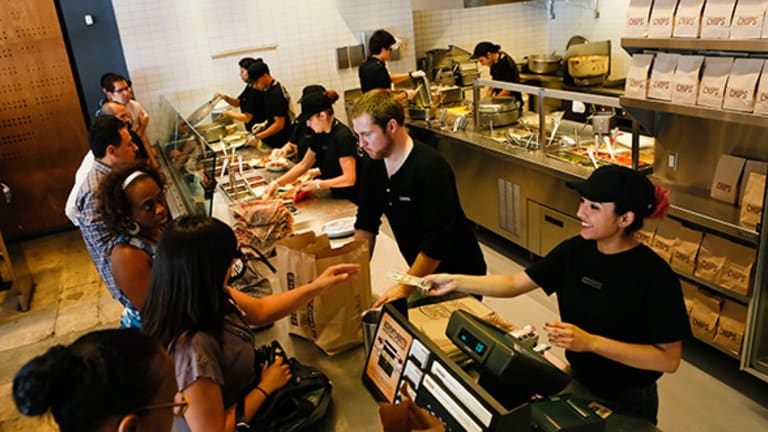 Publish date:
Chipotle in a Food Fight With This Hot Restaurant Stock
We've found an underappreciated restaurant chain that's taking the fight to rival Chipotle. Here's why the company is poised for earnings momentum this year.
We've found an underappreciated restaurant chain that's taking the fight to rival Chipotle. Here's why the company is poised for earnings momentum this year.
Americans still love fast food, but they're increasingly opting for quick and easy meals that are gussied up as sit-down restaurant fare. Hence the increasing popularity of "fast casual," which essentially entails fast food with cutlery, linen napkins, and wait staff.
Darden Restaurants (DRI) - Get Report is a fast casual stock that's an appealing buy before its scheduled earnings report on Tuesday.
The Great Recession of 2008-2009 traumatized an entire generation of middle-class consumers. Now that unemployment is falling and the economy is expanding, average consumers are feeling wealthy enough to dine out again, but memories of the worst downturn since the Great Depression have made them lastingly frugal. For a night out with the family, fast casual occupies the middle ground between a fancy, expensive indulgence and the same old processed food in a greasy bag.
Chipotle Mexican Grill (CMG) - Get Report in recent years rode this trend to become a Wall Street darling, until an E. Coli epidemic at its eateries took the wind out of its stock. Despite CMG's efforts to turn itself around, the verdict is still out as to whether this Tex-Mex fast casual chain can ever return to its former glory.
Stepping into the vacuum left by Chipotle is Darden, a restaurant "value play" that should enjoy earnings growth momentum in 2017.
With a market cap of $9.52 billion, Florida-based Darden Restaurants owns and operates 1,536 restaurants, including 843 Olive Garden, 481 LongHorn Steakhouse, 54 The Capital Grille, 65 Yard House, 40 Seasons 52, 37 Bahama Breeze and 16 Eddie V's restaurants.
The company is scheduled to report quarterly operating results Tuesday, March 28. The Wall Street consensus for earnings per share is $1.28, compared to $1.21 in the same quarter last year.
Darden's restaurants have carved out their own distinct niche. They're full-service but not too formal, a category that's in the social comfort zone of the suburban, SUV-driving public. The company still offers the burgers-and-fries that most consumers crave, but its menus encompass a wide variety of fare. Darden also has been co-opting the trend toward healthier eating by conspicuously removing trans-fats and other unhealthy ingredients from its meals.
With a trailing 12-month price-to-earnings (P/E) ratio of 22.47, DRI is cheaper than the trailing P/E of rivals Chipotle (537.69), Texas Roadhouse (TXRH) - Get Report (26.71), Panera (PNRA) (40.37) and the industry (38.6). Over the last 12 months, Chipotle's stock has plunged 13%, whereas Darden's has risen 15.41%, with more upside ahead.
The average analyst expectation is that Darden will rack up year-over-year earnings growth of 5.8% in the current quarter, 4.5% in the next quarter, 11.6% in the current year, 9.6% next year, and 11.86% over the next five years on an annualized basis.
Pocket $67,548 EXTRA With This One Simple Investment Change

Warren Buffett reaped $4.9 billion by making this one small change to his investment strategy. It's the closest you'll ever get to NEVER losing money while investing. I made $185 every day over 1,586 days doing this. Is it time for a change that will lead to more money in your pocket? Get the full details here.
John Persinos is an analyst with Investing Daily. At the time of publication, he owned none of the stocks mentioned.