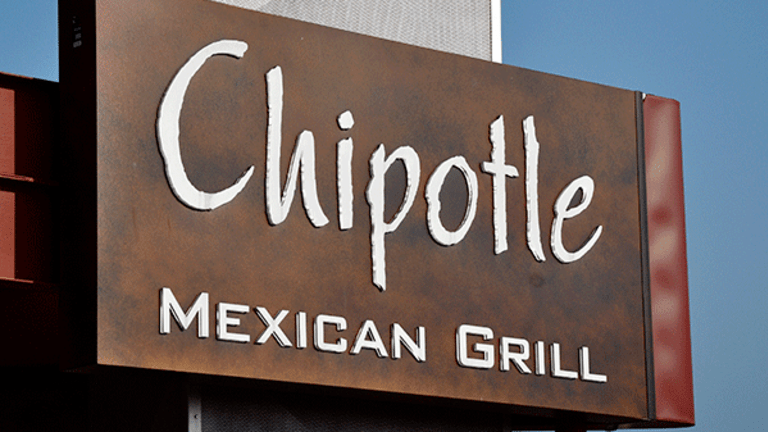 Chipotle, Home Depot, Wynn: Three Head-and-Shoulders Charts
Pause or potential pullback for Home Depot, Wynn Resorts, and Chipotle.
The head-and-shoulders pattern is a classic technical pattern often seen after uptrends in a stock. It consists of three successive peaks with the center peak or head of the pattern the highest, and the reaction lows of each peak forming neckline support. A pattern price target objective is arrived at by subtracting the height of the pattern and subtracting it from the neckline. The following three stocks have formed rudimentary head-and-shoulders patterns on their charts and have tradable downside potential.
View Chart »View in New Window »
Wynn Resorts (WYNN) had been trading in a horizontal channel for nearly a year before breaking above resistance in March and rallying 20% to their high in May. The move achieved a perfect pattern price objective measured by taking the height of the channel and adding it to the breakout level. It is fair to assume that at this point, there could be a period of consolidation or potentially a pullback.
A series of high wick candles formed this month on the daily chart, defining a rudimentary head-and-shoulders topping pattern, above neckline resistance in the $120.00 area. Moving average convergence/divergence has been moving in bearish divergence to the price and Chaikin money flow moved into negative territory. The integrity of the area of intersecting support supplied by the neckline and the rising 50-day moving average will determine if the stock is simply going through a constructive consolidation or has made an intermediate-term top.
View Chart »View in New Window »
Shares of Chipotle Mexican Grill (CMG) have seen significant improvement this year, recovering nearly 38% of their more than 50% loss in value from November 2015 to November 2016. The stock broke out of a 10-month rounded base under resistance in the $440.00 level in March and quickly ran up to the first Fibonacci resistance level in the $500 area. This month it has been rolling over in another simple hand-and-shoulders formation and back down toward short-term support in the $470.00 area.
The loss of momentum is reflected in the declining relative strength index, while the accumulation/distribution line has been flat to slightly lower this year, suggesting a lack of strong buying interest in the rally. A break below the neckline would likely retest long-term bottom support.
View Chart »View in New Window »
Home Depot (HD) shares have been following a steady pattern of rally and rest since making their November 2016 low and are up 30% in that time. They are going through another consolidation phase this month, above horizontal resistance at the $153.00 level, which, also, has the appearance of a rudimentary head-and-shoulders pattern.
Moving average convergence/divergence made a bearish crossover as the head was forming, and both the accumulation/distribution line and Chaikin money flow were below their signal averages. A bounce off the intersecting trend lines would be a long entry point with the expectation of a new rally phase and new highs in stock price, while a breakdown at that point would signal a potential intermediate-term pullback.
Read More Trending Articles:
Stocks Turn Negative on Final Day of May; Crude Oil Plummets Again
No positions in the stocks mentioned.