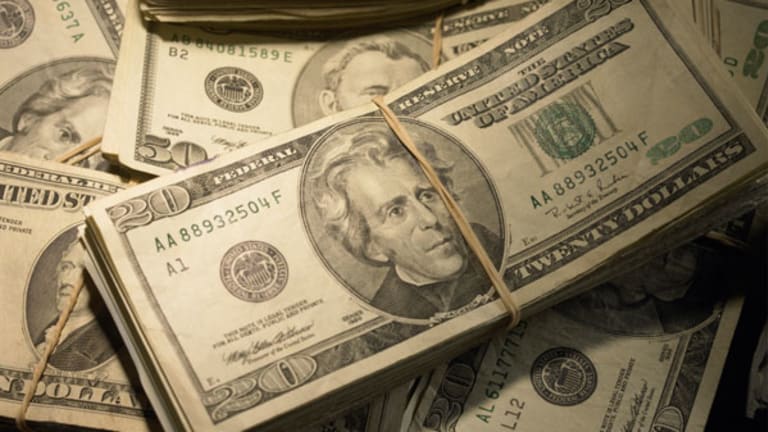 Chipotle, Herbalife, Sears: Doug Kass' Views
Doug Kass shares his thoughts on Pershing Square, and talks about Sears.
Doug Kass shares his views every day on RealMoneyPro. Click here for a real-time look at his insights and musings.
The Problem at Pershing Square
Originally published March 14 at 3:19 p.m. EST
"Also-Ran #2:
Pershing Square Shutters
: Despite a large permanent base of capital and Bill Ackman's strong record of resilience (and stubbornness!), Pershing Square closes and Ackman heads off to teach at Harvard Business School after his acrimonious divorce and another poor year as
Chipotle Mexican Grill
(CMG) - Get Chipotle Mexican Grill, Inc. Report
and
Valeant Pharmaceuticals (VRX)
crap out and
Herbalife  (HLF) - Get Herbalife Nutrition Ltd. Report
heads higher. Many other high-profile hedge funds close as industry redemptions provide a disruptive impact to the markets throughout the year."
-
Bill Ackman is one self-confident hedge hogger--who has demonstrated an arrogance over the years and a need to consistently tell the investment community how smart he was.
But, no one--including Ackman who possesses an extraordinary amount of hubris--deserves to be hit when he takes a blow on the order of magnitude of Valeant (close to $4 billion).
Moreover, I am not a fan of schadenfreude, which I see in the business media, post the Valeant sale Tuesday.
That said, here are some of the problems facing Pershing Square.
Pershing Square was down 20% in 2015, 13% in 2016 and is down again so far this year 2017. By my estimate he is 36% down from year-end 2014 (cumulatively)--which was his last profitable year (recording a 40% gain).
That means Pershing's hurdle barrier is huge--Ackman has to increase Pershing's value to his investors by at least 50% in order to start earning incentive fees for his hedge fund.
In theory, he could find it difficult to retain and hire talented researchers, despite the fact that the management fee is still large thanks to the hedge fund's still sizable asset base.
While it is unlikely that Pershing will be closed (as I suggested could happen in my 2017 Surprises), the "positive" I see is that (excluding the management fees), one could say that Ackman is working for "free" until the hurdle is overcome.
Many limited partners appreciate this--and if they likely still have confidence in him they may see Pershing as a "bargain."
It is reasonable to see redemptions in 2017-18 for Pershing--but perhaps not materially so. As well, Pershing does have a significant amount of "permanent" capital and likely has general redemption terms that stagger redemption requests over the next couple of years.
Bottom Line
Pershing Square and Bill Ackman are down but not out.
The hedge fund now needs a large and high-profile win over the next 12-18 months.
Position: none .
You Like Sears? Good Luck, My Friend
Originally published March 14 at 8:19 a.m. EST
I believe the recent optimism surrounding Sears Holdings (SHLD) is unjustified.
Sales have halved in the past seven years. During that period, debt net of cash has risen from $2.1 billion to $4.1 billion.
Since 2007 the retailer has burned about $500 million annually in cash flow as same-store sales have dropped in each of the past eight years. The cash flow burn has accelerated in the past three years, with more than $1 billion of Ebitda lost. Kmart's operating trends are particularly weak.
As Sears' strategy has moved toward store closings and securitization, the company's liquidity is evaporating. The retailer has less than 200 Sears and Kmart stores that are unencumbered by debt.
In recent months, Sears has sold eight stores and two auto centers to CBL (CBL) - Get CBL & Associates Properties, Inc. Report and others. ESL, the majority shareholder, loaned the company $1 billion (secured by 67 stores) and transferred 235 stores to Seritage about 18 months ago for $2.7 billion.
Sears has sold its Craftsman subsidiary to Stanley Black & Decker (SWK) - Get Stanley Black & Decker, Inc. Report for a cash upfront payment of greater than $500 million.
Inventory has been liquidated from 150 store closures.
Meanwhile, SHLD's debt maturity schedule represents a challenge next year, with $1.3 billion due.
Tick, tock.
Position: None .
Action Alerts PLUS, which Cramer manages as a charitable trust, has no positions in the stocks mentioned.