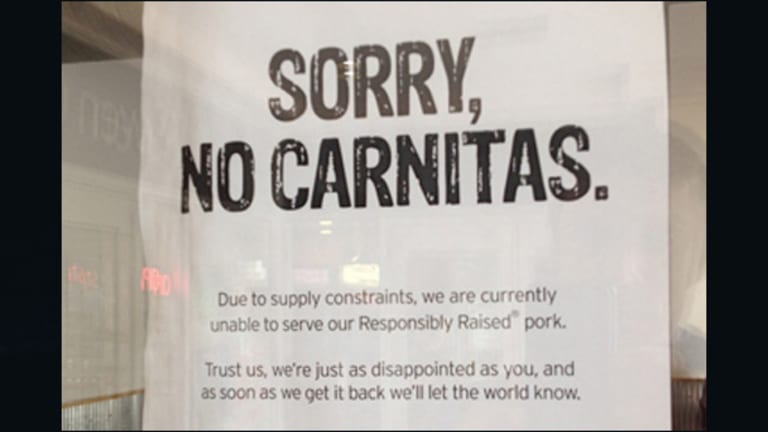 Chipotle Customers -- and Investors -- Get Some Good News
Chipotle fans, rejoice! The pork carnitas crisis that began earlier this year is nearing an end. So shareholders can look forward to tastier sales numbers from the Mexican food chain.
NEW YORK ( TheStreet) -- Fear not, Chipotle (CMG) - Get Chipotle Mexican Grill, Inc. Report faithful, the pork carnitas crisis that began earlier this year is nearing an end. And for Chipotle investors, more pork stuffed into burritos and bowls could lead to even meatier sales at the red-hot chain very soon.
"We have not started receiving pork from the new supplier yet, but should start to see that in the system in the coming weeks -- that should allow us to start rebuilding and get us back to having pork everywhere this fall," said Chipotle spokesman Chris Arnold via email.
The pork shortage weighed on same-store sales in the first quarter, though they still achieved a strong increase of 10.4%. On the company's earnings call in April, Chipotle CFO Jeff Hartung said the combined effect of bad weather and the pork shortage could have dragged down same-store sales growth by as much as 1 to 2 percentage points. And execs said they believed the pork shortage was hurting sales by as much as 2% in April.
Chipotle's shortage problem began back in January when it suspended one of its pork suppliers after a supply chain audit found that they were not fully compliant with all of the chain's rigorous standards for livestock. Chipotle requires that pigs be raised with access to the outdoors or deep bedding in barns. Also, it mandates that the pigs that become the pork in its popular carnitas not be treated with antibiotics.
The supplier's suspension caused shortages of pork at more than a third of Chipotle's locations, and confused loyal customers who didn't know which locations would be serving carnitas and when.
In April, Chipotle said it had secured a new pork supplier to help satisfy its growing need for "responsibly raised pork". At the time, Chipotle's team was conducting on-site visits to inspect all facets of the supplier's operation, and said it was encouraged by what they had seen so far.
Chipotle believes that if all goes well with the new supplier, it will steadily increase the number of restaurants selling pork carnitas throughout the third quarter. Ultimately, Chipotle anticipates being back to normal on the carnitas front during the fourth quarter.
This article is commentary by an independent contributor. At the time of publication, the author held no positions in the stocks mentioned.