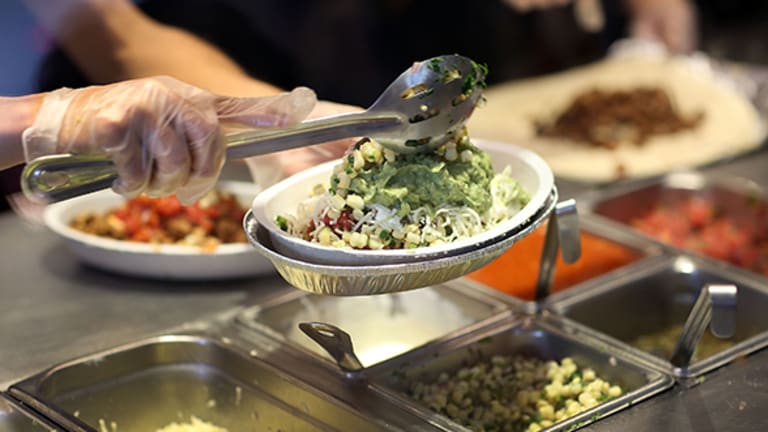 Chipotle Co-CEO: I'm 'Happier Than Hell' When I See Shake Shack Doing Well
The outspoken Monty Moran discusses his chain's culture, its plans for a national career day and why Shake Shack's success is good for Chipotle.
NEW YORK (TheStreet) -- Chipotle (CMG) - Get Chipotle Mexican Grill, Inc. Report co-CEO Monty Moran says he doesn't watch his competition all that closely, and it shows in almost everything that the popular burrito chain does -- from very rarely introducing new menu items to the way that it trains and promotes its workers.
"Typically, what the competition is doing is usually some form of degrading the restaurant experience through the cheapening of raw ingredients, trying to drive traffic by gimmicks or meal deals, or unveiling new menu items that really aren't high quality items more often than not," says Moran, who's served as co-CEO since 2009 and before that was Chipotle's president and chief operating officer. "We don't participate in any of that stuff.
The naturally enthusiastic Moran, credited with establishing Chipotle's unique workplace culture that fosters teamwork to get ahead, then points to the need for the company to stay focused on building its culture to continue winning the fast food wars.
Moran will soon have a major opportunity to teach more people about what has proven to be a winning culture.
On Sept. 9, all U.S.-based Chipotle restaurant locations will host open interviews from 8 a.m. to 11 a.m., with the goal of hiring 4,000 new employees. In what is been billed by the company as a National Career Day amidst labor shortages that are driving up wages in the fast food industry, Chipotle's goal is to usher in new blood to support growth ambitions that include the opening of 200 or so new locations this year.
The quicker Chipotle is able to secure the latest crop of servers and cooks to help Moran change how people eat, the sooner it can get back to satisfying investors who have grown concerned lately about slowing growth.
Chipotle reported second quarter net sales of $1.20 billion, missing consensus forecasts of $1.22 billion. Same-restaurant sales only rose 4.3%, cooling from a 17.3% gain a year earlier. Traffic increased a modest 0.3%. Chipotle estimated that out-of-stocks in its popular carnitas, stemming from its pork shortage, hurt same-restaurant sales by about 2% in the quarter.
Wall Street was looking for a 5.8% same-restaurant sales increase. Chipotle shares, which rose about 30% in 2014, have only tacked on 5.6% so far in 2015. Although easily outpacing the broader market, the slowing gains in Chipotle's stock come alongside more moderate same-store sales increases.
TheStreet caught up with Moran to discuss the upcoming hiring day, the changing competitive environment, and why he welcomes the inroads being made by the likes of Shake Shake (SHAK) - Get Shake Shack, Inc. Class A Report, PaneraBread (PNRA)  and Noodles & Co. (NDLS) - Get Noodles & Co. Class A Report


TheStreet: Why have a national hiring day? Is it that you can't get the right people? Are there enough people applying?
Moran: We still have loads of applicants per position. It used to be 60 plus applicants per every single open position three to five years ago. That number has dropped a little bit, but it's still about 25 or so that apply for every open position.
The reason for doing the national hiring day is because we really want to bring attention to the fact we are a growing organization, we have the need for a lot of crew people, and we are looking for those crew people to become our future leaders. We are looking for superstars. That's the big difference between coming to work at Chipotle as opposed to somewhere else.
We have 95% plus of our general managers come from crew positions. We are looking for certain characteristics in people that we believe you cannot train, but that are characteristics that a human being has or doesn't have at a certain age.
TheStreet: The unique workplace culture of Chipotle has been integral to its success. So how do you bring that culture instantly to 4,000 people?
Moran: We have a very specific orientation. We sit them down and take them through what our vision is, from the food standpoint to changing the way people think about and eat fast food. Then we very quickly introduce them to how we are going to do that.
In the orientation, we talk about what it means to be a top performer at Chipotle, and how it's different than elsewhere. Also, what it means to be empowered, and how we intend to generate that feeling inside of them and teammates. All of this is based on an integral foundational principle that I am incredibly proud of: that is that each of us will be rewarded based upon our effectiveness and making the people around us better.

TheStreet: Chipotle has grown significantly over the past few years. What is the state of the culture at this point in the chain's life?
Moran: You literally can't talk to anyone in this company without them understanding and believing that the culture is an essential part of why we will accomplish so much in the coming years, and have accomplished so much in the past few years. The culture is better understood today than ever before, we have more people becoming restaurateurs than ever before and more field leaders touching people's lives.
TheStreet: Packaged food companies are hopping on the non-GMO bandwagon. Struggling McDonald's (MCD) - Get McDonald's Corporation Report is testing some healthier stuff. Are you seeing changes in the competitive environment that could hurt Chipotle?
Moran: I don't want this to sound aloof, or arrogant, but we really don't watch the competition very closely because typically, what the competition is doing is usually some form of degrading the restaurant experience through the cheapening of raw ingredients, trying to drive traffic by gimmicks or meal deals, or unveiling new menu items that really aren't high quality items more often than not. We don't participate in any of that stuff.
The way we try to drive additional people to Chipotle is continuing to buy better ingredients that taste better, by continuing to have a better people culture that drives a better in-restaurant experience. I think our food is gradually getting better little by little to the point over the course of five or ten years, it's notably better.
We do check in with our customers every now and again through research and try and find out how they are experiencing us. What are they liking, what are they not liking. The answers come back quite consistent: don't change a thing. Don't muck things up, don't overcomplicate the menu and change the food materially.

TheStreet: So a surging better burger joint like Shake Shack doesn't worry Chipotle?
Moran: When you come up with something like Shake Shack, or any better burger concept, or anyone doing a decent job making food that's respectable and decent to eat, such competition, I think, is good for us. Not good because they are going to take market share from us, as I think they don't tend to take market share. What happens instead is that people get used to a higher level of eating, and once they get used to that, they will not go back to traditional fast food.
There are still a lot of people involved in eating traditional fast food every day, but they are starting to depart from that. They realize that it's not much cheaper and for roughly the same money, I could have Chipotle or something at Shake Shack, PaneraBread (PNRA) , Noodles & Co. (NDLS) - Get Noodles & Co. Class A Report  that offers better ingredients.
I think this is why you see this serious outflow of people from traditional fast food, which in turn is causing McDonald's and a number of their closest competitors to have a really hard go of it right now.
If you look at how McDonald's is reacting to its problems, or how any of these fast food folks are reacting, what you will see is almost nothing about making the food actually higher quality. It's just not one of the knobs they turn. They talk about better marketing, more product development, and better pricing strategies.
But none of these things are about making the food better. No one is considering it. That is just, goddammit, not what is going to attract customers. People are actually looking for better food.
I am just happier than hell when I see Danny Meyer's Shake Shack doing well. I think it's good for him, he is creating something good. His company is worth a lot with only 60 or so restaurants, it's very impressive that he has that type of market cap. People are recognizing that these high quality experiences are what people are looking for.

TheStreet: Where is Chipotle focused now internationally?
Moran: If you look at all of our international markets, it's Canada, France, Germany and England. Germany is new to us, we have one restaurant there and the sales are increasing dramatically. In France, we have three restaurants, and we will open another one in a month or two. In England, we have seven restaurants, we just opened one and are looking for additional sites.
We are in no hurry to expand quickly overseas because first of all, we don't need the growth right now. Domestically we have so much to do, a ton of growth left. Canada is a different story, the region is rocking for us. Our average unit volumes in Canada are higher than in the U.S. We consider Canada a proven market now -- so we are going to find as many good locations there as we can and build them.
In Europe we are moving a little slower because the brand recognition is smaller, so we don't want to rush our way in as an uninvited guest. We want to be an invited guest, we want the demand for what we are doing in Europe to outpace our growth. That is different than most of the big chains that have forced themselves on Europeans.
TheStreet: As we gear up for the 2016 presidential election, what would you be looking to hear from the candidates?
Moran: I really try to separate my politics from what I do at work. My politics are that I would like to see someone become president who could have the greatest likelihood of uniting people toward a common goal. Right now, the partisan gridlock is probably at an all-time high. The gridlock is terrible. Nothing is getting done. There is a tremendous amount of adversarial spirit between Democrats and Republicans. But we have a ton of goals in common.
We have more in common than we have separate, and I think we focus on our separateness and that is a real shame.
Regarding Chipotle, there is a lot about government that doesn't make sense, a lot of inefficiencies. Those inefficiencies make it harder for businesses to operate smoothly.