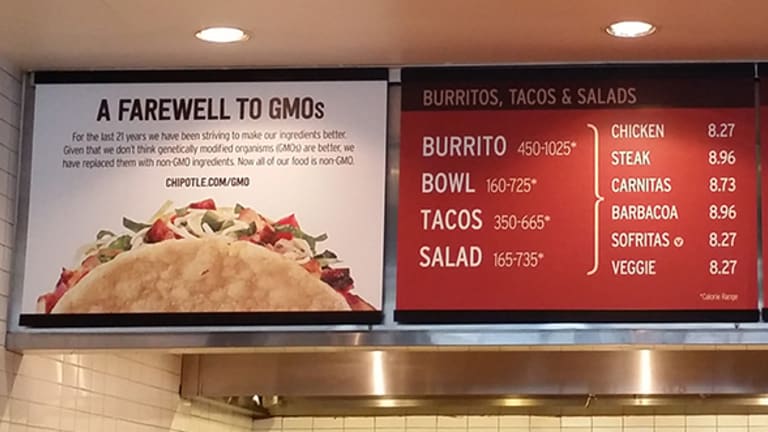 Chipotle Bans Genetically Modified Food From Menu but What Will It Do for Sales?
Chipotle has achieved a milestone in having a menu free of controversial GMOs. However, will being non-GMO help the chain to drive sales?
Chipotle has achieved a milestone in having a menu free of controversial GMOs. However, will being non-GMO help the chain to drive sales?
NEW YORK (TheStreet) -- Chipotle's (CMG) - Get Report simple menu of burrito and salad bowls is now free of ingredients containing controversial genetically modified organisms (GMOs), but only time will tell if being so out in front on this hot-button issue will lead to heartier sales for the fast-food chain.
As of Monday, all of Chipotle's over 1,700 U.S. restaurants, as well as its Asian fare concept ShopHouse, which counts 10 locations, will be serving GMO-free food following a two-year long effort by the "heathy" fast-food company to completely remove them from the menu.
Chipotle will include information about the changes on its menu, as well as in widow signs on all its doors. Further, there is a new page on the company's Web site that contains information on what GMOs are and why the burrito chain has chosen to eliminate them.
Chipotle's shift to a non-GMO menu began in March 2013, when the company voluntarily decided to label items on its menu with a "G" to indicate the use of GMOs. Since then the company has sought to tweak recipes to include non-GMO ingredients without compromising taste, as well as seeking out additional farms as suppliers. Two of the final pieces in Chipotle's plan have been debuting a GMO-free tortilla in the third quarter of last year, and more recently, using new oils to cook its corn chips and taco shells.

The widespread use of GMOs has spawned concerns on the part of health groups and consumers who argue that natural foods are healthier to ingest. Research suggests the issue is growing in importance amongst consumers. According to a June 2014 poll conducted by ABC News, 52% of respondents believed food containing GMOs were unsafe. About 49% of the men surveyed said they'd be less likely to buy food labeled as genetically modified, while that figure stood at 65% for women.
The use of genetically modified crops has surged in the past few years as farmers have worked to address yawning global food demands with constraints on land. Crops grown with GMO seeds require fewer pesticides and less water, while keeping production costs down as crops become more resistant to various diseases. According to data from beverage and snack giantPepsiCo (PEP) - Get Report, roughly 70%-80% of the foods consumed in the United States, both at home and away from home, contain ingredients that have been genetically modified.
Chipotle's new GMO-free menu puts it well out in front of competitors in the fast food business, and the broader food industry, on the issue of genetically modified food. Challenges, however, include potentially higher costs and the difficulty of finding farms that can supply non-GMO ingredients in large enough quantities.
Earlier this year, Chipotle suspended one of its pork suppliers for not complying with its livestock standards; removing the supplier from its network resulted in shortages of its popular carnitas in one-third of its restaurants, which the company estimated hurt its first quarter performance by about 1% to 2%. 
But Chipotle executives have said that serving healthier food is part of its larger mission and connection to its customers.
"Food with Integrity, our commitment to more sustainably raised ingredients, which we have been at now for a dozen years or so, has become more and more important to customers over the years -- whether it drives people in or not is not always clear," said Chipotle founder and co-CEO Steve Ells on the company's first quarter earnings call in 2014." Ells added, "But what I think is really important is that more and more of our customers are telling us that it's very important to them."
Chipotle's growth in recent years compared to that of McDonald's (MCD) - Get Report, which recently announced it would be moving to sourcing chickens raised without most antibiotics but has not responded to pressure to use less food derived from GMOs, has been eye-opening. Last year, Chipotle's same-store sales grew 16.8% compared with a decline of 2.1% for McDonald's U.S. operations. Chipotle's stock price has increased 30% over the past year, versus a 4.5% decline for McDonald's.
At least some Chipotle customers are aware of the GMO issue and say it would influence their choices. 
"I usually get the tofu because it's organic, and I know most of the corn is not," said Sarah Fahy while standing in line at one Chipotle location in New York City. Fahy said she'd be willing to pay a little more to buy food that wasn't genetically modified since she already buys organic food at home. 
Whether other customers share Fahy's opinion is an open question. Some of the cost burden may already be surfacing in the form of upcoming price increases, although Chipotle is attributing those to higher beef prices and not to sourcing GMO-free ingredients. 
After raising prices by about 7% in the second quarter of last year because of the higher costs of beef and avocados, Chipotle this year said it anticipates raising prices on steak and barbacoa by the end of the third quarter.
This article is commentary by an independent contributor. At the time of publication, the author held no positions in the stocks mentioned.