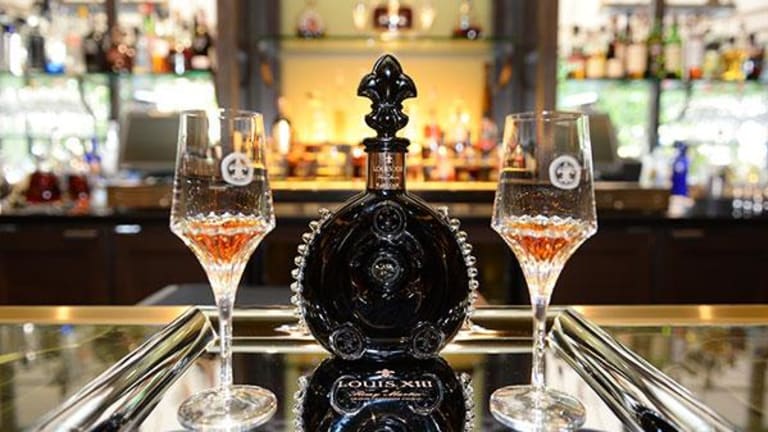 Chinese Thirst Propels Remy Cointreau To Big First Quarter
Cognac spikes lifts French drinks maker's Q1 sales growth
Remy Cointreau SA (REMYF) blasted past its quarterly sales expectations Thursday, boosted by surging demand for its Remy brand cognac in China.
The French drinks maker posted organic sales growth of 8% for the first quarter of its fiscal year, easily topping average analyst expectations of a 4.3% increase, as sales of the group's eponymous Remy Martin brand rose 18.7%. Remy posted sales of €240 million ($277 million) for the quarter, 4.3% ahead of analysts' average expectation of €230.4 million.
"Asia Pacific posted an excellent performance in the first quarter, with brisk business in Greater China and Singapore, as well as improvement in Japan," said Remy Martin. Sales growth was less impressive in the U.S., Remy's largest market, due to the group posting a particularly strong first quarter in the region in 2016.
Remy shares gained 0.4% in early Paris trading to change hands at €104.05 each, extending their year-to-date gain past 28%.
"First quarter is a seasonally small quarter (c.20% of FY17 sales), however the reported 7% sales beat implies single digit upgrades to consensus expectations for the financial year," noted Goldman Sachs analysts including Nicole McHugh. "We expect the sizeable 1Q organic beat and positive commentary on Asia to be taken well by the shares."
The results continue a strong run for the drinks maker, which has benefited from a strategy of target big spending consumers with higher priced bottles including its premium LOUIS XIII brand. The result is likely to provide a boost to Remy's rival Pernod Ricard (PDRDY) , which is also highly reliant on Chinese demand, though it is targeting the lower end of the market.
Remy stock has gained almost 28% so far this year and is up almost a third over the past 12 months.