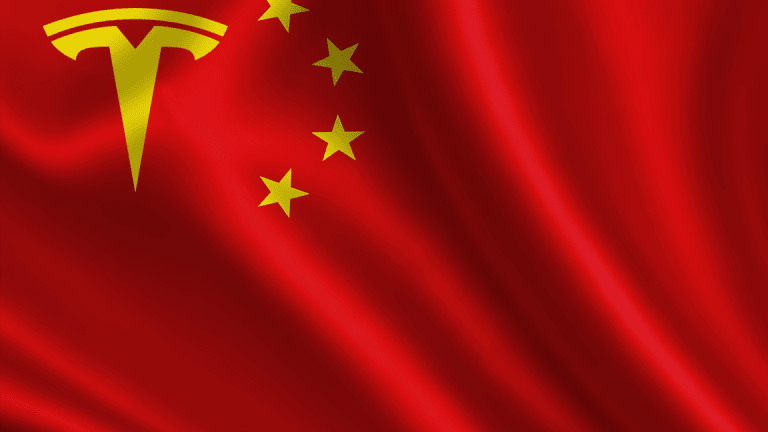 Publish date:
Here's What the Chinese Government Just Said About Tesla's New Gigafactory
Tesla's growth strategy in China is coming together quickly, as the government shifts policies in favor of foreign automakers.
Tesla's growth strategy in China is coming together quickly, as the government shifts policies in favor of foreign automakers.
Tesla Inc.'s (TSLA) - Get Report plans for growth in China are materializing.
Over the weekend, China's Ministry of Commerce confirmed that Tesla will build a wholly owned factory in Shanghai, according to reports from Chinese website Xuehua. The news comes on the heels of speculation that a holding company recently registered in Shanghai could be the legal vehicle for a new Gigafactory build.
The ministry said it has been informed that Tesla is negotiating directly with Shanghai's municipal government on the details of the new facility.
It's been a very active month for Tesla's China operations: The company has already reportedly begun hiring for the Gigafactory, and China officially made good on its pledge to reduce tariffs on car imports starting July 1.
That tariff cut translates into a $14,000 discount on Tesla's priciest models.
Just as critically, China also announced that it would allow foreign firms to build car factories without Chinese joint-venture partners for the first time. That policy shift is a major step for tech-first firms like Tesla concerned about the security of their intellectual property in factories that they don't have complete control over.
China is already Tesla's fastest-growing market, thanks in large part to an aggressive policy of government mandates for electric vehicle adoption. The People's Republic could become even more important in the years to come, as Tesla builds out its sales, service and charging network and brings down the cost of selling vehicles domestically.
Having a "Made in China" stamp on new cars meant for sale in China could also have the added effect of opening Tesla models to additional government subsidies meant for domestic manufacturers.
In addition to China's government push for more electric vehicles, burgeoning middle class and wealthy upper-class populations mean that the country is also the world's largest market for luxury cars today. That combination makes Tesla a logical fit.
Tesla plans on bringing its lower-priced Model 3 to China in 2019.
If the reports on the Chinese government's comments are accurate, this latest news still suggests that Tesla is a while away from breaking ground on a Chinese Gigafactory. That said, the confluence of positive policy changes from China has the potential to change the economics of Tesla's fastest-growing region in a very positive way.
In the meantime, both short term and long term, Tesla's technical price trajectory looks like it could finally be ready to make a move to the upside, after a sluggish start to 2018. Success in China plays into that long-term upside potential in a big way.
Expert Advice for a Risky Market. We asked top experts from Bank of America, Fisher Investments, Invesco and Wells Fargo what smart investors should do right now. Click here and register for free to watch what these market watchers recommend.
This article is commentary by an independent contributor. At the time of publication, the author held no positions in the stocks mentioned.