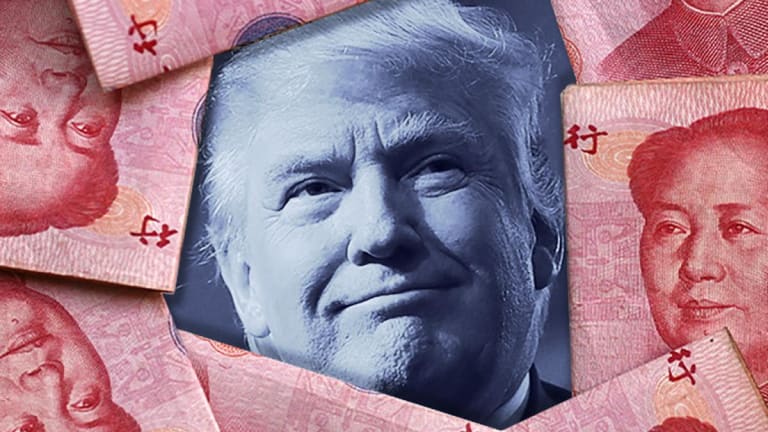 China's U.S. Trade Surplus Hits Record High as Trade War With Trump Brews
China's U.S. trade surplus hit a record $275.8 billion last year, data confirmed Friday, as relations between the world's two biggest economies continue to frost ahead of this year's World Economic Forum in Davos.
China's trade surplus with the United States hit a record high last year, according to government figures published Friday, highlighting a growing rift between Presidents Donald Trump and Xi Jinping that appears to be inching towards an all-out trade war among the world's two biggest economies.
China's global trade surplus slipped to $422.5 billion, Customs data confirmed, but its domination over U.S. commerce saw that portion of the reading rise $25.55 billion in December to an all-time high of $275.81 billion for the whole of 2017.
The figures are likely to intensify concern in Washington that trade policies between the two nations remain significantly unbalanced despite Trump's vow to create an "even playing field" when he took office in January of last year.
The reading is also yet another indication of a brewing dispute over trade and security following a much-hyped meeting in Mar-a-Lago last Spring that saw Trump and Xi vow to forge a new relationship.
That appears to have born little fruit, however, despite a November detent from Trade Secretary Wilbur Ross that netted $250 billion in new trade agreements and opened a few cracks into China's bustling economy.
But that goodwill looks to have evaporated amid the escalating tensions between the U.S. and North Korea and accusations that China has continued to provide support to Pyongyang in the form of oil exports that would violate sanctions pushed by Washington last year.
"I have been soft on China because the only thing more important to me than trade is war," Trump told the New York Times in December. "If they're helping me with North Korea, I can look at trade a little bit differently, at least for a period of time. And that's what I've been doing. But when oil is going in, I'm not happy about that."
A further signal of potential trouble followed soon after, when the Committee on Foreign Investment in the United States, known as CFIUS, blocked a planned $1.2 billion takeover of payments group Moneygram International by China's Ant Financial Services Group, which is backed by billionaire investor - and U.S. job creator - Jack Ma.
In fact, three China-led deals worth more than $5 billion have been knocked-backed by CFIUS over the past three months, including Canyon Bridge Capital Partners' play for Lattice Semiconductor Corp. and China Oceanwide Holdings Group's move for Richmond, Va-based Genworth Financial.
More of What's Trending on TheStreet:
Against that backdrop, it certainly seemed no surprise that China would retaliate by floating the suggestion that may stop adding to its $1.189 billion pile of U.S. Treasury bonds if the U.S. continues to display a protectionist stance in global trade talks.
That report, published Wednesday by Bloomberg News but quickly dismissed as "fake news" by China's State Administration of Foreign Exchange, nonetheless spiked U.S. borrowing costs to a 10-month high and clipped more than 100 points from the Dow Jones Industrial Average in a visceral reminder of the kind if influence China can wield as America's largest creditor should Trump decide to follow-up on the myriad threats he's levelled at Beijing.
All of this sets up a fascinating confrontation later this month at the World Economic Forum in Davos. Last year, Xi wowed what many peopled consider the Valhalla of globalisation with a keynote speech that called for broader open markets and deeper international cooperation.
The praise that poured in for Xi's vision may or may not have convinced Trump to attend this year's event, but the President is nonetheless hauling a massive U.S. delegation to the Alps and is undoubtedly planning a barnstorming address of his own.
"The president looks forward to promoting his policies to strengthen American businesses, American industries, and American workers," White House Press Secretary Sarah Huckabee-Sanders said earlier this week.
The world will be watching.