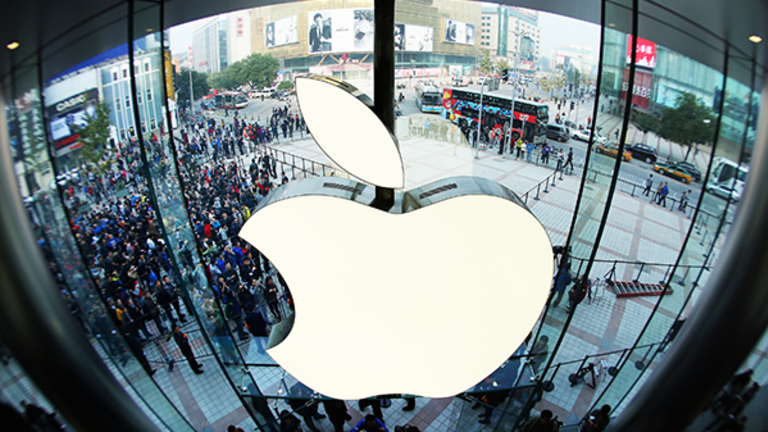 China Takes a Bite Out of Apple; Foreign Tech Companies Fret
China's online watchdog wants to ask Apple a few questions about its apps and live streaming. It's the latest cause for alarm in Silicon Valley.
This article originally appeared at 10:00 ET on Real Money, our premium site for active traders. Click here to get great columns like this from Alex McMillan and other writers even earlier in the trading day.
Apple (AAPL) faces an ominous grilling at the hands of Chinese authorities over how it tracks and manages online content, particularly of live streaming. It's the latest company to brush up against restrictions on how technology companies function in China. Silicon Valley is increasingly vocal about criticizing these operating rules as anti-competitive.
Apple, a holding of the Action Alerts PLUS charity portfolio that Jim Cramer co-manages, is "next on a list for inquiries" in an expanding crackdown, according to Xinhua, China's official news service. Chinese authorities will summon the company to urge it to tighten up checks on software applications available in the Apple Store. 
Xinhua didn't say when the company would be answering the Chinese government's questions. But falling foul of the rules could lead not only to administrative penalties, but also to police inquiries and criminal punishment, according to Xinhua.
The Cyberspace Administration of China, the country's Internet watchdog, says it has already punished three Web sites -- the news service Toutiao.com, game site Huoshanzhibo.com and entertainment portal Huajiao.com -- for violating regulations over tracking online users, the content of live streaming and online performances. It is also interested in how the companies handle tip-offs.
Regulators found "significant loopholes" about how those three sites manage users and data. That has led to "forbidden" live content going out on Internet platforms. Xinhua said officials have already met with Apple representatives to examine live-streaming apps released by the App Store.
The administration was joined by the Beijing Public Security Bureau and the Beijing Cultural Market Administrative Law Enforcement Team in bringing its case against the Chinese sites.
Apple has declined to comment in China. The investigation is part of Beijing's increasingly futile attempts to corral the Wild West of the Internet.
The services of Alphabet subsidiary Google (GOOGL) , Facebook (FB) and Twitter (TWTR) have been blocked in China for quite some time. Apple is granted considerably more freedom, but its iBooks Store and iTunes Movies have been shut down in China, six months after they started.
Chinese authorities are now turning their attention to apps and require app stores to register with the government. The proliferation of third-party and mobile content on Web sites and smartphones presents a massive headache for Internet regulators.
Any action against Apple would pose a problem at a time when U.S.-China trade ties are particularly unsettled under President Donald Trump. They would likely also hurt the prospects of Chinese tech companies attempting to expand into the United States.
Alibaba Group Holding (BABA) would be one of the key beneficiaries if China-U.S. relations prove better than expected as Chinese President Xi Jinping and Trump get to know one another. It could possibly gain entry to the U.S. market, Nomura (NMR) analyst Jialong Shi notes. This would also help U.S. small business looking to sell into China on Taobao and T-mall, the company's online-sales platforms.
Trump has ordered a comprehensive study of "trade abuse" that contributes to the country's trade deficits, a report due on June 28. Though Commerce Secretary Wilbur Ross said the executive action was not intended as a warning to China, Trump announced the study less than a week before his first summit with Xi.
One of the questions that the study, which is to shape Trump's approach on trade, will consider is the seriousness of intellectual property theft. It will also address the issue of "forced technology transfers", in which foreign partners are compelled to transfer technology to local Chinese partners.
That's one of the issues at stake with computer companies operating in China. In late March, a group of U.S. lawmakers sent a letter to the Chinese Ambassador to the United States, Cui Tiankai, complaining that China's current and drafted restrictions on cloud computing would force U.S. companies to supply intellectual property to Chinese partners.
China's existing and proposed rules would effectively bar foreign cloud-computing providers "from operating or competing fairly in China," the letter said, adding that China's restrictions are "fundamentally protectionist and anti-competitive."
Many of the lawmakers come from states where Amazon (AMZN) and Microsoft (MSFT) , two of the giants in cloud computing, have operations, The New York Times points out.
Companies may be jockeying behind the scenes for political clout, but few are willing to come forward publicly. This is something then-President Barack Obama criticized in 2015. Microsoft declined to comment on the most-recent letter, while Amazon didn't respond.
Companies may not be willing to go on the record in criticizing China's trade policies, but they are increasingly wary.
"The enthusiasm is gone," James McGregor, chairman of greater China for the consulting company APCO Worldwide, told the Times. "Foreign businesses here used to be very excited about China and quite enthusiastic. Now, it's kind of a grind and a battle."
In the past, companies and trade groups have pushed for better U.S.-China trade links and relations. But that stance is shifting. Many remained silent as Trump criticized China as a thief and rapist on the campaign trail, and remain silent now he is feeling his way towards a trade policy while in office.
After his summit with Xi, Trump promised better trade terms for Chinese companies in a variety of industries in exchange for help handling North Korea.
"I explained to the President of China that a trade deal with the U.S. will be far better for them if they solve the North Korean problem!" Trump said in a message on Twitter days after meeting Xi earlier this month at his Mar-a-Lago club in Palm Beach, Fla.
But the approach of linking politics with business has drawn fire from William Zarit, the chairman of the American Chamber of Commerce in China. He told reporters at a press conference in Beijing that it would be a "shame" for the United States to concede on trade instead of pushing to level the playing field.
China forces foreign cloud computing companies into a junior position in a joint venture that must include a local partner. Tech companies also fret over rules such as the cybersecurity law passed in China in November, requiring them to store data within China's borders if the data are to be used there.
Similar security concerns led to a proposed requirement that tech companies hand over encryption keys and other technology to Chinese partners, although that stipulation ended up being scrapped. There's also a regulation now in draft form that would require online operators to "terminate the transmission of" and report any information posted that "violates relevant Chinese laws and regulations."
At the time of publication, Alex McMillan had no positions in the stocks mentioned.