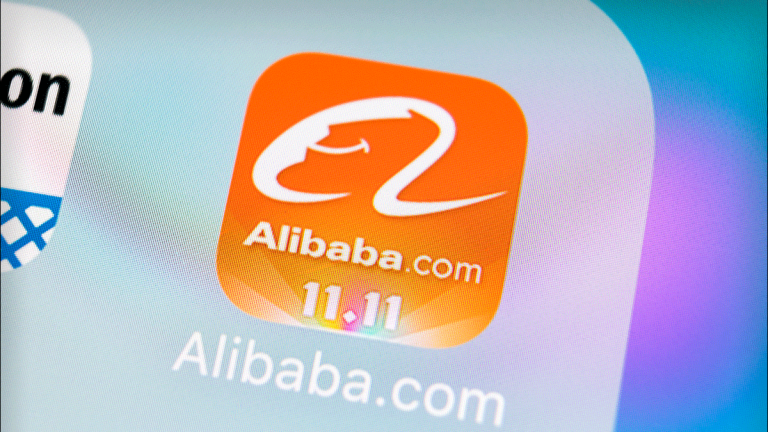 Singles Day Tops $10 Billion Before First Half Hour
The self-loving holiday last year pulled in $30.8 billion, according to Alibaba.
China's retail bonanza, Singles Day, topped $10 billion in sales before a full half hour into the event, claimed e-commerce company Alibaba Group (BABA) - Get Free Report  over Twitter on Sunday. By the first hour, the event exceeded $12 billion.
29 minutes and 45 seconds after midnight on 11.11, total GMV surpassed US$10 billion #Double11pic.twitter.com/KhWTN0K9xq
While it's unclear whether the day will top last year's number, it's already expected to generate more revenue than the popular U.S. shopping holidays of Thanksgiving, Black Friday and Cyber Monday combined this year, according to Adobe Analytics.
Adobe forecasts that that stretch of five days of U.S. shopping will pull in $29 billion -- missing last year's Singles Day one-day total by well over a billion dollars. The self-loving holiday claimed to bring in $30.8 billion in 2018. 
Still, less than a quarter of U.S. retailers are trying to run promotions based on the Chinese holiday, according to a survey conducted by Adobe.
The event -- which advertised an appearance by U.S. pop star Taylor Swift -- started at 11 a.m. ET on Sunday, which was midnight local time in China. Alibaba's founder, Jack Ma, is largely credited with coming up the new "holiday."
Technically, the company listed the figures over Twitter as gross merchandise volume, or GMV, which equals the total value of products sold during a specific time period over e-commerce sites such as Alibaba.
As for U.S. holiday shopping, Adobe is predicting consumer spending online in the U.S. will hit an all-time high of $143.7 billion this year during this month and December -- a 14.1% increase over 2018's holiday season. Cyber Monday is expected to turn in $9.4 billion and Black Friday, $7.5 billion, said Adobe, which does not keep independent metrics on Singles Day sales.
 This story is being updated...