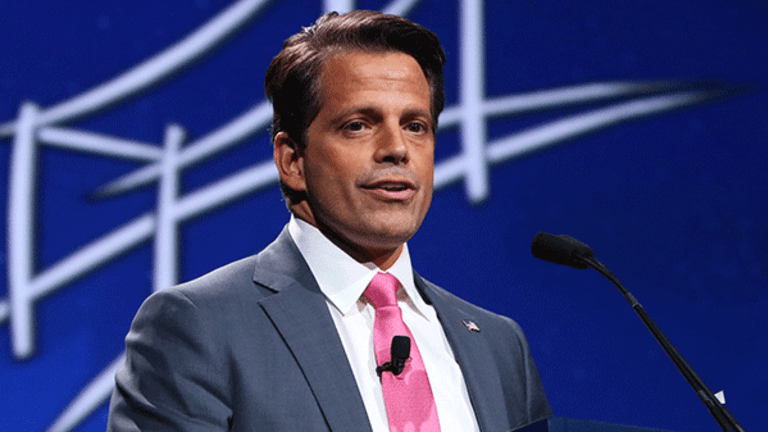 China's HNA Prowls for More U.S. Purchases After Scaramucci Deal
HNA, the Chinese-airline-turned-conglomerate, is pursuing more acquisitions of money-management companies after buying Anthony Scaramucci's fund of hedge funds, SkyBridge Capital, according to people with knowledge of the matter.
HNA Group, the private Chinese conglomerate that agreed last week to buy Anthony Scaramucci's hedge fund SkyBridge Capital, is just getting started in the U.S. money-management industry.
The company, controlled by billionaire Chen Feng, is actively looking to purchase additional investment companies, according to people with knowledge of the matter. The goal is to build out a money-management platform that would allow rich Chinese investors, insurance companies and other institutions to put their savings into U.S. hedge funds, the people said.
HNA and partner RON Transatlantic, a private investment firm, paid about $200 million for a majority stake in SkyBridge, a deal that's set to close in the second quarter, according to the people.
Scaramucci needed a quick sale to eliminate conflicts of interest after being tapped by President Donald Trump as an adviser and liaison to business executives. The former Goldman Sachs (GS) - Get Free Report executive founded New York-based SkyBridge in 2005 and has increased the firm's assets under management to about $12 billion, with most of the money reinvested in other hedge funds.
HNA, started in 1993, has grown from a local Chinese airline based in the southern island province of Hainan into a global behemoth with about 1,250 aircraft and operations in real estate, department stores, securities brokerage, investment banking and insurance, according to the company. It has about 200,000 employees and annual revenue of about $30 billion -- more than that of McDonald's (MCD) - Get Free Report .
In October, HNA agreed to acquire an aircraft-leasing business from New York-based CIT Group (CIT) - Get Free Report for $10 billion as well as a 25% stake in hotel-operator Hilton Worldwide (HLT) - Get Free Report for about $6.5 billion. Both transactions, which require regulatory approvals from the U.S. government as well as Chinese authorities, are pending. 
HNA's interest in SkyBridge comes as more U.S. investors, including public pension funds in California, New York, New Jersey and Kentucky, have pulled money from hedge funds because of high fees and disappointing returns. Richard Perry's 28-year-old hedge fund, Perry Capital, closed its flagship fund last year amid growing investor discontent.
Funds such as SkyBridge's have brought even more scrutiny, since they charge an additional layer of fees for steering money into other hedge funds.
SkyBridge jumped in size and stature in 2010 when it bought Citigroup's fund of hedge funds, Citi Alternative Investments, for an undisclosed sum. The firm also runs an annual conference in Las Vegas that has become one of the biggest annual gatherings of hedge-fund managers and investors. That conference, known as SALT, will be spun out as a separate entity, according to a statement last week.
Speakers scheduled for this year's conference in May include former Federal Reserve Chairman Ben Bernanke and Megyn Kelly, the former Fox News anchor who recently signed a deal with NBC to host a daytime show. Another speaker is Kyle Bass, chief investment officer of the Dallas-based hedge fund Hayman Capital, who has publicly and repeatedly declared his conviction that the Chinese yuan is headed for a major devaluation.
Indeed, one question surrounding HNA's ambitions is whether China will allow the company to continue to spend money and channel investments abroad at a time when government officials are trying to stem outflows from the country's pressured currency.
The yuan has slid 4.2% in the past year to 6.85 per dollar, and Morgan Stanley predicts the exchange rate will depreciate further to 7.3 per dollar by the end of 2017. Trump has promised to impose steep tariffs on Chinese imports and label the country a currency manipulator.
Individuals in China are barred from moving more than $50,000 out of the country in a year. And in November, the Chinese State Administration of Foreign Exchange told banks in a non-public directive that domestic customers needed to check with regulators before transferring $5 million or more out of China, the New York Times reported.
The order was seen as an effort to stem efforts by Chinese companies to get their money out of the falling yuan, according to the paper.
But HNA is so confident in the Hilton investment that it put down a $500 million deposit that would be forfeited if Chinese officials don't approve the deal. 
Guang Yang, a former senior portfolio manager for the money manager Franklin Templeton, serves as chief investment officer of HNA's financial-services arm, HNA Capital, according to the company.
"Our investment in SkyBridge is an important step in HNA Capital's strategy to build a global asset management business," the executive said in last week's statement.
HNA declined to comment further.