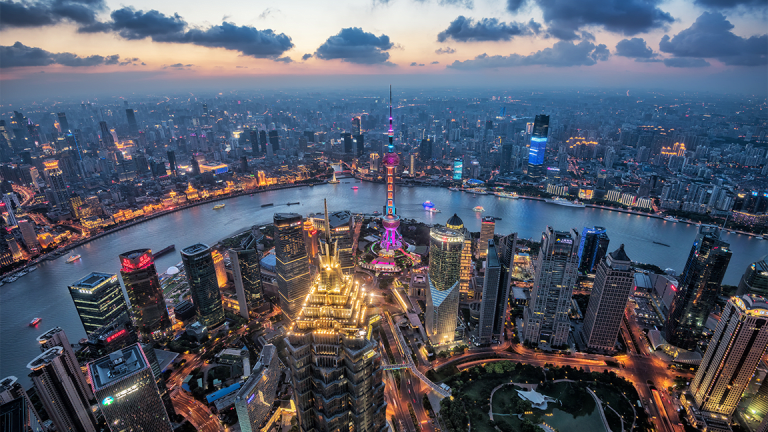 Publish date:
China's Economy is Roaring Again, but Trump Might Not Like How That Sounds
China's U.S. trade surplus hit a record high $28.1 billion last month. Here's why U.S. president Donald Trump may not like that.
China's U.S. trade surplus hit a record high $28.1 billion last month. Here's why U.S. president Donald Trump may not like that.
China's economy continues to power ahead as it leaders prepare for its twice a decade Communist Party Congress amid an increasingly fractured relationship with the United States. 
September data from China's Customs Office Friday showed an impressive surge in imports into the world's second-largest economy, particularly basic resources such as iron ore and crude oil, as the nation ramps-up activity into the final months of the year as it preps for a key gathering of the country's political and business elite in Beijing.
The data will also go a long way towards supporting China's broader growth targets, which is pegged at 6.5% this year but may notch the first acceleration in growth in seven years if the first half pace is maintained.
Exports, however, were modestly shy of analysts' forecasts, trimming China's trade surplus with rest of the word - with one notable exception; China sold just under $40 billion worth of goods to the United States, the most on record, while imports from America slowed from the month of August. That put China's U.S. trade surplus at $28.08 billion, a $2 billion increase from August and the highest on record.
The figures will once again make for grim reading in the White House, where President Donald Trump has consistently voiced frustration with what he deems to be an unfair playing field on trade and investment between the world's two biggest economies.
In fact, the President ordered his chief trade representative, Robert Lighthizer, to look into accusations that China reaps as much as $600 billion a year from the American taxpayer as a result of the theft of intellectual property rights.  
"This is just the beginning," Trump said at the time. "We will defend our workers."
That might be difficult to do in the near term, however, given Trump's need to keep China on side as he attempts to manage the ongoing political and military crisis in North Korea and maintain newly-toughened economic sanctions against Pyongyang.
On that score, it seems, China is playing ball:  Exports to North Korea fell 6.7% last month, according to official figures, while imports from its north eastern neighbour plunged 38%, putting the country's trade deficit with Beijing at just over $1 billion for the first nine months of the year.
China's broader trade policies, however, are unlikely to be swayed by Trump's frustration on surpluses or his "Buy American, Hire American" economic ambitions, particularly ahead of the biggest political event in five years: the twice-a-decade Communist Party Congress.
The country's political and business elite will meeting in Beijing's Great Hall of the People on October 18 to map out a five-year plan for a nation of more than 1.4 billion people with an economy valued at $11.2 trillion. 
China's President, Xi Jinping, looks certain to win a second term at helm of the government, and thus focus will likely shift to what he will say about the country's new globalist outlook, which he articulated earlier this year at the World Economic Forum in Davos just as Trump began signalling a more inward-looking approach to domestic growth.
"The problems troubling the world are not the inevitable outcome of globalisation," he said at the time. "Countries should view their own interest in the broader context and refrain from pursuing their own interests at the expense of others."
Domestically, China's plans for a massive infrastructure project that aims to expand a run-down area about an hour from the capital Beijing into a key industrial and new technology center that will be nearly three times larger than metropolitan New York will also be of interest to investors and analysts alike
Officials set out plans for what it calls a Special Economic Zone in the province of Hebei that will integrate its capital, Shijiazhuang, earlier this year with both Beijing and Tianjin and is expected to include billions in public spending in an effort to create space and infrastructure for "non-capital functions" of the national government.
The blueprint for the what it's called a "1,000 Year Project" is expected to mimic the success of China's first - and most important - SEZ in Shenzhen, a multi-billion-dollar project launched in 1978 that transformed a small fishing village of less than 30,000 people into a gleaming 'instant city' metropolis of more than 11 million people with an annual GDP roughly the size of Finland.
More of What's Trending on TheStreet: