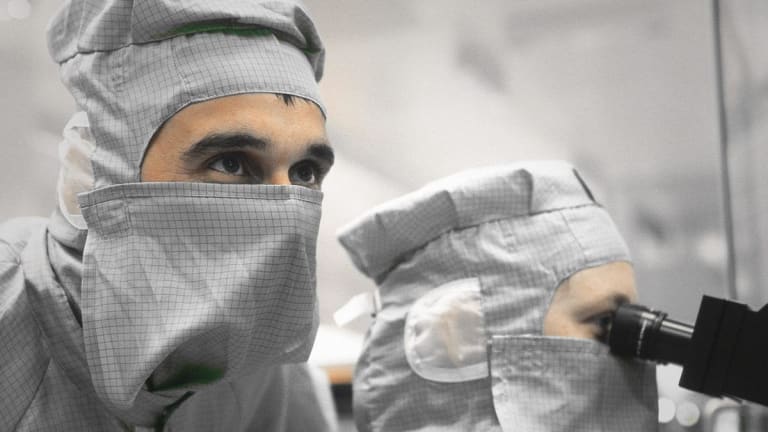 China's Remarks on Qualcomm-NXP Are Encouraging Sign for Chip M&A
While it's unlikely that Qualcomm will resume its pursuit of NXP, the fact that Beijing now says it's open to approving the deal could yield a pickup in broader U.S. chip M&A activity.
It's best to take Qualcomm Inc. (QCOM) - Get Report at its word when the company says it has no plans to restart its pursuit of NXP Semiconductors NV (NXPI) - Get Report in response to Beijing's apparent change-of-heart on approving a deal between the two firms.
Nonetheless, this seeming reversal has to be considered welcome news for the broader chip industry, which has seen M&A activity slow dramatically as trade tensions made would-be acquirers fear that Chinese regulators would refuse to approve any deal that they inked.
After agreeing to a truce under which (among other things) the U.S. and China promised to hold off on slapping new import tariffs on the other country's goods for at least 90 days, both President Trump and Chinese President Xi Jinping said over the weekend that China is open to approving a Qualcomm acquisition of NXP, should it be brought before regulators again. Not long afterwards, White House economic adviser Larry Kudlow said Xi's openness to a Qualcomm/NXP deal was a sign of further cooperation on multiple issues, including corporate M&A.
The remarks come slightly more than four months after Qualcomm terminated a $44-billion deal to buy NXP due to a failure to obtain Chinese approval -- all other needed regulatory approvals had been granted -- and more than two years after the chip developers originally agreed to a deal. Qualcomm paid NXP a $2-billion termination fee after the deal was abandoned.
On Monday, Qualcomm's shares rose 1.5%, amid a broader market rally. NXP's shares rose 2.8%, and the Philadelphia Semiconductor Index was up 2.7%. On Tuesday, shares of both companies gave back those gains and more as stock markets tanked on concerns about the substance of the trade truce. 
Qualcomm, for its part, was quick to throw cold water on hopes that the deal could be revived. "While we were grateful to learn of President Trump and President Xi's comments about Qualcomm's previously proposed acquisition of NXP, the deadline for that transaction has expired, which terminated the contemplated deal," a company rep told Reuters via e-mail. "Qualcomm considers the matter closed."
It's easy to understand why Qualcomm isn't interested in pursuing NXP again. Almost immediately after the NXP deal was terminated, Qualcomm launched a $30 billion stock buyback authorization that it soon began making heavy use of. With the help of a $16 billion accelerated share repurchase (ASR), Qualcomm spent $21.1 billion on buybacks during its September quarter.
These buybacks contributed to Qualcomm's cash balance falling to $12.1 billion as of the end of its September quarter. As a result, whereas Qualcomm had planned to finance an NXP acquisition in large part via cash, it would now have to finance the deal in large part by adding to a debt balance that stood at $16.4 billion at quarter's end.
But while Qualcomm might no longer want to pursue a target as large as NXP, it wouldn't be shocking to see the company, whose mobile processor/modem and patent-licensing businesses continue facing major secular headwinds, pursue a smaller chip developer that (like NXP) has strong exposure to growing automotive, industrial and/or IoT chip markets, now that Beijing's regulatory stance appears to be less hostile. Firms such as Cypress Semiconductor (CY) - Get Report and ON Semiconductor (ON) - Get Report are plausible targets.
Likewise, some other large-cap U.S. chip developers might now be more willing to pursue M&A talks in the wake of the trade truce and Trump and Xi's Qualcomm/NXP remarks. Since Microchip Technology (MCHP) announced a $10.3 billion deal to buy Microsemi in early March -- it closed in May following Chinese approval -- there has been a dearth of billion dollar-plus chip M&A transactions in which the buyer is a U.S. company. It probably isn't a coincidence that the biggest deal announced since then, a $7.2 billion deal to buy analog/mixed-signal chipmaker Integrated Device Technology (IDTI) - Get Report , involved a non-U.S. suitor (Japan's Renesas).
Many of the rationales for additional chip industry consolidation, such as cost savings, improved pricing power, greater economies of scale and the ability to offer more comprehensive product lines to major customers, are still arguably in place. Moreover, with valuations having fallen considerably for many chip developers since early 2018 due to a mix of trade and cyclical worries, the M&A landscape has to look more favorable now to many deep-pocketed suitors.
There's still a risk, of course, that Beijing adopts a harsher stance toward approving U.S. M&A transactions if the current trade detente doesn't yield a long-term deal. But from the perspective of would-be buyers, the risk/reward ratio for pursuing large deals that require time and effort to close, and which are accompanied by large termination fees in the event that they fail to close, has to look more favorable now.
Editor's note: This article was originally published by The Deal, a sister publication of TheStreet that offers sophisticated insight and analysis on all types of deals, from inception to integration. Click here for a free trial.