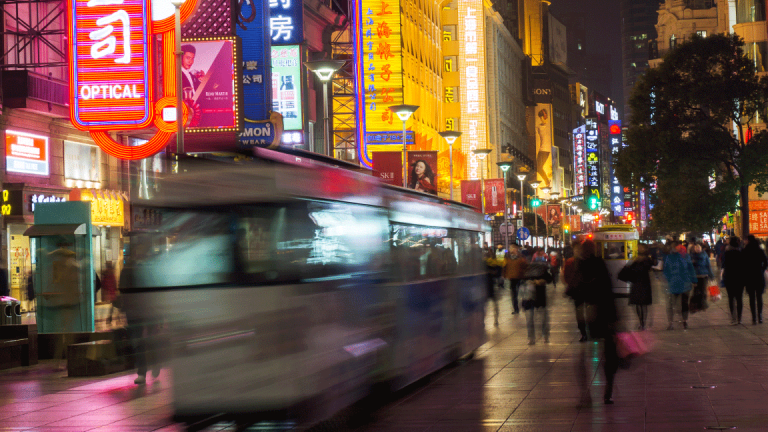 China Launches Oil Futures Contract in Direct U.S. Dollar Challenge
The launch of a yuan-denominated oil futures contract marks both China's status as the world's biggest energy importer and its attempt to directly challenge U.S. dollar dominance in global commodity markets.
China rolled out what could be its most aggressive attempt to thwart American trade dominance Monday with the launch of a market that will allow foreign investors to buy and sell crude oil in its domestic currency, the yuan, instead of U.S. dollars.
Crude futures contracts, which allow investors to buy and sell oil based on a specific delivery date in order to either hedge against -- or speculate on -- near term price changes, started trading on the Shanghai International Exchange, and, for the first time ever, changed hands entirely in Chinese yuan. The move marks the first futures contract that is both yuan-denominated and open to foreign investors and could either suggest an attempt by Beijing to control its energy import costs or, more broadly, wean itself away from a reliance on the U.S. dollar.
China is both the world's biggest importer of crude -- 8.4 million barrels a day last year -- and the largest holder of U.S. dollars, with an estimated 60% of its $3.14 trillion in foreign currency reserves denominated in greenbacks. With an annual trade surplus of around $375 billion, something President Donald Trump has vowed to reduce, China continues to add to that pile and recycle those dollars in to global commodity markets and U.S. Treasury bond purchases. 
The dollar's worldwide dominance, however, is starting to wane: the International Monetary Fund estimates that the greenback's share of global currency reserves fell to the lowest level since last year, although it still comprises 63.5%, or $6.13 trillion, of the global total, largely because central banks use them to support the value of their own domestic currencies. 
If China were to successfully expand crude futures trading to include other commodities, however, central banks and government treasuries around the world would need to reduce their dollar holdings and build their store of Chinese yuan which, at present, only represents around 1.12% of the global reserve currency total, according to IMF estimates. 
An expansion of commodity trading away from the greenback would also reduce China's dollar holdings, and the corresponding need to "round trip" them back into the U.S. in the form of Treasury purchases, which lower American interest rates and allow the government, at least in part, to run years of budget deficits that help induce tax cuts.
It scooped up more than $130 billion over the first 10 months of 2017, according to the TIC data tables, as China's trade surplus with the U.S. topped $28.8 billion in November and swelled 12.7% over the first 11 months of 2017 to $251.26 billion.
Around 15.4 million barrels of crude equivalent changed hands on the most active contract's opening day in Shanghai Monday with Glencore plc, the world's largest commodity trader, executing the first deal and the trading arm of Sinopec, Asia's biggest oil refiner, agreeing to buy yuan-denominated oil later this year from Shell International Eastern Trading Co., according to a Reuters report. 
Should the breadth of that market expand to include more global players and active daily investors, China will have taken a major step in its broader ambition to raise the international prominence of its currency.