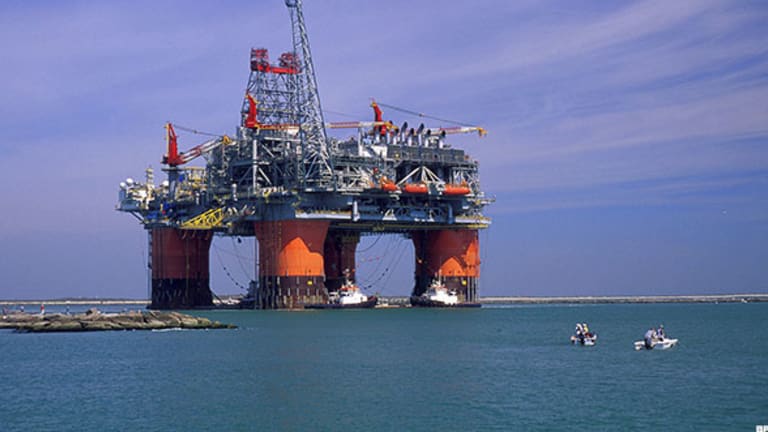 Publish date:
China Just Grabbed a Big Stake in Mexico's Gulf Oil and Paid Plenty for It
CNOOC paid almost five times more than needed for one block, while Chevron, ExxonMobil and Total also coughed up for currently unprofitable deepwater reserves.
CNOOC paid almost five times more than needed for one block, while Chevron, ExxonMobil and Total also coughed up for currently unprofitable deepwater reserves.
China National Offshore Oil Corp. left plenty on the table as it made sure of its place in Mexico's offshore oil fields, offering more than 2.5 times as much as than the next closest bidder for one block and almost five times more than needed to secure a second block.
CNOOC was one of 12 companies that secured stakes in eight offshore blocks in Mexico's first ever tender of offshore licenses. Two other licenses were left on the block. Other winners in the tender included Gulf of Mexico veterans Chevron (CVX) - Get Chevron Corporation Report , which bid with Mexico's Pemex and Japan's Inpex to secure one block; ExxonMobil (XOM) - Get Exxon Mobil Corporation Report and Total (TOT) - Get Total SA Sponsored ADR Class B Report which teamed to bid for another block, and Statoil (STO) and BP (BP) - Get BP p.l.c. Sponsored ADR Report , which also teamed with Total to secure two blocks.
But the biggest splash was made by the new entrant to the region. CNOOC offered a royalty of 17.01% for Area No.1 in the Perdido Fold Belt, 2.56 times the amount offered by Mexico's state-owned Pemex, the only other bidder for the block. A second bid for Area no.4 in the Perdido Fold was made at 15.01%, 4.8 times above the minimum royalty despite no other bidders making an offer for the Area.
By comparison Total and ExxonMobil bid a royalty of 5% to secure Area No.2 in the Perdido Fold, while the Chevron-led consortium offered a royalty of 7.44% for Area No.3 in the same region.
BHP Billiton (BHP) - Get BHP Group Ltd Sponsored ADR Report , the world's biggest mining company, also secured a stake in Mexico's oil sector, paying $624 million, including an upfront payment of $62.4 million, for a 60% stake in a JV with Pemex to develop the Trion field. BHP beat BP, which bid $18 million less, to secure the stake in an auction that was held separately to the wider auction of the 10 blocks.
The bidding for the deepwater oil assets is testament to big oil companies continued faith that oil prices will rebound form current levels. Deepwater oil is technically difficult to tap and the reserves acquired in the auction are unlikely to be profitable at prices below $80 a barrel, well under current oil prices of about $50 a barrel.
CNOOC's blockbuster bids are evidence that China is determined to be a major player in the Central and South American oil industry, in which it has already made significant investments.
Production from the deepwater blocks is expected to commence by about 2023, when the Trion field is scheduled to come online. The other blocks still require surveying and exploration and are likely to take a further 10 years to develop.
The fields could add a total 900,000 barrels per day to Mexico's oil output and are thought to contain about 11 billion barrels of oil, according to Juan Carlos Zepeda, head of Mexico's National Hydrocarbon's Commission.
Mexico promised more auctions over the coming two years.
"We will have an additional three tenders, one in autumn 2017, another in winter 2018, and a final one before the presidential term ends, which is also in the winter of 2018," said Mexican Secretary of Energy Pedro Joaquin Coldwell in a statement. "For this, we are considering new deepwater block and some shallow water blocks and some land blocks."