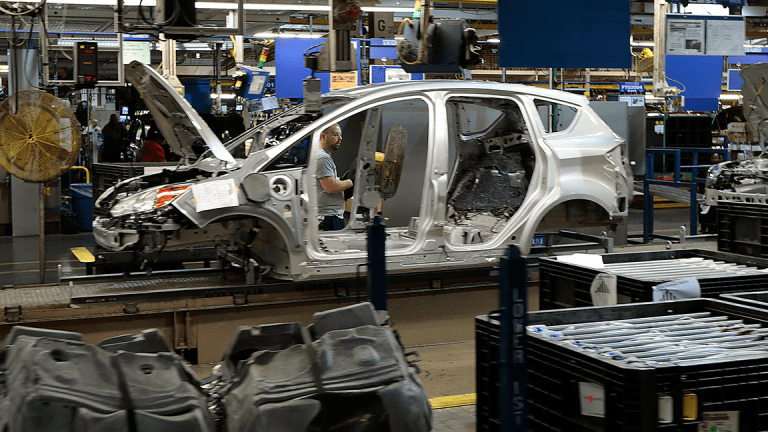 Rev up those auto plant engines. 
In the matter of a day, China may have helped Donald Trump get re-elected and assisted in giving a nice bottom-line boost to U.S. automakers Tesla (TSLA) - Get Tesla Inc Report , Ford (F) - Get Ford Motor Company Report  and General Motors (GM) - Get General Motors Company (GM) Report . China said it will cut the tariff to import cars to around 13.8% from the current level of 25%, while reducing the levy on imported car parts to 6% from 10%. The reductions will take effect on July 1.
For Trump, the concession by China is a win seeing as he came to power on the back of frustrated manufacturing workers (among other classes, of course). For the major U.S. automakers, the decision likely will put more money in their pockets by allowing them to more profitably sell cars in the world's biggest auto market. The decision arrives at a crucial time for U.S. automakers -- with gas prices trending higher the group's pivot to SUVs and trucks from more fuel-efficient cars may crimp profits this year.
Ford perhaps has one of the most ambitious plans for China. The company said late last year that it aims to have 50 new vehicles in China by 2025, including eight all-new SUVs and at least 15 electric vehicles from Ford and Lincoln.
Meanwhile, China's high tariffs have long meant Tesla's already expensive autos are simply out of reach for many Chinese. On average, Tesla customers in China reportedly pay 1.5 times more for their electric cars than U.S. Tesla customers. 
Around Wall Street 
To the old boys club of Wall Street -- take that. The New York Stock Exchange appointed Chief Operating Officer Stacey Cunningham as its first female president (the NYSE was founded in 1792 by 24 stock brokers outside on Wall Street ... so after 226 years, some progress). Cunningham and crosstown rival Adena Friedman (CEO of Nasdaq I:IXIC ) now sit atop the two most storied brands on Wall Street not named Goldman Sachs (GS) - Get Goldman Sachs Group, Inc. (GS) Report . Cunningham's appointment, taking over for the always sharply dressed Tom Farley, who is moving to hedgie Third Point, reflects a broader women's movement inside the NYSE.
On one of the latest installments of TheStreet's 'Alpha Rising' webshow, our Tracy Byrnes sat down with the NYSE's top three executives (which at the time included Cunningham) to discuss the future of their business. Cunningham discussed her time as a female trader on the NYSE floor and women in finance more broadly. "We still struggle to get a lot of women into finance, and while we have a lot of senior women in our organization -- we still struggle to get the equal ratio of women into finance generally."
Watch the full interview here.
Stats of the Day 
Here's a not-so-surprising news flash -- the stock market is addicted to corporate stock buybacks. S&P 500 undefined companies announced $324 billion in new buyback authorizations so far this year, according to new data from JPMorgan. Technology companies have announced the largest buyback authorizations by far year to date at $210 billion, of which $100 billion was from Apple (AAPL) - Get Apple Inc. (AAPL) Report and $25 billion was via Cisco (CSCO) - Get Cisco Systems, Inc. Report . Healthcare has chimed in with $39 billion in buyback announcements. JP Morgan said buyback announcements for financials should pick up mid-year when capital plans are approved by regulators.
Executed buybacks have tallied $178 billion, up from $135 billion a year ago. Tech has been the most aggressive on the buyback front, delivering a 116% year-on-year increase in executed buybacks. And the buyback parade doesn't look like it will end anytime soon.
"Now there is more chatter about how a significant portion of the repatriated earnings could go into buybacks, possibly boosting them to a record high exceeding $600 billion this year for the S&P 500 companies," said Ed Yardeni of Yardeni Research. "That's based on the guidance provided by company managements during their just-completed Q1-2018 earnings reporting season."
Silly time returns to Wall Street.