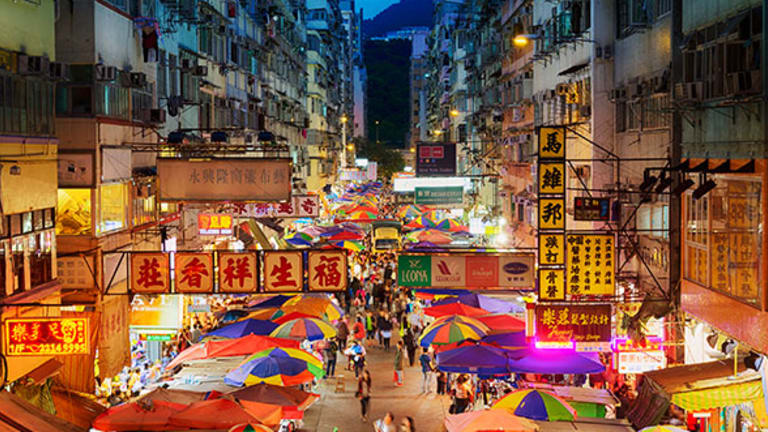 China Doomsayers Are Overstating the Bearish Case
Myths and misunderstandings are making the market overly bearish on China, says Leland Miller, president of CBB International, publisher of the China Beige Book. Slowdown? Yes. Crisis? No.
NEW YORK (TheStreet) -- Market perceptions about China are too bearish, according to Leland Miller, president of CBB International, which releases the China Beige Book each quarter. In an interview with TheStreet, Miller took aim at several myths about the Chinese economy. One is that China's slowdown is intensifying, with economic growth indicators deteriorating rapidly.
"We saw a slowdown in the third quarter, but it was nothing remarkable," said Miller. The Beige Book uses independent data on the ground in China to assess the economy, and based on that data, "Growth was stable on-year," he said. "You saw some improvement, you saw some slowdown, but certainly nothing that should be roiling markets right now."
Miller also said that investors pay too much attention to China's Producer Price Index, which measures wholesale prices and the manufacturing sector. "What we've been telling clients for over two years is that manufacturing is not a microcosm of the economy. It is not a bellwether of the economy," said Miller. "It's actually performed counter-cyclically as much as it's been cyclical in the last two plus years."
Still, there is no doubt that China's manufacturing industry is struggling. The China Beige Book reported that the performance of the manufacturing sector was the weakest it has been in eight quarters. But the China Beige Book also showed that China's services sector buoyed its economy in the quarter, with revenues rising 59% and capex growth increasing. Miller believes overall GDP growth in China is actually 4.5% to 5%, and the economy will continue to slow over the long term.
"It is a slowdown, it's just not a crisis, it's not a catastrophe," said Miller. "The economy is not about to fall off a cliff like a lot of people fear." Miller expects there will be further currency devaluation in China, but the yuan will not fall by the10% or 15% that some market watchers have predicted.