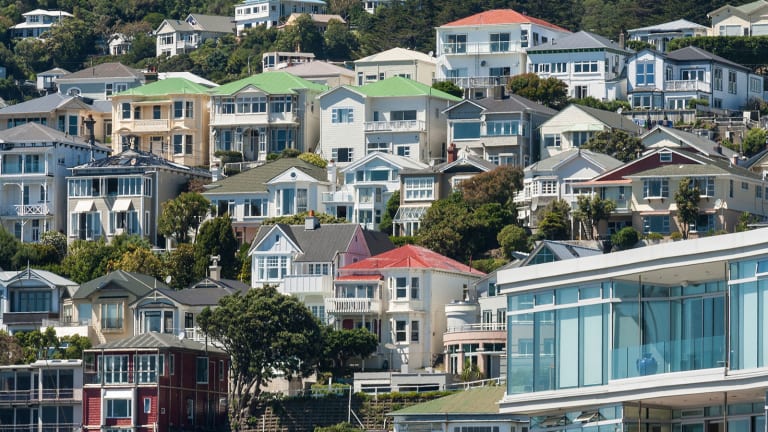 How Chinese Investors Found a Safe Haven at the Waldorf-Astoria
American real estate is becoming a refuge for Chinese investors, particularly insurance companies that may amass $3.32 trillion in premiums. REITs such as Vornado and SL Green stand to benefit.
UPDATE: This story, originally published at 7:35 a.m. on Sept. 14, 2015, has been updated with data from financial markets.
NEW YORK (TheStreet) -- Macroeconomic turmoil is once again putting the U.S. real estate market in the spotlight, but this time it's part of the solution, not the problem.
American real estate is becoming a refuge for Chinese investors, particularly insurance companies that may amass $3.32 trillion in premiums by 2020, who are seeking reliable returns as the world's second-largest economy slows and its stock markets decline, according to both advisers and industry executives. 
Developers, financial institutions and high net-worth individuals are seeking "safe investments in income-producing commercial and residential investments rather than luxurious real estate purchases for personal use," said international real estate attorney Edward Mermelstein, who has spent 20 years advising clients on such transactions. 
It's a strategy not unlike the one players use to get ahead in Hasbro's (HAS) - Get Hasbro, Inc. (HAS) ReportMonopoly, buying real estate and adding revenue-generating houses and hotels.
Especially since August, when China's devaluation of its currency combined with an 8% drop on the Shanghai Stock Exchange to drag down equity prices worldwide, Mermelstein has seen a "positive and consistent interest" by Chinese investors. "There's an argument that this is a flight to safety," he said. "This is very much a flight to safety."
That flight builds on already increasing interest in European and U.S. assets from Chinese investors, whose purchases outside their country grew 11% to an estimated $120 billion in 2014, according to global accounting firm KPMG. High-value real estate deals in that period included the $1.95 billion purchase of New York's Waldorf Astoria hotel by insurance provider Anbang.
"Chinese real estate developers are eager to capture potentially higher and more stable returns overseas,"  KPMG noted in its "China Outlook 2015" report. "The overseas real estate market has also generated interest from Chinese companies in other industries, particularly insurance companies."
Chinese insurers have been allowed to invest as much as 15% of their assets in overseas real estate since 2012, though as of last October, they had invested only about 1%, KPMG said. Individuals are poised to gain more flexibility, too, with China's cabinet releasing a plan earlier this year that would allow people with at least $160,000 (1 million yuan) of financial assets and businesses to directly invest in real estate, stocks, and bonds in foreign markets, the Wall Street Journal has reported. The option would be limited to designated free-trade zones.
"What's going on in China has not dissuaded them one bit from continuing to look at and pursue the transactions they're working on," said Bob Knakal, Cushman & Wakefield's chairman of New York investment sales, who's working on several transactions with Chinese investors, including a $300 million project in Manhattan. "We have seen more investors coming into the market that want to deploy capital here."
The Chinese government doesn't want too much capital to flow out of the country, however.
"The government has trade-offs," said Tailan Chi, an international business professor at the University of Kansas. "First, they want to open up the capital markets gradually, so they can say the Chinese currency is largely determined by the market. Secondly, they want to prevent very large inflows or outflows of capital that would push the value of the Chinese currency up or down too quickly."
Already, Chinese investors account for nearly 28 percent of the total $104 billion of residential U.S. real estate sold to overseas buyers, with Canada second at $11.2 billion and India third with $7.9 billion, according to a recent report from the National Association of Realtors.
Chinese buyers are often focused on urban West Coast areas like Los Angeles, San Francisco, and Seattle, but they're also interested in New York and Houston. While looking for investments, they also buy properties for business, education, and vacation.
"The Chinese are continuing to be very aggressive in investing in the market and, in certain cases, have shown greater inclination to come into our market," Mermelstein said.  "The perception of safety within our market and the returns that our market is generating right now is substantially greater than anything they can get within their own market."
Since the end of July, a period that would include volatile trading in China's markets in August, the Shanghai Composite Index has fallen 15%, worse than both the S&P 500, which is down 7.2%, and the S&P 500 Real Estate Index, which has slid 6.5%.
That may signal an opportunity for U.S. real estate investment trusts like Vornado Realty (VNO) - Get Vornado Realty Trust Report , SL Green (SLG) - Get SL Green Realty Corp. Report , and Boston Properties (BXP) - Get Boston Properties, Inc. Report  to seek Chinese capital to fund projects, a Bloomberg analyst noted in April. 
The growth in U.S. real estate investment leaves China poised to top even Canada, which has typically been the biggest foreign buyer, within the next two years, said Knakal, who has worked in real estate for 30 years. Investors are interested in land as well as office, hotel, retail, and mixed-use properties, he said. 
Office space is particularly popular for investors seeking income-generating assets rather than personal homes, said Mermelstein. Multi-family housing is also gaining momentum. 
"There's definitely a gravitation toward the best locations, the best local partners, and the strongest developers," he said. "Both institutional investors as well as high-net worth individuals are looking to invest in the best locations or partner up with the top developers."
That's a big positive for U.S. real estate, which has already benefited from sustained low-interest rates and climbing employment rates. "The wave of Chinese investment coming into the U.S., and particularly into New York, is stronger than it has ever been and I believe that trend will continue," Knakal said.
The one unknown, a significant one, is whether China's economic slowdown will prompt its government to tighten restrictions on overseas investment, said Rick Sharga, an executive vice president with online real estate marketplace Auction.com. "That variable is really hard to forecast," he said. "That would probably be the one thing that could throw the trends completely in a different direction than they are currently going."