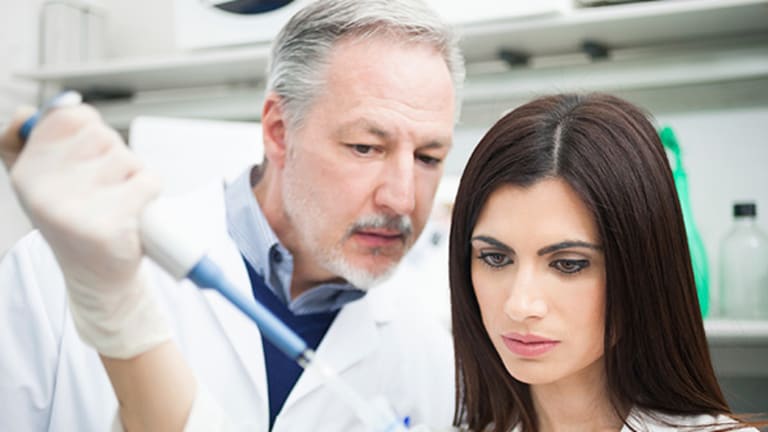 Chiasma Plunges After FDA Rejects Application For Growth Disorder Drug
Shares of Chiasma are plunging this morning after the company said the FDA rejected the company's application for approval of a proposed treatment of adult patients with a growth disorder.
Shares of Chiasma (CHMA) are plunging this morning after the company said the U.S. Food and Drug Administration rejected the biopharmaceutical company's application for approval of a proposed treatment of adult patients with a growth disorder.
WHAT'S NEW: On Friday, Chiasma said it received a complete response letter on the FDA for its new drug application for Mycapssa capsules in patients with acromegaly, a disorder in adults in which the pituitary gland produces too much growth hormone. The FDA letter indicated that the review cycle for the application was complete and that the therapy was not ready for approval in its present form.
WHAT'S NOTABLE: In an update from the company this morning, Chiasma said the FDA did not believe the NDA provided "substantial evidence of efficacy to warrant approval," and told the company it would have to conduct another trial to overcome this. Additionally, Chiasma said the FDA expressed concerns regarding part of a Phase 3 trial and "strongly recommended that the company conduct a randomized, double-blind and controlled trial" with "sufficiently long duration" to support a resubmission. Further, the FDA said that during a recent site inspection, "certain deficiencies were conveyed" to a representative of one of Chiasma's suppliers that would have to be resolved before approval.
ANALYST REACTION: Oppenheimer analyst Christopher Marai lowered his price target on shares to $9 from $43 to account for clinical risk in the Phase 3 MPOWERED trial. The analyst also pushed out revenue expectations for Mycapssa by three years and increased his discount rate to 40% annually. William Blair analyst Tim Lugo said he believes the Phase 3 MPOWERED trial has a "more sound" design than the single-arm, open-label study which was used in the FDA application. Lugo cut his rating on the stock to Market Perform as a result of the Mycapssa CRL and the requirement for another trial, as the data readout is not expected for two more years. Despite the letter from the FDA, Lugo believes Chiasma is in a "better position" regarding its European application. Janney Capital analyst Debjit Chattopadhyay says the FDA CRL for Mycapssa could be the result of study design and the choice of an "arbitrary primary endpoint," and says that the CRL "sets Chiasma back significantly." The analyst said the news also provides Strongbridge (SBBP) a "strong incentive" to rapidly advance COR-005, its own drug that the analyst said has a unique receptor binding profile.
PRICE ACTION: In morning trading, Chiasma shares dove over 60% to $4.02, while Strongbridge Biopharma is up 2.5% to $4.91.
Reporting by Laurie Pasternack Chan.
The Fly
is a leading digital publisher of real-time financial news. Our financial market experts understand that news impacting stock prices can originate from anywhere, at any time. The Fly team scours all sources of company news, from mainstream to cutting-edge, then filters out the noise to deliver short-form stories consisting of only market moving content. Follow @theflynews on Twitter. For a free trial, click