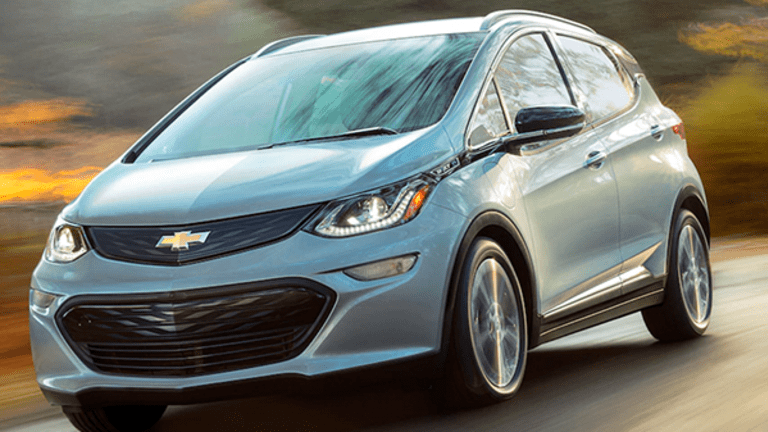 GM's Chevy Bolt Is a Damn Good Car That America Doesn't Care About
The inventory of unsold Bolts in the U.S. has swollen to an unacceptable level.
General Motors Co. (GM) - Get General Motors Company Report should be basking in the limelight of strong sales of its Chevrolet Bolt EV, the best, mass-market battery-powered vehicle that was introduced just seven months ago. 
With its 238-mile range, cool electronic display and nimble handling, Bolt should have long lines of enthusiasts besieging Chevy dealers, especially in California, the epicenter of the save-the-Earth movement. Many who have driven Bolt swear by it.
Instead, the inventory of unsold Bolts in the U.S. has swollen to an unacceptable level. GM, in response, has added three weeks to its normal summer shutdown at the assembly plant in Orion Township, Mich., where the Bolt and Sonic subcompact are built. GM is also temporarily shutting car plants in Lordstown, Ohio; Kansas City; and Oshawa, Ontario, to align inventory and demand. The moves likely will likely be a hit to the automaker's bottom line in the third quarter, ending Sept. 30.
Hyundai's Popular Sonata Gets a Facelift Despite Brutal U.S. Auto Market
GM deliberately planned for fairly modest Bolt sales, knowing that EVs don't appeal to a broad audience and mostly have been developed and marketed to meet tightening clean-air and fuel efficiency regulations. But GM's modest expectations, it appears, weren't modest enough. Why this difficulty for the class of the EV segment?
GM said 1,642 Chevrolet Bolt EVs were sold in the U.S. in June, the highest monthly total for the car.
Cheap fuel is a big factor. Internal combustion engines look pretty economical compared to batteries, especially here in southeast Michigan, where regular unleaded last weekend was selling for $2.26 a gallon. A sudden spike in fossil fuel prices could spark a rush to Bolt and other EVs like Nissan Motor Corp.'s (NSANY) Leaf and Tesla Inc.'s (TSLA) - Get Tesla Inc Report Model 3, which is the latest to reach the mass market.
A second reason why consumer response hasn't been stronger is the worry about battery range. True, 238 miles is well beyond what most people need between charges. But what about a sudden emergency trip beyond that distance? How do charging stations work, where are they located and how much do they cost? The answers to the questions are easy enough to discover, yet owning a small car like GM's Chevrolet Sonic, which a regular gasoline engine, is cheaper and sidesteps the additional questions.
One main argument in favor of buying the Bolt (and other EVs) comes from the environmental movement, which argues that emission-free driving will help mitigate global warming -- a much-debated topic with principled views from many angles, including those in strong disagreement. The signals from Washington are very much mixed, with stricter fuel-efficiency rules still scheduled even after President Trump has withdrawn the U.S. from the global climate treaty.
GM initially sent its first Bolts to dealerships in California and Oregon. But Bolt has been rolling out steadily to all 50 states and will be available everywhere by the end of August. The car is a pleasure to drive, at least it seemed so in my test and to others I I've interviewed who have driven the car. It should be easy enough to maintain and own, especially for consumers who have short daily commutes with garages that make charging easy.
Alas, there's no surefire way to forecast consumer preferences: Sometimes the best efforts of regulators, lawmakers, engineers and marketers simply fail. I hope this isn't one of those times.
More of What's Trending on TheStreet:
The 30 Nastiest Storms in Recent U.S. History Have Caused Mind-Blowing Damage
Editors' pick: Originally published July 19.
Doron Levin is the host of "In the Driver Seat," broadcast on SiriusXM Insight 121, Saturday at noon, encore Sunday at 9 a.m.
This article is commentary by an independent contributor. At the time of publication, the author held no positions in the stocks mentioned.