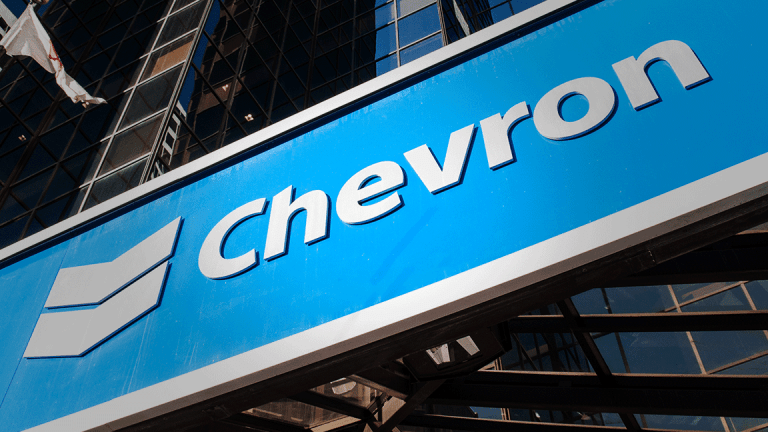 Chevron Erases Losses on Stock Repurchase Program, Production Outlook
The San Ramon, Calif.-based oil major reported earnings of $1.78 per share on revenue of $42.24 billion.
Chevron Corp. (CVX) erased losses on Friday, July 27, as its plans to repurchase $3 billion of stock per year overcame concern about missing second-quarter earnings and revenue estimates.
The San Ramon, Calif.-based oil major reported earnings of $3.4 billion, or $1.78 per share for the second quarter. Total revenues for the period came in at $42.24 billion. Those results fell short of forecasts calling for earnings of $2.09 per share on revenue of $45.66 billion, according to FactSet.
The company reported charges of $724 million for the quarter, up from $598 million a year ago, due to higher interest expense. 
Chevron also said capital and exploratory expenditures were $9.2 billion for the first six months of the year, an increase from $8.9 billion a year ago. Expenditures for the company's upstream segment represented 88% of the total. Included in the quarter was a receivable write-down of $270 million charged to operating expense.
But the company with a market capitalization of $236 billion said cash flow from operations in the first half of the year rose to $11.9 billion, up from $8.7 billion during the same period a year earlier.
"Our cash flow continues to improve with higher upstream margins and volumes, combined with disciplined spending," Chairman and CEO Michael Wirth said in a statement. "This enables us to initiate share repurchases, which are expected to be $3 billion per year based on our current outlook."
Management said it will start the stock buyback program in the third quarter and expects the plan to be sustainable through any "reasonable [oil] price environment."
While the $3 billion per year buyback was below Credit Suisse's initial forecast of $4 billion per year, analyst William Featherston sees the "scope for CVX to expand this target over time." The firm rates Chevron at Neutral with a $138 price target. 
Chevron earlier this week also announced a quarterly dividend of $1.12 per share, payable Sept. 10.
Shares of Chevron closed at $126.00, up 1.7%. 
Net oil-equivalent production was 2.83 million barrels per day during the second quarter, up from 2.78 million barrels per day a year ago. Chevron said it now expects full-year production to be in the upper half of the guidance range of 4% to 7% growth.
Chevron's Executive Vice President of Upstream Jay Johnson said the company has restarted drilling in Pennsylvania's Marcellus shale and has no intention of slowing development in the Permian fields of west Texas. Johnson also said the company expects production at its Big Foot deep-water drilling project in the U.S. Gulf of Mexico to begin later this year.
The Big Foot facilities are designed for a capacity of 75,000 barrels of oil and 25 million cubic feet of natural gas per day. Big Foot is estimated to contain recoverable resources in excess of 200 million oil-equivalent barrels, Chevron said.  
Chevron's conference call, in which management provided all of these production updates, stood in stark contrast to rival Exxon Mobil Corp.'s  (XOM)  call as analysts criticized management's lack of disclosure regarding scheduled maintenance, which CEO Darren Woods blamed for the company's earnings miss.  Exxon made no mention of buying back stock, the catalyst for Chevron's gains today.
Exxon stock fell 2.8% to $81.92.