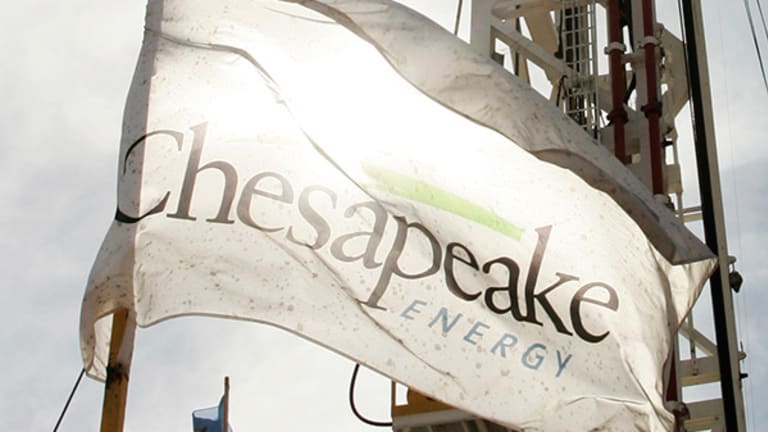 Chesapeake Energy Takes Small Step to Shink Debt Load
Investors in the natural gas and oil company have traded $153 million in debt for new shares that represent a 4.1% stake.
Chesapeake Energy (CHK) said Thursday that it has reached privately negotiated agreements to swap $153 million in debt for newly issued shares amounting to a 4.1% equity stake.
The transactions only make a small dent in the Oklahoma City natural gas and oil producer's $9.4 billion debt load. Still, they suggest that some debtholders have faith in the company's equity value, as Chesapeake management has assured investors that the company is doing its best to stay out of bankruptcy as it reworks its capital structure.
Based on the principal value of the debt exchanged, the per-share price was $5.44, above Wednesday's closing price of $4.36. At Wednesday's closing price, the block of new shares would have had a value of $122.53 million. The shares were down 5.4% Thursday afternoon to $4.13, giving Chesapeake a $2.77 billion market cap.
KLR Group analyst John Gerdes said in a Thursday note that the transaction should have a minor negative impact on the equity value.
When it comes to the big picture, Gerdes believes Chesapeake's capital structure is "navigable" through next year. Based on his financial projections, he estimated the company needs to raise an additional $100 million to $150 million from asset sales beyond the transactions it has already announced to cover debt that comes due next year.
Chesapeake already has announced $1.2 billion in asset sales that have closed or are expected to close this year, which should provide around $950 million in net proceeds.
The company has emphasized that it will focus on addressing its 2017 and 2018 debt maturities. The latest debt swaps included $90 million of its $1.11 billion in 2.5% contingent convertible senior unsecured notes due May 15, 2037, which carry an optional redemption for 100% of principal value on or after May 15, 2017; $38 million of its $453 million in 6.5% senior unsecured notes due Aug. 15, 2017; $10 million of its $340 million in 2.25% contingent convertible senior unsecured notes due Dec. 15, 2038, which may be redeemed for 100% of principal on Dec. 15, 2018; and $15 million of its $1.1 billion in floating-rate senior unsecured bonds due April 15, 2019.
Analysts are keeping a keen eye on Chesapeake's debt reduction efforts. "We remain on the sidelines on this name and look for progress on addressing 2017 maturities and overall leverage," JPMorgan Chase analysts said in a Monday report; the firm has a neutral rating on Chesapeake.
Chesapeake says it is the second-largest producer of natural gas and the 14th-largest producer of oil and natural gas liquids in the U.S. The company appears on the "Stressed Out" list compiled by Real Money, a sister publication of The Deal.
The oil and gas industry has seen a proliferation of bankruptcy filings in recent months.
Earlier on Thursday, Penn Virginia filed for Chapter 11 in the U.S. Bankruptcy Court for the Eastern District of Virginia in Richmond. Linn Energy (LINE) filed late Wednesday in the U.S. Bankruptcy Court for the Southern District of Texas in Victoria. Other recent filings include Chaparral Energy (Monday), Midstates Petroleum (April 30) and Ultra Petroleum (April 29).
Fitch Ratings said in a Thursday report that the default rate among the energy industry's high-yield bonds over the past 12 months is up to about 13%, with defaults in the exploration and production segment at a record 24%. The ratings agency expected that 30% to 35% of high-yield bonds issued by energy explorers and producers would default by year-end. Across industries, the high-yield bond default rate for the past 12 months is 4.2%.
Media contacts at Chesapeake didn't respond to requests for comment.