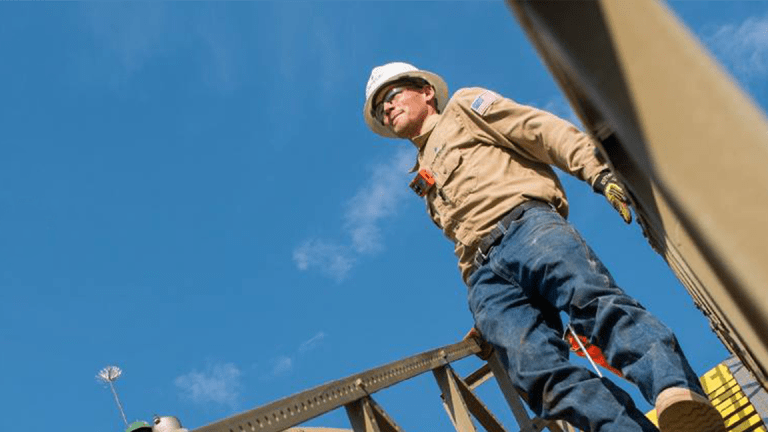 Chesapeake Energy Climbs Despite First-Quarter Revenue Miss
Chesapeake Energy climbs as analyst notes company beat forecasts on earnings before EBITDA
Shares of Chesapeake Energy Corp. (CHK) - Get Chesapeake Energy Corporation Report   bounced back from premarket losses Wednesday to advance into positive territory, climbing 1.8% to $2.82 after reporting its first quarter earnings.
The Oklahoma City-based company reported a net loss of $44 million, or 3 cents a share, compared with a loss of $6 million, or 1 cent a share, a year ago. The adjusted loss was 2 cents a share, or earnings of 14 cents in what the company called "under full cost." Analysts were looking for earnings of 14 cents a share.
Revenue totaled $2.2 billion, down from $2.52 billion a year ago and missed Wall Street's forecast of $2.36 billion.
SunTrust Robinson Humphrey analyst Neal Dingmann said in a note to investors that Chesapeake's results beat Wall Street's projections of earnings before interest, taxes, depreciation and amortization (EBITDA) as production prices came in above forecasts.
"We believe the stock should be higher on the positive release but is down pre-mkt largely due to the switch to successful efforts with numbers not matching analysts' estimates," he wrote.
Oil, natural gas and natural gas liquids revenue totaled $929 million, down from the year-ago figure of $1.24 billion and below analysts' expectations of $1.13 billion. Marketing revenue came to $1.23 billion, down from $1.25 billion but beat Wall Street's $1.18 billion estimate.
Average daily production was 484,000 barrels of oil equivalent (boe), down from 554,000 boe a year ago.
The company said it remains on track to deliver oil growth of about 32% with a year-end oil mix of roughly 26%, driven by shallower production declines in South Texas due to well spacing and base production improvements and continued improvement in the Powder River Basin, which saw record production during the quarter and again in April.
"We continue to execute on our strategic priorities and once again delivered strong financial and operational results," Doug Lawler, president and CEO, said in a statement.