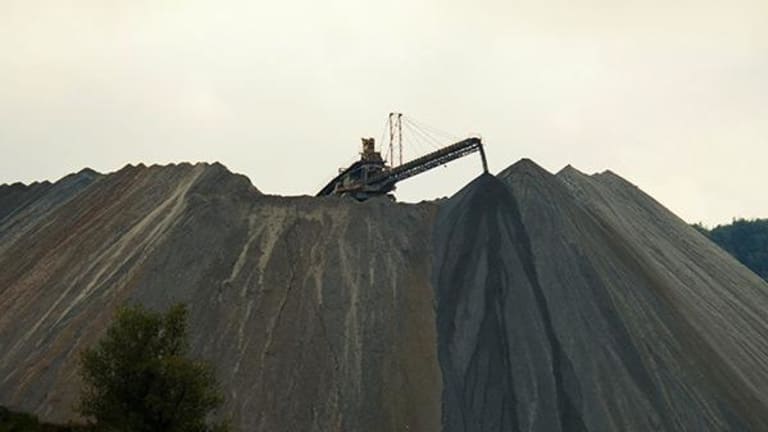 Chesapeake's Troubles Are Over, Says CEO Who Sees Debt Cuts and Higher Production Aiding Revival
Talking one's book.
Chesapeake Energy Corp.  (CHK) - Get Report shares rose about 2.2 percent on Monday, to $4.67 after the company said at a JPMorgan energy sector conference that the company expects to sell $2 to $4 billion of debt from its balance sheet by 2018.
Robert Lawler, President, Chief Executive Officer at Chesapeake also said that since it results bottomed out earlier this in the first quarter, it's now looking forward to discussing future operations like rising output at its shale plays in places like The Powder River Basin, Eagle Ford Shaler and Haynesville Shale plays.
Chesapeake shares traded up 3.1% to $4.71 on Tuesday morning.
Specifically, he said that its Eagle Ford wells would be more productive, and lucrative, in the 2017 second half.
"We thought important today just given the environment pullback in prices that we should highlight for you that we have ample liquidity, the financial strength of the company as I've said a few times this year is better than it's ever been before. Greater than $3 billion in our liquidity, we just get reaffirm our revolver in the past few weeks of $3.8 billion," Lawler told the gathering
He said the company has signed or has pending $350 million of asset sales to date 2017. He said Chesapeake is still targeting additional asset sales toward reaching its $2 billion to $3 billion target of additional asset sales over the next few years.
Lawler declined to provide earnings guidance for the company, instead assuring conference-goers that "we're focused on driving down our debt further. And we remain very, very flexible with tremendous optionality on oil and gas across the portfolio.
Regarding production, Lawler said that Chesapeake is operating in the Eagle Ford, we have seven rigs in the running in seven rigs and four fracking crews.
"We anticipate to spot about 180 wells this year in turn - in line almost the same number. This is our oil production growth engine, the EBITDA engine for the company."
Lawler anticipates 2016 to 2017 oil growth of 10%
"This asset is very, very strong and relatively undeveloped. We estimated present that we drilled about 27% of the opportunities, represented in the Lower Eagle Ford, Upper Eagle Ford and in the Austin Chalk. We've greater than 2 billion of barrels of net resource potential here and with that current 185 wells drilled a year, about 25 years of activity."
Visit here for the latest business headlines.
More of What's Trending on TheStreet:
The Federal Reserve Is Scared, So It's Hiking Interest Rates: Market Recon
A Sales Warning by General Motors Has Been Heard Around the World -- European Stocks Get Hit