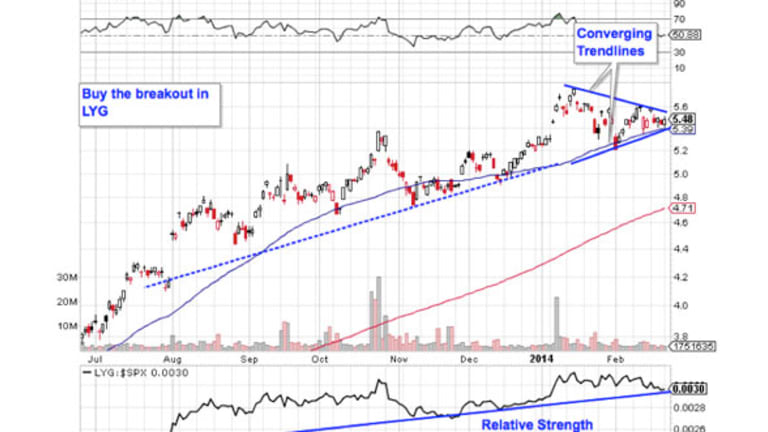 Cheap Trades: 5 Breakout Stocks Under $10
As we close out February's trading, there are some big gains to be made in the lowest-priced tickers.
BALTIMORE (Stockpickr) -- Everybody loves a bargain. Maybe that's what's so appealing about trading stocks with price tags under $10. And as we close out February's trading, there are some big gains to be made in the lowest-priced tickers.
One thing's for sure: Low-priced stocks tend to see higher trading volumes than other stocks of similar capitalization. That means that the potential for powerful breakouts is a lot bigger in low-priced names. To be clear, a low stock price isn't the same thing as a cheap valuation. In fact, by itself, share price isn't a very useful metric at all. But that doesn't change the fact that the setups in names priced under $10 tend to be more explosive than their pricier peers.
So today, we're taking a technical look at five new trades priced under $10.
>>5 Rocket Stocks Ready for Blastoff
For the unfamiliar, technical analysis is a way for investors to quantify qualitative factors, such as investor psychology, based on a stock's price action and trends. Once the domain of cloistered trading teams on Wall Street, technicals can help top traders make consistently profitable trades and can aid fundamental investors in better planning their stock execution.
Without further ado, let's take a look at five technical setups worth trading now.
Lloyds Banking Group
First up is Lloyds Banking Group (LYG) - Get Free Report, a name that's been a serial outperformer of late. In the last 12 months, London-based Lloyds has rallied more than 63%, blowing the S&P 500's otherwise impressive year out of the water. But even if you missed the move, LYG looks ready to start on another leg higher. Here's how to trade it.
Lloyds Banking Group is currently forming a symmetrical triangle pattern, a setup that's also known as a "coil." The symmetrical triangle is made by a pair of trend lines that are converging at approximately the same rate. The buy signal comes on a breakout to the topside of the channel, currently right at the $5.60 level. If shares can take out $5.60, then we've got a strong indication that buyers have regained control of shares.
Relative strength has been trending higher for LYG since last summer, and it's even maintained its uptrend during this most recent consolidation. Since the 50-day moving average has been a stellar proxy for the lower trendline of LYG's triangle, it's a good place to put a protective stop when the trade triggers.
BlackBerry
$5 billion handset maker BlackBerryundefined is forming a triangle of a different sort. In this case, it's a bearish one. So in spite of the 7.5% rally shares enjoyed in yesterday's session, this stock is looking "toppy" as we head into March.
BBRY's price setup is a descending triangle, a trade formed by a downtrending resistance level above shares, and horizontal support to the down side at $9. Basically, as BBRY bounces in between those two technical price levels, it's getting squeezed closer and closer to a breakdown below that $9 level. When that happens, we've got our sell signal in this stock.
Momentum isn't on Blackberry's side either. Our momentum gauge, 14-day RSI, broke its uptrend when this pattern started forming, and it's been stuck in a downtrend ever since.
That doesn't mean that it makes sense to short BBRY right now. This is a very volatile name, so it's crucial to wait for $9 support to get broken before betting against shares. Until then, it's not a high-probability trade.
Sabesp
Things look a little more auspicious in shares of Brazilian sanitation services company Sabesp (SBS) - Get Free Report. That should come as a nice reprieve for shareholders, considering this stock is down more than 40% in the past 12 months. But after selling off for the last entire year, Sabesp is starting to look "bottomy."
SBS is currently forming a double bottom pattern, a classic technical setup that's formed by two swing lows that bottom out at approximately the same price level. The buy signal comes on a push through the resistance level that separates the two lows. For SBS, that price level comes in at $11.50.
Whenever you're looking at any technical price pattern, it's critical to think in terms of those buyers and sellers. Triangles, double bottoms and other pattern names are a good quick way to explain what's going on in a stock, but they're not the reason it's tradable. Instead, it all comes down to supply and demand for shares.
That $11.50 resistance level is a price where there has been an excess of supply of shares; in other words, it's a place where sellers have previously been more eager to step in and take gains than buyers have been to buy. That's what makes a breakout above it so significant -- the move means that buyers are finally strong enough to absorb all of the excess supply above that price level.
Don't be early; wait for $11.50 to get busted before taking the trade.
Frontier Communications
You don't have to be an expert technical analyst to figure out what's going on in shares of Frontier Communications (FTR) - Get Free Report -- the setup in this stock is about as simple as it gets. And as shares slip this week, we're coming up on a solid buying opportunity for this $4 stock.
Frontier is currently bouncing higher in a textbook uptrending channel. When it comes to channels, up is good and down is bad. It's really just as simple as that. Frontier's channel is bounded by resistance above shares and trend line support below them; those two parallel trend lines provide a high-probability range for FTR to trade between. And so, as shares come up on trend line support for a fifth time since last summer, it makes sense to buy the bounce.
Waiting to buy off a support bounce makes sense for two big reasons: It's the spot where shares have the furthest to move up before they hit resistance, and it's the spot where the risk is the least (because shares have the least room to move lower before you know you're wrong). Remember, all trend lines do eventually break, but by actually waiting for the bounce to happen first, you're ensuring FTR can actually still catch a bid along that line before you put your money on shares.
Parker Drilling

Last up is Parker Drilling (PKD) - Get Free Report, a small-cap contract drilling stock that's been on a tear in the last six months. Parker started last summer as a $4 stock; now shares are above $8.20. But it looks like higher ground could be ahead thanks to a classical setup in shares.
Parker is currently forming an inverse head and shoulders pattern, a bullish setup that indicates exhaustion among sellers. The pattern is formed by two swing lows that bottom out around the same level (the shoulders), separated by a deeper low (the head). The buy signal comes on a move through the neckline, which is right at $8.50. Even though the right shoulder hasn't been formed yet in PKD, it doesn't matter. I'd be a buyer on the push through $8.50 regardless. The trading implications are exactly the same.
Yes, the head and shoulders is a well-known pattern, but it's popular because it works. The research backs that up too: A recent academic study conducted by the Federal Reserve Board of New York found that the results of 10,000 computer-simulated head-and-shoulders trades resulted in "profits [that] would have been both statistically and economically significant."
Keep an eye on the $8.50 level in PKD this week.
To see this week's trades in action, check out the Technical Setups for the Week portfolio on Stockpickr.
-- Written by Jonas Elmerraji in Baltimore.
RELATED LINKS:
>>4 Stocks About to Break Out on Big Volume
>>3 Big Stocks Getting Big Attention
>>5 Stocks Ready to Explode on Bullish Earnings
Follow Stockpickr on Twitter and become a fan on Facebook.
At the time of publication, author had no positions in stocks mentioned. Jonas Elmerraji, CMT, is a senior market analyst at Agora Financial in Baltimore and a contributor to TheStreet. Before that, he managed a portfolio of stocks for an investment advisory returned 15% in 2008. He has been featured in Forbes , Investor's Business Daily, and on CNBC.com. Jonas holds a degree in financial economics from UMBC and the Chartered Market Technician designation. Follow Jonas on Twitter @JonasElmerraji