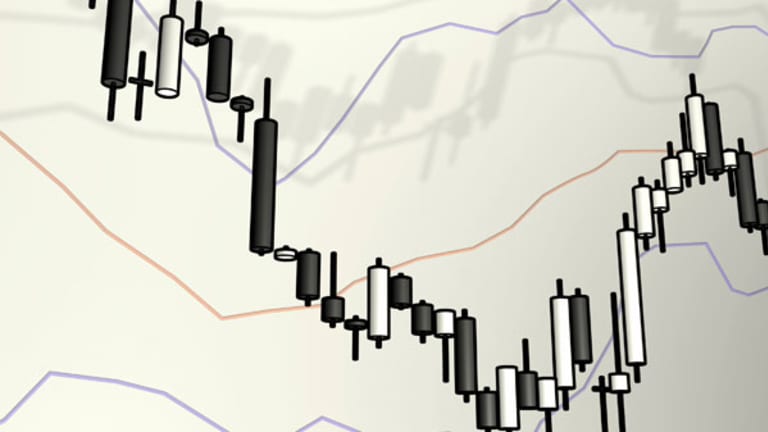 Charts of the Week: Schwab, Royal Dutch Shell
Here's a look at the charts of several stocks that have been piquing the interest of the Stockpickr community.
WINDERMERE, Florida (Stockpickr) -- Technical analysis can be a great tool for investors who want to determine what the trend of an asset is before they decide to buy or sell. Consulting the charts can help you indentify key market behavior before it happens, preparing you to follow the trend and make the right trade.
Technical analysis is a method of evaluating securities by relying on the assumption that market data, such as charts of price and volume, can help to predict future market moves and trends. Technical analysis will help guide you to discovering the chart patterns that offer the highest probability of success. By consulting the charts and using technical analysis, plus combining those methods with fundamental analysis, you will truly have an edge over a majority of market participants.
>>Also:
Must-See Charts: Wells Fargo, SPY
From a technical perspective, the
S&P 500
is about 40 points away from testing yearly highs at 1220. The
Dow Jones Industrial
is currently about 100 points away from testing its yearly highs at 11,258, and the
Nasdaq
is around 70 points away from its yearly highs at 2535.
Clearly the overall market is in a solid uptrend, and a test of the yearly highs on all of the broad market indexes should occur very soon. The one canary in the coal mine is now the potential of a
strong rally in the U.S. dollar
. If the dollar can extend its recent gains and seriously start moving to the upside, then we could see the overall market sell off in the short term.
Recent dollar strength has already begun to take down commodities such as oil, silver and gold. And although it hasn't taken down stocks that much yet, it has put a lid on market rallies during intraday trading. If the dollar starts to move big to the upside stocks will almost certainly come under selling pressure. So if you're trading stocks, you need to be watching the dollar very closely right now. It will shape the technical picture of trading going forward.
Here's a look at
that are piquing the interest of the Stockpickr community.
Stockpickr member Michael Morse submitted
Dover Downs Gaming & Entertainment
(DDE)
. This company is a gaming and entertainment company.
If you take a look at the chart for Dover Downs, you'll see that the stock has made a nice run off the June lows at $2.75 a share to its recent price around $3.44 a share. During that run, the stock has been making higher lows, which is technically a bullish sign.
>>Also:
Top-Rated Leisure Goods Stocks
However, since September, this stock has now started to trade in a range of $3.30 on the downside to around $3.60 on the upside. The stock now seems to be struggling to break out above the higher end of this range, plus shares are now struggling around the 200-day moving average.
I would also like to point out the relative weakness in this stock since the market bottomed in September and saw a huge run in the broad indexes. If this stock was strong, it should have run up with the market, yet it has remained range-bound. From a technical standpoint, I like to trade stocks that are trending with the market.
>>Also:
Are Casino Stocks Worth a Bet?
Just take a look at the action in names such as
Apple
(AAPL) - Get Apple Inc. Report
,
Netflix
(NFLX) - Get Netflix, Inc. Report
and
Chipotle Mexican Grill
(CMG) - Get Chipotle Mexican Grill, Inc. Report
during the same time frame. All of these stocks have been strong during the market rally and have trended in the same direction as the market.
Now it looks like the buying pressure on DDE is starting to deteriorate as measured by the RSI indicator, which has moved below 50. If I was long this stock, I would look for some support on a pullback towards the uptrend line I drew in on the chart. If the stock breaks below that support line, I would be a seller.
>>Also:
Stockpickr member Kjp712 submitted
American Vanguard
(AVD) - Get American Vanguard Corporation Report
, which, through its subsidiaries, engages in the manufacture, development, and marketing of specialty chemical products for agricultural and commercial uses in the U.S. and internationally.
Shares of American Vanguard recently made a bullish move, breaking above a downtrend line and rallying up toward its current level of $7.50 a share. If you look at the chart, you'll see that the stock found solid support at around $6 a share before it took off to the upside during that rally.
>>Also:
Now shares are trending right into the 200-day moving average, which sits around $7.68 a share. In order for this stock to see further upside, it's going to need to trade above that key resistance area. If I was long this stock, I would be watching how it acts right very closely at current levels. A failure at the 200-day would bring in a wave of selling that could push the stock down quickly.
It's worth noting that the stock has seen some decent volume patterns during the past couple of trading sessions. During those sessions (both up days), more than 230,000 shares traded hands, well above the three-month average daily volume of around 99,000 shares. If strong volume continues to come into this name, then look for the stock to push higher and make a run toward the mid-$8s or mid-$9s. Of course, that's if the 200-day is taken out to the upside.
>>Also:
Stockpickr member π submitted
Charles Schwab
(SCHW) - Get Charles Schwab Corporation Report
, which, through its subsidiaries, provides securities brokerage, banking and related financial services to individuals and institutional clients.
If you take a look at the chart, you can see that Schwab has been trending higher since the market rally started in early September, a bullish sign. During that rally, shares of Schwab have been making higher lows and higher highs, another bullish sign.
>>Also:
10 Insurance Stocks That May Gain up to 74%
Shares are now trending right into some overhead resistance at around $15.40 to $15.85 a share. A move above that level will set the stock up for a test of the 200-day moving average at $16.38. If the stock can get above the 200-day moving average, then I think a run toward $20 a share could very well happen.
It's worth noting that volume patterns on Schwab have started to look very bullish during the past couple of weeks, with a number of up days easily eclipsing the three-month average trading volume of 11 million shares. This strong volume could be a solid indicator that a sharp move higher is coming in the near future. Keep an eye on those resistance areas I highlighted above for confirmation of a move higher.
>>Also:
10 Financial Stocks Selling at Deep Discounts
Stockpickr member π also submitted
Royal Dutch Shell
undefined
, an independent oil and gas company. Royal Dutch Shell is engaged worldwide in the aspects of the oil and gas industry and also has interests in chemicals and other energy-related businesses.
Looking at this chart, I am seeing a number of bearish indicators flashing major warning signs. First the moving average convergence divergence is starting to show a crossover, which is often a signal that the trend in an equity is about to change into a bearish pattern. Second, buying volume is falling off dramatically, and selling volume is starting to pick up. This smells of distribution to me, and I wouldn't ignore this pattern.
>>Also:
Third, the stock has significantly broken below an uptrend line that had been support for the shares during an unbelievable run from $50 a share to its current price of $61.23. I wouldn't ignore this break because it could be tipping you off to further downside ahead.
So why is this stock starting to show so many warning signs? It's all about the U.S. dollar, in my opinion. If the rally in the dollar has legs and gets stronger, then commodity-related stocks such as Royal Dutch are going to get hit with selling. I personally believe the dollar rally has legs, so this equity could easily pull back towards either the 50-day or 200-day moving averages. If I was going to trade this stock, I would be looking to short it the way that current technical indicators are setting up that I mentioned above. If I wanted to buy this stock, I would only buy off of a previous support level, or I would wait until the stock traded back above the uptrend line it recently broke.
>>Who Owns Royal Dutch Shell?:
To see more technical analysis, check out the
portfolio on Stockpickr.
-- Written by Roberto Pedone in Winderemere, Fla.
RELATED LINKS:
>>20 S&P Stocks With Huge Insider Selling
>>3 Stocks Increasing Their Dividends
>>5 Tech Stocks for Your Portfolio
Follow Stockpickr on
and become a fan on
Facebook.
At the time of publication, author had no positions in stocks mentioned.
Roberto Pedone, based out of Windermere, Fla., is an independent trader who focuses on stocks, options, futures, commodities and currencies. He is also an outside contributor to Beconequity.com and maintains the website Maddmoney.net, which he sold to Blue Wave Advisors in 2008. Roberto studied International Business at The Milwaukee School of Engineering, and he spent a year overseas studying business in Lubeck, Germany.