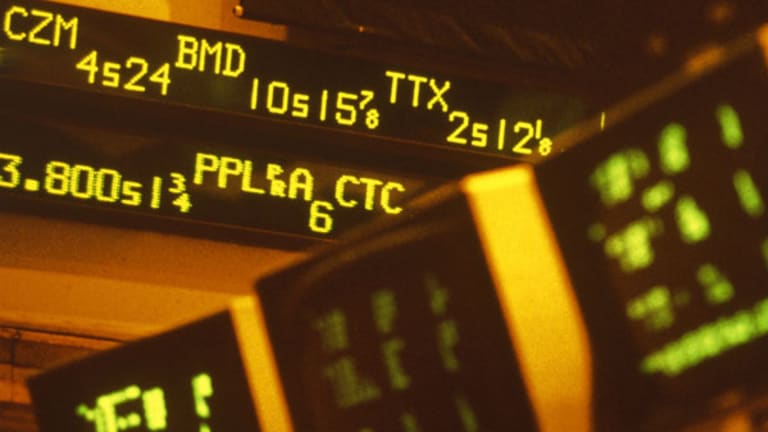 Charts of the Week: Deckers, Comcast
Here's a look at some compelling charts that are piquing the interest of the Stockpickr community.
By Roberto Pedone
WINDERMERE, Florida (
) --
can be a great asset to investors who want to determine what the trend of the market or a stock is before they throw down hard-earned money. Consulting the charts can help you spot important market action before it happens, preparing you to follow the trend and make the right trade.
Technical analysis is a method of evaluating securities by relying on the assumption that market data, such as charts of price and volume, can help to predict future market moves and trends. Technical analysis will help guide you to discovering the chart patterns that offer the highest probability of success. By consulting the charts and using technical analysis, plus combining those methods with fundamental analysis, you will truly have an edge over a majority of market participants.
There has been a lot of talk among the technical community of late that the market might be setting up for a major move down. Those concerns are definitely valid, but they don't guarantee by any measure that a big drop in the markets is imminent. In fact, as I write this the market is ripping pretty strongly to the upside. The
Dow
is up over 100 points and the
S&P 500
is up around 1%, following comments from
Federal Reserve
Chairman Ben Bernanke.
Market players should only anticipate a major down move in the markets if the S&P 500 breaks below the 1040 and the 1011 areas. Those are very key areas that the market must hold in order to avoid a major move down in stocks.
Here's a look at
that are piquing the interest of the Stockpickr community.
Stockpickr member optionguy submitted
Deckers Corporation
(DECK) - Get Deckers Outdoor Corporation Report
. This company is engaged in designing, producing, marketing and brand managing of footwear and accessories.
Currently, shares of Deckers are trading in the middle of some support at around $44 a share and resistance at around $53 a share. This pretty much puts the stock in no man's land and doesn't really signal a move in either direction for the stock.
If I was a bull on this stock, I would wait for shares to trade back above $52, which would move the stock above a key downtrend line. If I was a bear, I would love to see this stock break below some near-term support at $44 and then take out $40.76.
I will point out one thing that I don't like about Deckers, and that is the declining up volume that has been occurring since volume topped out in June. That is usually the type of thing you see before a stock is setting up to make a big move to the downside. However, I would watch price action first since volumes in the overall market have been lower than average of late.
Stockpickr member Michael Morse submitted
Comcast
(CMCSA) - Get Comcast Corporation Class A Common Stock Report
, a provider of video, high-speed Internet and phone services, offering a variety of entertainment, information and communications services to residential and commercial customers.
Shares of Comcast are now trading below both the 50-day and 200-day moving averages. This is not the type of price action you want to see if you're considering this name from the long side.
That isn't the only thing that is bearish about the price action for Comcast. The stock has now made a very significant break below a very key trendline that had acted as support for the shares since last Nov. This break of the key trendline is a very bearish warning sign that would keep me far away from this stock. It signals that a new downtrend could be developing that would take the stock significantly lower.
Stockpickr member kjp712 submitted
Ruby Tuesday
(RT)
, which owns and operates Ruby Tuesday casual dining restaurants. Kjp712 has a short bias on this stock, and I can easily understand where that view is coming from.
Shares of Ruby Tuesday have been making nothing but higher lows every time the stock has tried to make a significant up move since April. Every time the stock popped, sellers were more than willing to get out and sell their shares at a lower price. This is not very bullish price action in any way.
Now, Ruby Tuesday is trading near both the 50-day moving average of $9.54 and the 200-day moving average of $9.15. A failure to close above the 50-day would be cause for concern for the bulls on this stock. Even worse, a drop below the 200-day moving average and a move under the trendline (show on the chart) would set this stock up for some significant downside.
Stockpickr member shawnmks submitted
ProShares UltraShort S&P 500
(SDS) - Get ProShares UltraShort S&P500 Report
. This ETF seeks daily investment results, before fees and expenses, which correspond to twice the inverse of the daily performance of the S&P 500 Index.
Looking at the chart, you can see that the SDS found a lot of support from buyers in the past couple of months whenever it traded down towards $30 to $31 a share. However, because this is a mostly a day-trading vehicle, I am not so sure we can read too much into that action. The price support is merely areas in which the S&P 500 Index was hitting some resistance.
My best advice when trading the SDS is to just use it as a day trading vehicle for whenever you're anticipating a down move in the markets. I wouldn't trust the charts very much, at least not when evaluating these types of highly leveraged ETFs for longer term trades. The support and resistance levels will work better on the SDS for day trading time frames.
If you want to play this for a longer-term trade, I would only consider any chart readings that showed significant volume spikes above key prices levels. For instance, if you saw a lot of volume comes in as the SDS hit a new all-time high, or something to that nature.
To see more technical analysis on stocks such as
Vodafone Group
(VOD) - Get Vodafone Group Plc Report
and
Crocs
(CROX) - Get Crocs Inc. Report
, check out the
portfolio on Stockpickr.
RELATED LINKS:
>>Dividend Stocks: Lorillard, ITC Holdings
>>Must-See Charts: Google, Home Depot
>>M&A Stocks Have More Room to Rally
Follow Stockpickr on
and become a fan on
Facebook.
At the time of publication, author had no positions in stocks mentioned.
Roberto Pedone, based out of Windermere, Fla., is an independent trader who focuses on stocks, options, futures, commodities and currencies. He is also an outside contributor to Beconequity.com and maintains the website Maddmoney.net, which he sold to Blue Wave Advisors in 2008. Roberto studied International Business at The Milwaukee School of Engineering, and he spent a year overseas studying business in Lubeck, Germany.
Stockpickr is a wholly owned subsidiary of TheStreet.com.