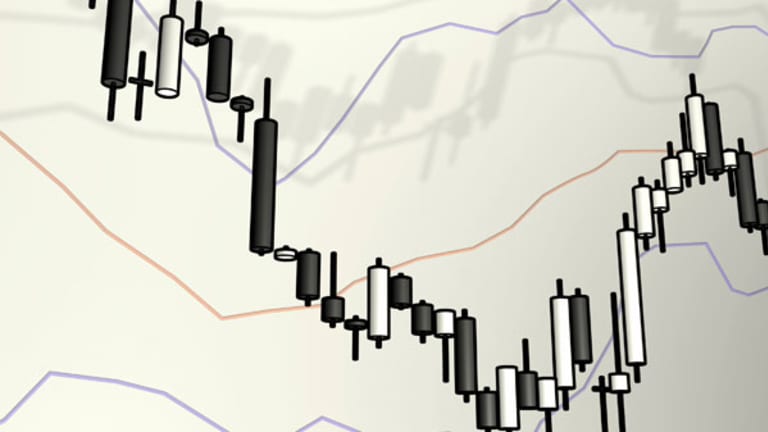 Charts of the Week: Cummins, eHealth, Dr Pepper
Here's a look at some compelling charts that are piquing the interest of the Stockpickr community.
Here's a look at some compelling charts that are piquing the interest of the Stockpickr community.
By Roberto Pedone
WINDERMERE, Fla. (
) --
can be a great asset to investors who want to determine what the trend of the market or a stock is before they throw down hard-earned money. Consulting the charts can help you spot important market action before it happens, preparing you to follow the trend and make the right trade.
Technical analysis is a method of evaluating securities by relying on the assumption that market data, such as charts of price and volume, can help to predict future market trends. Technical analysis will help guide you to discovering the chart patterns that offer the highest probability of success.
For instance, if we're going into a bear market, technical analysis can help you avoid stocks until you see some signs of stabilization or consolidation. And combining technical analysis with fundamental analysis will give you an edge over other market participants.
Currently, a number of market technicians want to see the
Dow Jones Industrial Average
break above 10,600 in order to reverse the current market downtrend that has many investors worried that a larger bear market is looming. A move over 10,600 would indicate that the uptrend is back on track.
Here's a look at
that are piquing the interest of the Stockpickr community.
Stockpickr member franco1717 submitted
Cummins
(CMI) - Get Report
, a company engaged in the designing, manufacturing, distributing and servicing of diesel and natural gas engines, electric power generation systems and engine-related component products.
Shares of Cummins have been trading in a well-defined channel pattern since late April, with the stock bouncing between the prices of $77 on the upper end and $60 on the lower end. Now the stock is heading back up toward the higher end of the channel, where a lot of resistance sits at around $76 to $77 a share. This run is occurring prior to the company's earnings report, slated for July 27.
Anyone who is long Cummins should pay very close to attention to how the stock acts as it trades right into this prior resistance area. A move above $77 would be extremely bullish because it would mark a near-term breakout and would mean the stock is trading at a brand-new all-time high. A strong earnings report next week could definitely be the catalyst that sparks the breakout.
If shares do break out, I think the stock heads to $100 in the next couple of months with ease. If the stock fails to break out, I would expect a move back toward the lower end of the channel at the minimum. It looks like the breakout is the better bet, since Cummins is so close to its high even as the market has been acting weak recently.
Stockpickr member Michael Morse submitted
eHealth
(EHTH) - Get Report
, an online source of health insurance for individuals, families and small businesses. If you're looking for a chart that screams AVOID, then you have definitely found it with eHealth. There is absolutely nothing to like about this stock -- not one single thing from a technical standpoint.
This stock has been performing so poorly that shares have plunged from $19 to $10 in just five months. Shares of eHealth are in a very clear downtrend channel, where shares have been making lower highs and lower lows. This is a very bearish indicator because it means that on any bounce, the institutional players are selling the stock and even succeeding in pushing it to new lows after the bounce. Another bearish sign can be seen with the stock trading below both its 50-day and 200-day moving averages.
I see no reason to dip your toe in here and buy shares of eHealth. If I was thinking about going long this stock, I would want to see some consolidation and sideways trading that demonstrates the downtrend is over before jumping in from the long side. Alternatively, a break of the downtrend line could make for an interesting place to get long.
But it looks like the bears are in full control of this stock, and any rally you might get lucky enough to catch should be sold immediately.
Stockpickr member xxfranky1769xx submitted
Dr Pepper Snapple Group
(DPS)
, which is an integrated brand owner, manufacturer and distributor of non-alcoholic beverages in the U.S., Canada and Mexico.
Shares of Dr Pepper have recently broken out above some very tough resistance at around $38 to $39 a share. I like the fact this is happening ahead of the company's earnings report which is set to kick off on July 29. Since May, the stock has been making higher lows and finding some solid support whenever it trades down to the 50-day moving average. The stock has also been slowly grinding out some higher highs.
This demonstrates that institutional investors are eagerly scooping up shares of Dr Pepper on just about any weakness, and the demand for the stock is so strong that they are paying up to own it as well.
I really like all of the technical action here on Dr Pepper, especially considering that if this breakout continues it will push the stock towards new all-time highs. If the upcoming earnings report is good for Dr Pepper, I would look for the stock to hit $50 if not even higher before the end of the year.
The final chart comes from Stockpickr member kjp712, who submitted
Fortress Investment Group
(FIG)
, a global alternative asset manager that raises, invests and manages private equity funds, liquid hedge funds and hybrid funds. Shares of Fortress have recently made a V-shaped bottom and soared from $2.70 to around $4 a share in just a couple of weeks.
The stock is now trading back above the 50-day moving average, which is a good sign, but the problem now is that Fortress has run into some resistance at around $4.10 to $4.20 a share. If I were long this stock, I would want to see shares trade above $4.20, since it's not just resistance but also used to be a support level. Often when a share price goes from being support to resistance, it marks a touch level to breach on the upside.
Since volume over the past couple of weeks has been much heavier on the up days versus the down days, I think the stock has a good chance to take out $4.20. If you're long Fortress, you want to see this happen, and you also want to see the stock moving back above the 200-day moving average of $4.38. If these levels are taken out, look for the stock to challenge the mid-$5s. But if the stock can't even get above $4.20, then look for a move back below $3.
To see some more technical analysis on stocks such as
Freeport McMoRan
(FCX) - Get Report
and
Apple
(AAPL) - Get Report
, check out the
portfolio on Stockpickr.
RELATED LINKS:
>>Breakout Stocks: Altria, MasterCard
>>Earnings Season Short-Squeeze Opportunities
>>3 Stocks Atticus Capital Is Buying
Follow Stockpickr on
and become a fan on
Facebook.
Stockpickr is a wholly owned subsidiary of TheStreet.com.