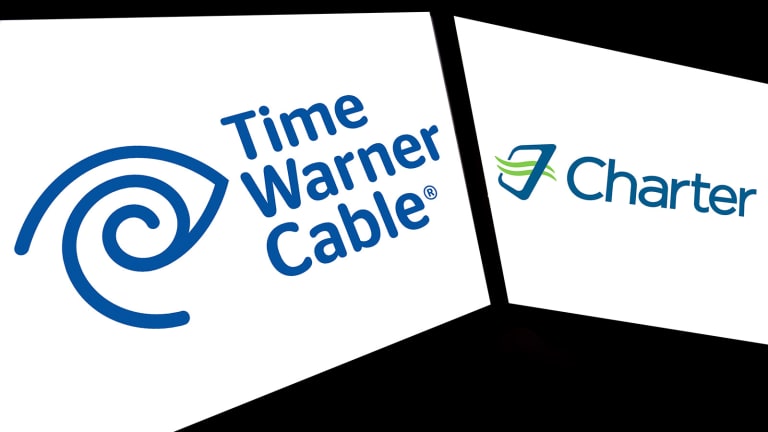 Charter Has a Better Chance Than Comcast to Buy Time Warner
In a deal valued at $78.7 billion, Charter Communications could buy Time Warner Cable; there will always be regulatory uncertainty until the deal is finally approved, though.
NEW YORK (TheStreet) -- Charter Communications (CHTR) - Get Report agreed to buy Time Warner Cable (TWC) for more than $55 billion in cash and stock, a deal that's valued at $78.7 billion. The combined company would have 23.9 million customers in 41 states, becoming the nation's second-largest cable company behind Comcast (CMCSA) - Get Report.
As part of the deal, Charter will also buy Bright House Networks for more than $10 billion. Tuna Amobi, senior equity analyst at S&P Capital IQ, weighs in on how the mega-deal will change the competitive landscape within the industry.
Amobi says the combined company will be well-positioned to compete against bigger rivals and will be lead by Charter CEO Tom Rutledge, who he says is regarded as one of the best operators in the industry. As far as the broadband side, Amobi says innovation at the combined company is to be expected and customers will likely experience benefits like better pricing through Charter than Time Warner Cable. He adds that the company will also have much better scale to negotiate programming. But, after Comcast's $45.2 billion bid for Time Warner Cable fell apart in April due to antitrust concerns, Amobi weighs in on whether this deal could suffer the same fate.
Based on the action in shares of Charter today, Amobi says investors clearly have concerns about whether the deal will, in fact, be approved. However, he believes this deal has much better chances of going through. Amobi explains that regulators are much more concerned with the impact on the broadband market, and as the combination of Charter and Time Warner Cable will have less than one-third of that market, he believes antitrust concerns will be significantly less in this case. Having said that, he warns that there will always be regulatory uncertainty until the deal is finally approved.
Charter closed Tuesday up $4.45 to $179.78.