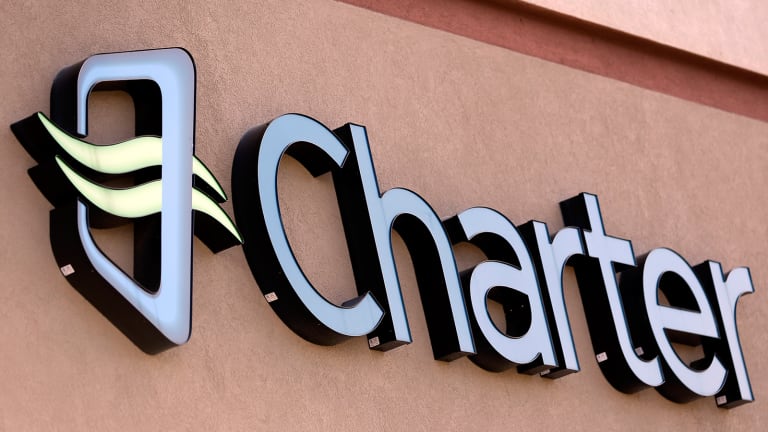 Charter Has a Better Chance in Washington for Cable Deal Than Comcast
Charter will need show that a combination with Time Warner Cable will result in better Internet service, an editor from The Deal argues.
NEW YORK (TheStreet) -- Charter Communications' (CHTR) - Get Charter Communications, Inc. Class A Report agreement to buy Time Warner Cable (TWC) for about $79 billion comes on the heels of Comcast (CMCSA) - Get Comcast Corporation Class A Report calling off its deal to acquire Time Warner Cable because of regulatory concerns.
Bill McConnell, assistant managing editor for The Deal, weighed in on Wednesday on whether Charter's offer stands a chance in Washington. McConnell acknowledged that the Federal Communications Commission as well as the Department of Justice, both of which must approve the deal, will likely be concerned about increased concentration in the broadband and cable-delivery businesses.
The proposed merger between Charter and Time Warner Cable would be much smaller than if Comcast had acquired the company, something McConnell said bodes in Charter's favor with regulators. He noted that Comcast is already the largest cable and broadband provider and buying Time Warner Cable would have given it control of 57% of the broadband market, 30% of the cable market and dominance in 19 of the 20 largest metro areas.
A tie-up between Charter and Time Warner Cable would result in a combined company that serves fewer than 30% of broadband customers and only 17% of pay-TV customers, giving it a much better chance of assuaging regulators' antitrust concerns.
As regulators have stressed that Charter and Time Warner Cable will have to prove that a combination between the two will bring tangible benefits to consumers,
McConnell said we can expect Charter to argue that it can keep prices lower through the deal as it will have increased scale, although he is skeptical that argument alone will be enough to satisfy regulators. He believes the best bet for Charter is to show that by adding scale with Time Warner Cable, it can afford to improve its broadband infrastructure and deliver better and faster Internet service.