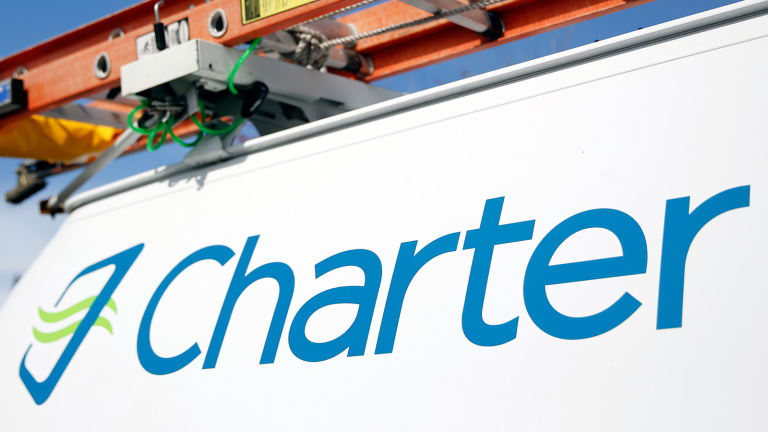 Charter Communications Rises Sharply as Revenue Jumps 6%, Beats Estimates
Charter Communications climbs after the broadband and cable operator beats Wall Street's fourth-quarter revenue expectations.
Charter Communications Inc. (CHTR) - Get Report climbed 14.2% to close at $331.05 on Thursday after the broadband and cable operator beat Wall Street's fourth-quarter revenue expectations.
The Stamford, Connecticut-based company said it had net income of $296 million, or $1.29 a share, down from $9.53 billion, or $34.56 a share, a year ago. Analysts had forecast earnings of $1.49 a share.
Charter Communications said the decline was primarily driven by a GAAP tax benefit from a reduction in the deferred tax liability as a result of the U.S. tax reform in 2017.
Revenue totaled $11.2 billion, up 5.9% from a year ago, and beat Wall Street's expectations of $11.1 billion. The company said the revenue increase was driven by residential revenue growth of 3.9%, commercial revenue growth of 4.5%, and advertising revenue growth of 34.1%. Charter said it added 289,000 residential internet customers.
Fourth-quarter capital expenditures totaled $2.4 billion, the company said, and included $28 million of all-digital costs and $106 million of mobile-related capital expenditures. For the year ended December 31, capital expenditures totaled $9.1 billion, or $8.9 billion excluding mobile-related capital expenditures.
The company said its internet customer base increased by 1.3 million in the year and cable revenue was up 4.7%.
"In 2019, we expect the operating and cash flow performance of our cable business will further demonstrate the superiority of our network, the returns of our recent investments, and the long-term value creation driven by our consumer-focused operating strategy," Tom Rutledge, chairman and CEO, said in a statement.