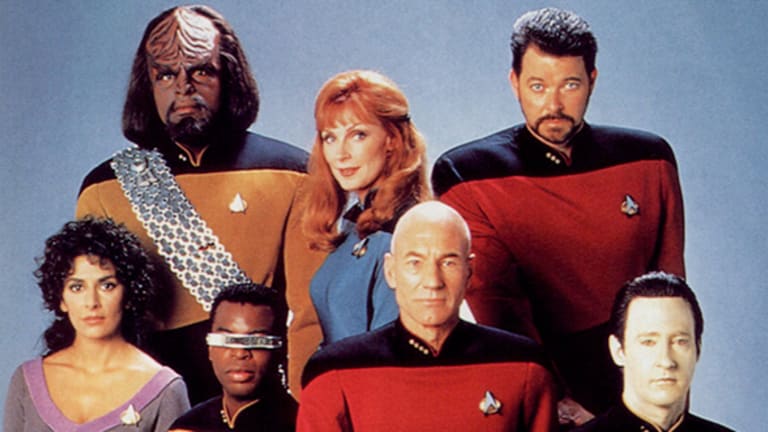 CBS Relying Less on Ad Sales as 'Star Trek' Fuels Global Growth
CBS is getting more growth than expected from its online subscription services, All-Access and Showtime.
At least Sumner Redstone doesn't have to worry about CBS (CBS) - Get Report .
The network that never tires of calling itself "the most-watched network" showed Thursday that despite a decline in advertising sales at its CBS network and affiliated television stations, overall revenue in the second quarter grew due to international licensing of its upcoming new Star Trek series which will air exclusively on CBS All-Access, its subscription-based digital service.
CBS, which is smaller than its broadcast competitors, is increasingly focused around fewer products, choosing in recent years to spin-off its outdoor advertising business and later this year, CBS Radio. CEO Leslie Moonves has declined offers to buy additional cable-TV channels or even invest more heavily in film production.
Rather, CBS remains focused on its broadcast network, the online version of its premium movie service Showtime Anytime and All-Access, its standlone subscription service which broadcasts the network excluding live sports such as National Football League games.
Subscribers to the two services have surpassed 2 million, Moonves said, putting the company on track to reach its goal of 8 million by 2020.
On that note, affiliate and subscription fees jumped 59% in the quarter as revenue across the company rose 2.1% to $3.29 billion, surpassing analyst expectations of $3.21 billion. Earnings also exceeded forecasts as CBS reported a profit of 93 cents per share compared to projections of 86 cents, according to a survey of 31 analyst conducted by Bloomberg.
Ad sales at the CBS fell 3% in the quarter but even that decline is deceiving. The year ago quarter included the NCAA Basketball tournament's final four and the Floyd Mayweather vs. Manny Pacquio boxing match which was the highest grossing sporting event of all time, according to CBS.
And despite comparatively weaker ratings on broadcast television, Moonves said "upfront" advertising sales in which networks sell packages in the spring for their fall and winter schedules, was far better than a year ago.
"I hate to sound pollyanna, but this was as good an upfront as I've seen in a while," Moonves told investors in conference call on Thursday. Media Dynamics, an industry monitor, said earlier this month that major broadcast and cable networks increased their advertising volume during the upfronts by 4.5% with price increases averaging 10%.
As for Viacom (VIAB) - Get Report , which is mired in a multi-court legal dispute over corporate control, Moonves said the CBS isn't particularly interested in making an acquisition. Analysts and investors have speculated for more than a year whether CBS might eventually buy Viacom, reuniting two companies that were split apart in 2006
Moonves said say that CBS looked at Starz (STRZA) prior to the premium channel being acquired by Lions Gate Entertainment (LGF) , but determined it wasn't an acquisition CBS needed to make.
"We feel very complete, we feel like we're competing and that we have everything that we want," he said on the investor conference call. "We're not going to conjecture about potential M&A. We looked at Starz, we look at other opportunities and we weigh them and decide what's best for CBS. We feel we're dealing from a position of strength."
Also on Thursday, CBS raised its quarterly dividend 20% to 18 cents a share, and increased its stock buyback authorization to $6 billion. The company had roughly $1 billion left on a previous repurchase.