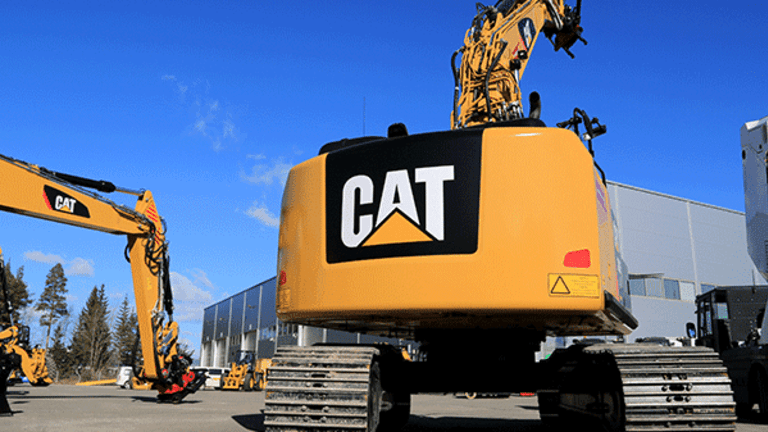 This Analyst Says You Should Dump Caterpillar's Scorching Hot Stock
Caterpillar gets downgraded.
Caterpillar Inc.  (CAT) - Get Report extended its week-to-date loss in pre-market trading Friday after analysts at Deutsche Bank cut their rating for stock from buy to hold.
The broker also cut its price target for the shares, to $106, saying much of the benefit from a nascent recovery in the mining sector has already been priced into the stock. 
Shares of Caterpillar were down 1.27% in early premarket trading, at $102.52, taking their loss for the week to 3.49%.
The plant and machinery maker saw its shares slip from a near three-year high earlier this week as investors fled the capital goods sector amid renewed concerns over commodity markets.
Deutsche Bank's downgrading also comes closely on the heels of the company having released May sales figures.
Caterpillar saw global machine sales rise by 8% during the three months to the end of May, according to figures released Monday, with growth driven by a pickup in customer spending across the Asia and Pacific region. 
Asia Pacific sales were up by around 49% during the period which helped company wide sales to energy and automotive clients return to positive growth during the month, after a dip in April. 
Last week, Caterpillar succeeded in fighting off an activist insurgency from CtW, a labor and pension fund financial adviser, who had begun pushing for a change of auditor and for three of the company's directors to be replaced. Shareholders voted down the motions at the company's annual meeting. 
However, it remains the subject of a long and ongoing investigation into its offshore tax practices, which saw the company's headquarters raided by the IRS in March this year. 
Visit here for the latest business headlines.