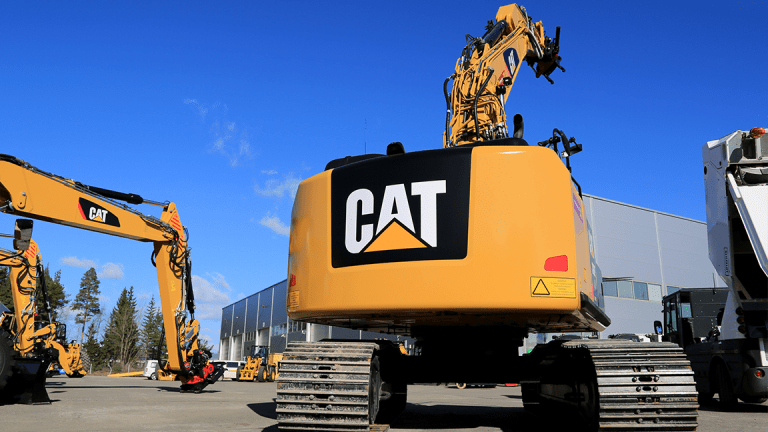 Amid Record Revenue, Caterpillar Faces Higher Material Costs Due to Tariffs
The company also faces a possible slowdown in the global economy.
Record quarterly revenue and robust equipment sales are encouraging signs for Caterpillar (CAT) , but there may be some storm clouds on the horizon for the company's global business.
"The important thing is what happens if the global economy slows down," said Lawrence De Maria, an analyst for Blair & Co. "Trade is the lifeblood for multi-national industrial companies."
"They (also) face a $120 million headwind for material costs in the second half (due to tariffs)," De Maria added. "But they are managing through that."
De Maria rated the stock to market perform Monday morning. Caterpillar shares dropped 2% Monday to $139.75 after trading higher for most of the session. The company also boosted its full-year outlook.
De Maria noted that the company's overall backlog of $17.7 billion was flat quarter-over-quarter, perhaps signaling a deceleration of new building.
Earnings per share for Caterpillar were $2.97, above consensus estimates of $2.73, and 83% above earnings per share year-over-year.
Sales for the company's largest segment, construction equipment, were up 23%, including 43% in the Asia Pacific market, which includes China and 18% in North America. However, management noted that despite strong demand for construction equipment in Asia-Pacific, North America and EAME markets, its backlog was slightly down compared to the first quarter of 2018. 
Groups sales were $14 billion, topping analysts' estimates of $11.3 billion and 9% higher than first quarter 2018.
Caterpillar stock has taken some hits recently around concerns of constrained steel supply linked to tariffs imposed by President Donald Trump on foreign metal. The impact of the tariffs are expected to add $100 to $200 million in extra material costs this year, according to the company.
On Monday, other analysts raised their price target for Caterpillar shares, noting the company's year-over-year increase in profitability and a just-announced $10 billion share buyback initiative.
In a note Monday, Joel Tiss, an analyst for BMO Capital Markets, set a price target for the stock of $195, citing improvements in operations, "still underappreciated by investors."
Morgan Stanley analyst Courtney Yakavonis raised the bank's rating on the stock to $185, but noted possible headwinds in increased freight and material costs.
The 38% increase in sales revenue year-over-year in the company's Resources segment, which sells mining equipment, was a positive, Yakavonis wrote.
More Coverage of Caterpillar, Today's Stock of the Day on Our Premium Site Real Money