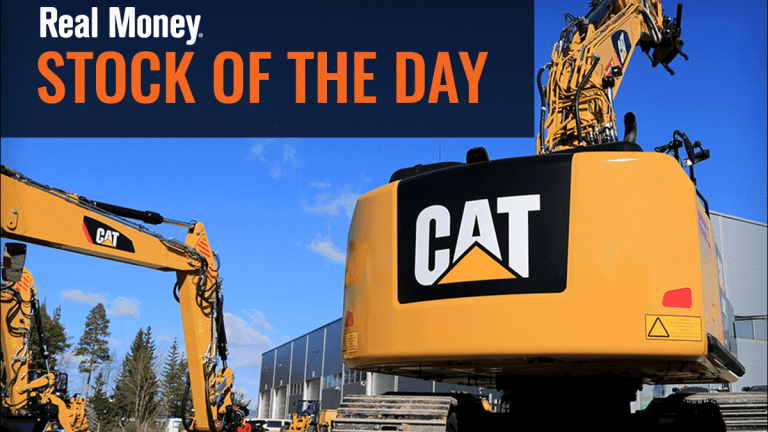 CAT is the Dog of the Dow on Monday
CAT's steep slide dug its claws into the Dow on Monday.
CAT's steep slide dug its claws into the Dow on Monday.
Caterpillar (CAT) - Get Report stock cratered on Monday, marking its largest one-day decline in a decade.
Shares of the of the Peoria, Illinois-based construction and manufacturing leader fell 9.13% on the day after reporting its first earnings miss since 2016. In line with the share reaction, the miss on earnings per share was also the largest reported in 10 years.
The disappointing report was not aided by weaker guidance that brought cyclical fears to weigh on broader market sentiment.
"Our outlook assumes a modest sales increase based on the fundamentals of our diverse end markets as well as the macroeconomic and geopolitical environment. We will continue to focus on operational excellence, including cost discipline, while investing in expanded offerings and services to drive long-term profitable growth," CEO Jim Umpleby said.
Due to its weighting on the index, the company's crashing stock shaved nearly 100 points from the Dow overall at its lows.
On an earnings call with analysts, CFO Andrew Bonfeld blamed rising freight costs, trade war troubles, and a slowdown in Latin America for the earnings miss and lowered guide.
"Positive price realization was offset by higher manufacturing costs, largely due to higher material and freight costs, as steel prices, tariffs, and supply chain inefficiencies continued to impact our results," he explained.
Still, some analysts were heartened by the stock's slide to a recession-ready price to earnings ratio below 10.
"Given the strong financial position and low valuation, the lower EPS bar may entice some investors, in our view," Jefferies analyst Stephen Volkmann wrote in a research note after the earnings. "The outlook incorporates favorable pricing, additional share repurchases and lower short term incentive compensation."
For more on the macro headwinds confronting the company, bearish takes, bullish takes, the technical trajectory, and specific strategies to mitigate the volatility in the industrial name head over to Real Money where the full picture of what traders and investors need to know is laid out in the Stock of the Day coverage.
Employees of TheStreet are restricted from trading individual securities.