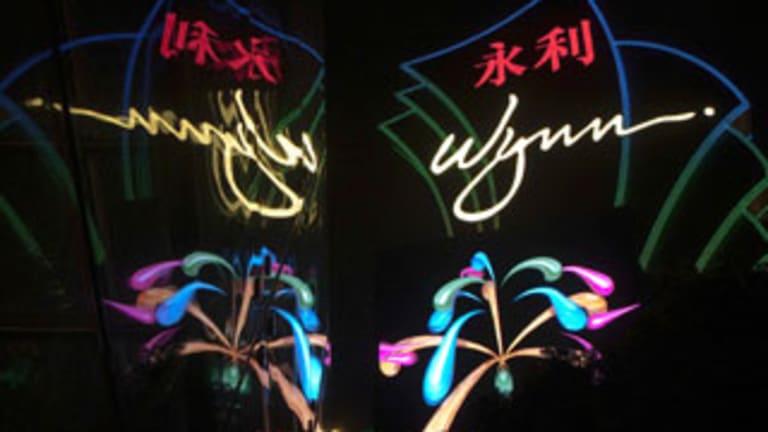 Casino Stocks: Which Are the Best Bets?
TheStreet Ratings reviewed many, but only a few came through winners.
E-Mail This Article to a Friend >>
BOSTON (
) -- Even as Las Vegas builds up, American's gambling capital has lost out to Macau.
Macau, an autonomous territory facing the South China Sea, has become a major driver of revenue for many U.S.-based casino operators, which have wisely expanded overseas. Macau gaming revenue has set records each month, with April's $2.6 billion marking a 45% percent increase from a year earlier. Its casino revenue will probably grow 35% to about $32 billion this year, according to estimates by CLSA Asia Pacific Markets.
Las Vegas, while a more mature market, has been on the mend since the fallout from the recession. Visits to Las Vegas increased by 5.6% in March (helped by a 10% jump in convention attendance), with gaming revenue on the Las Vegas Strip up nearly 13% since last year. At the end of 2010, national accounting firm PricewaterhouseCoopers predicted that Las Vegas gaming revenue should return to pre-recession levels by 2014.
So how should an investor play the predicted growth in the Macau market or take advantage of a continued recovery in Las Vegas? I screened casino and gaming stocks to see what TheStreet Ratings' quantitative model favors.
Of the six companies licensed to operate casinos in Macau, three are major Las-Vegas based casino companies:
Las Vegas Sands
(LVS)
,
Wynn Resorts
(WYNN)
and
MGM
(MGM)
.
Melco Crown Entertainment
undefined
, which is focused exclusively on the Chinese casino industry, is also traded on U.S. exchanges.
Of the aforementioned casino operators with Macau exposure, only one, Wynn Resorts, is rated "buy," with a $187 target price (offering potential 31% upside), according to TheStreet Ratings' model. Las Vegas Sands and Melco are rated "hold," while MGM is a "sell."
Wynn, which has a 15% market share of gaming revenue in Macau, has plans to build a new casino, which will double its business in the territory when it opens in four years. Amazingly, Wynn Macau's first-quarter revenue of $865.7 million accounted for two-thirds of Wynn Resorts' $1.2 billion in total revenue. The company has shifted much of its attention to its China-based operations.
Wynn has shown impressive revenue growth of 41% over the past year, while also improving its bottom line significantly, as net income rose more than six-fold in the recent quarter, driven by strong results in Macau and improvements in Las Vegas. Our model awards Wynn high ratings for growth, performance (Wynn is up 84% in the past year) and efficiency (Wynn's most recently announced 13% return on equity in the first quarter easily exceeds that of competitors MGM, Las Vegas Sands and Melco).
Our model has some concerns on valuation, as the stock trades at a price-to-earnings ratio of 58 and a forward P/E of 27.5. This doesn't seem to be too far out of line, however, with others such as Las Vegas Sands (P/E of 49, Forward P/E of 19) or Melco, which trades at a Forward P/E of 29. These figures reflect investors' expectations for future revenue growth in Macau.
Wynn is more financially healthy than other large casino companies, with an interest coverage ratio of 4.8 times as of the first quarter, compared with 4.67 for Las Vegas Sands, 1.37 for Melco and a paltry 0.39 for MGM. MGM, which had an 11% share of the Macau market (based on
Bank of America/Merrill Lynch
) at the end of the first quarter, is also eyeing expansion in Macau. While strong Macau returns and improvements at CityCenter in Las Vegas have led to improved results at MGM, our model still remains bearish on the stock due to the $12 billion in debt on the balance sheet.
Wynn is certainly the "best of breed" when it comes to casino operators with Macau exposure. Aside from Wynn, our stock model also likes several casino suppliers:
Bally Technologies
(BYI)
,
WMS Industries
(WMS)
,
Shuffle Master
(SHFL)
and
Gaming Partners International
(GPIC)
are all rated "buy."
Gaming Partners International, which makes counterfeit-resistant casino chips enabled with RFID technology, said first-quarter results were boosted by a significant chip order from the recently launched Galaxy Macau casino. Our model has a $9.80 target on the shares, which represents nearly 33% upside from its recent closing price of $7.40. The company has boosted revenue by 21% over the past year, and with $2.90/per share in cash, the stock looks like a solid value, trading at just 9 times 2012 estimates.
Bally Technologies, which sells slot machines and video-gaming software, has been out of favor with investors, falling nearly 5% over the past year (versus a 22% increase for the benchmark S&P 500). The company looks well-capitalized, with an interest coverage ratio of 13.3 times and a debt-to-capital ratio of only 23%.
Bally was also a benefactor of the Galaxy launch in Macau, as the company was awarded with a contract to provide a comprehensive table, slot and casino-management system. Our model has a $45.50 target on shares of Bally Technologies, offering nearly 16% upside from the recent closing price.
Readers Also Like:
>> 
Goldman Sells Its 'Conviction Buys'
>> 
Why Franchises Are Good for Investors
Equity research manager Chris Stuart, CFA, joined TheStreet Ratings after working as a senior investment analyst with Merrill Lynch covering small-cap equity and alternative investment strategies. Prior to that, Stuart worked for One Beacon Insurance as an actuarial analyst and at H&R Block as a financial adviser. Stuart earned his bachelor's degree in finance from the University of Massachusetts, Amherst. He holds a Chartered Financial Analyst (CFA) designation and is a member of the Boston Security Analysts Society (BSAS) and the CFA Institute.